You can count your best friends on one hand, but with Instagram Close Friends you can add as many as you want.
What is the Instagram Close Friends feature?
Close Friends is a feature that allows you to create a private list of users that can see your Instagram stories. A kind of VIP club made up solely of the users you want.
This list of close friends is only for your Instagram stories, so either videos or photographs. It does not apply to posts on your feed, Reels or IGTV videos. To limit access to this content, you can block certain users or close your account.
If you have a public account, this option can be useful for limiting the content on your stories to a reduced group of people or friends.
How to Create a List of Close Friends
From the Instagram mobile app you can create a list of your close friends. The first thing you need to do is create one, and from there you can edit it as much as you want by adding or removing users.
Follow these steps to set up and create your list of Instagram Close Friends!
1. Open Instagram app
As always, remember to log into the account you want to create the list on.
Pay attention to this because if you go wrong and limit your company account, you can end up damaging your exposure.
2. Click on Settings
The button with three horizontal lines is visible on your feed, where you can alter anything related to your account.
3. Let's Go!
If this is your first time making a Close Friends list, Instagram will bring you to the settings screen. To continue, you just need to click on 'Get Started'.
4. Add your Instagram close friends
The first thing you will see is a series of suggestions of people to add to your Close Friends list, which Instagram has made from the people you follow.
If you want to add a particular user, you can search for him/her by clicking on the magnifying glass at the top.
5. Create your list
Once you have added the users you want as part of your list, click 'Create List'.
Instagram will then invite you to upload your first story to share with your VIP friends. You don't have to do it right now, you can come back later and upload your first post at another time.
How to Remove a Close Friend from Your List
When you click into your list, you can remove any user you want just by clicking 'Delete'. Or if you prefer, click on 'Delete all' to remove all members at once.
How to Upload a Story to Instagram Close Friends
The Close Friends option is for sharing content on your stories, but only for those users you want to see it.
How to share content for just your list
It's simple: all you have to do is to upload a story as if it were public, adding stickers, editing the filter, mentioning the profiles you want.
Instead of clicking on your story, you have an option on the right for Close Friends: it is easy to recognize, look for a green circle with a star in the middle.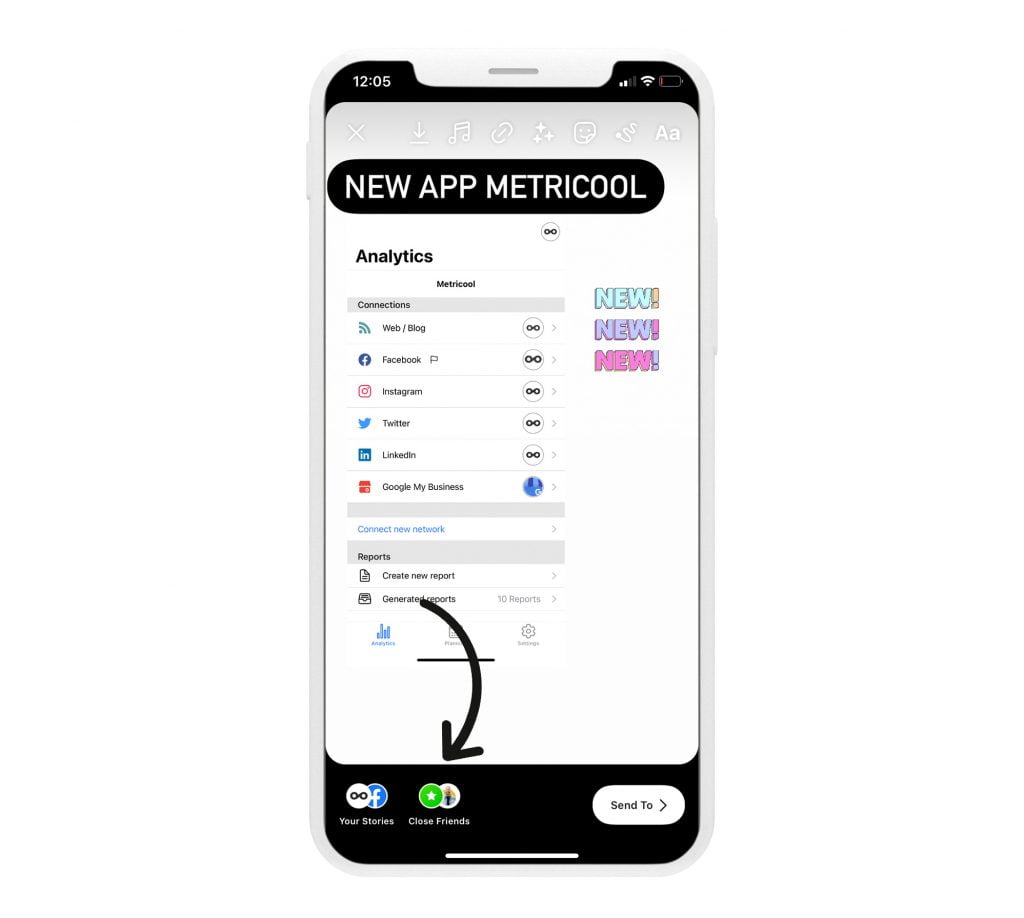 Now your content can only be seen by those you have chosen to add to your Instagram Close Friends list.
How to Know if Someone Has You in Their Close Friends List
To sum up with what Instagram best friends list is about, here you have some important features:
✅ Can you find out if you are on someone's Close Friends list?
From your Instagram profile, you don't have access to any friend list apart from the one you have created.
You can't know if someone has added you to their list until they share a story with their Close Friends and you are in it: in this case, the user that shared the story appears with a green circle instead of the normal blue.
✅ Who can see your Close Friends list?
The Close Friends list you have created can only be seen by you, no one else. None of your followers or other Instagram users can see this list, whether they are on the list or not.
So don't worry about leaving certain users out, they're not going to keep up with your list.
✅ Does Instagram notify users about your list?
Absolutely not. Instagram will not send any notifications to any user about changes to your Close Friends list. Neither when you add a new user nor remove someone.
Now you can create your Instagram Close Friends list. Any questions or queries? Let us know in the comments.
Start working now on your Instagram Marketing Strategy with this Guide by Metricool.