How many times have you been on Instagram and seen a Story where the background is covering the main photo?
More than once, right? Curiosity has gotten to you and caused you to click on the post or their profile to see the image.
It is normal for company accounts or personal marketing accounts to prompt you to click on the full post by covering key text or images, leaving you wanting to know what is behind: This brings a multitude of opportunities.
If you want to use this technique but don't know how, you have come to the right place. In this post, you will find out how to change the background color on Instagram Stories.
Let's go!
How to Change the Background Color on IG Story?
Grab a pen and paper, because we are about to get to work in teaching you how to change the background color of an Instagram Story.
Any social media user can do this on their own, regardless of whether it is a company or personal account.
1. Click on the Instagram Stories Icon
Go into the Instagram profile with the content you want to share. Click on the icon in the top left corner to upload a new Story.
2. Choose the Photo or Video 
What are you going to upload? Choose what you are going to share on your Instagram Story: a photo or video from your library, or take a photo or video at that moment.
You've got it? Let's keep going!
3. Click on the Brush (Android) or the Squiggle (iOS)
Once you have the perfect frame, click on the brush or squiggle button at the top of the screen.
Here you have a few options, but we are only interested in choosing the color you are going to use as your background. You have a huge array of options at the bottom of the screen.
Choose whichever color you like most. Our advice is if you have a photo with dominant colors, choose something similar, so there is no major contrast.
4. Hold down on the Screen
Have you chosen your color? Now, hold down on the screen for a few seconds, and automatically, Instagram will cover your Insta Story with your chosen color.
You then have two options for your background: the first paintbrush will cover the whole image, and with the third paintbrush you have the option to erase some of the color so that you can see the image in the background.
5. Editing your Story
Now that you have learned how to change the background color on Instagram Stories, all that is left is to edit your post to your liking. After erasing parts of the background, to encourage clicks, you should add stickers, mention other profiles or include a GIF. This is your job.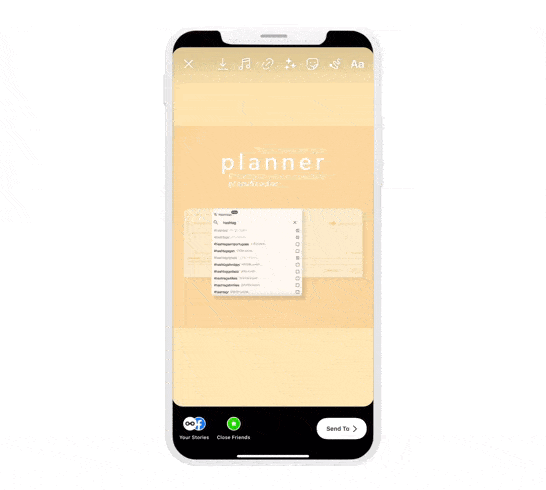 How to erase part of your Story's background?

If you want to erase part of your new color background and show a piece of your image, you can do this quite easily.

All you have to do is click on the eraser button, the last button on the top right, and then run your finger across whatever you want to erase.
Why Use a Background Color in Your Insta Stories
This technique of adding a color to your Story does not take much time, so why not doing it when you're posting your content?
You will find out some of the advantages to posting this kind of content:
Encourage Clicks
If you share an IG Story with a link to external content, YouTube video, online shop or content from your feed, you can use this technique to procure clicks.
Covering a part of your image or video can encourage the user to click on your post, generate web traffic or achieve more interactions with your post. Remember, you can always change what you have posted: delete, new post, etc.
Create Personalized Instagram Stories
Everything you add to your Story is what makes it different from the rest. Try different background colors, photos or other content and add your personal touch.
If you create your own style from the beginning it will serve you well, as users will identify your brand just by seeing your stories.
Show Your Creativity
Take out the paintbrush and play with your stories, using all the options that Instagram offers.
Try different colors, erase certain parts of your image or video, add GIFs, stickers, etc. Take advantage of all the options to generate interactions with your content.
Now you know how to change the background color on Instagram Stories. Get to work and start creating content for your account!
If you don't know where to start, we recommend our guide to Instagram marketing.