Instagram video is a section within Instagram to unify all the video content that is published on the platform.
A section that combines any type of video content, be it short or long. What and separates videos from other content formats, such as Reels. This makes it easier for users to interact with the videos since they are easier to find and view.
This video tab is in your profile. It appears third, right after your feed and the Reels category.
In the feed, you can identify the format used for each post by looking at the icon at the top right of the image:
✅ If there is no Icon, the post contains a photo.
✅ If you see two overlapping squares, it is a carousel.
✅ If it contains this icon
, it means that it is a reel.
✅ If you find a 'play' ▶ ️ icon, it is a video.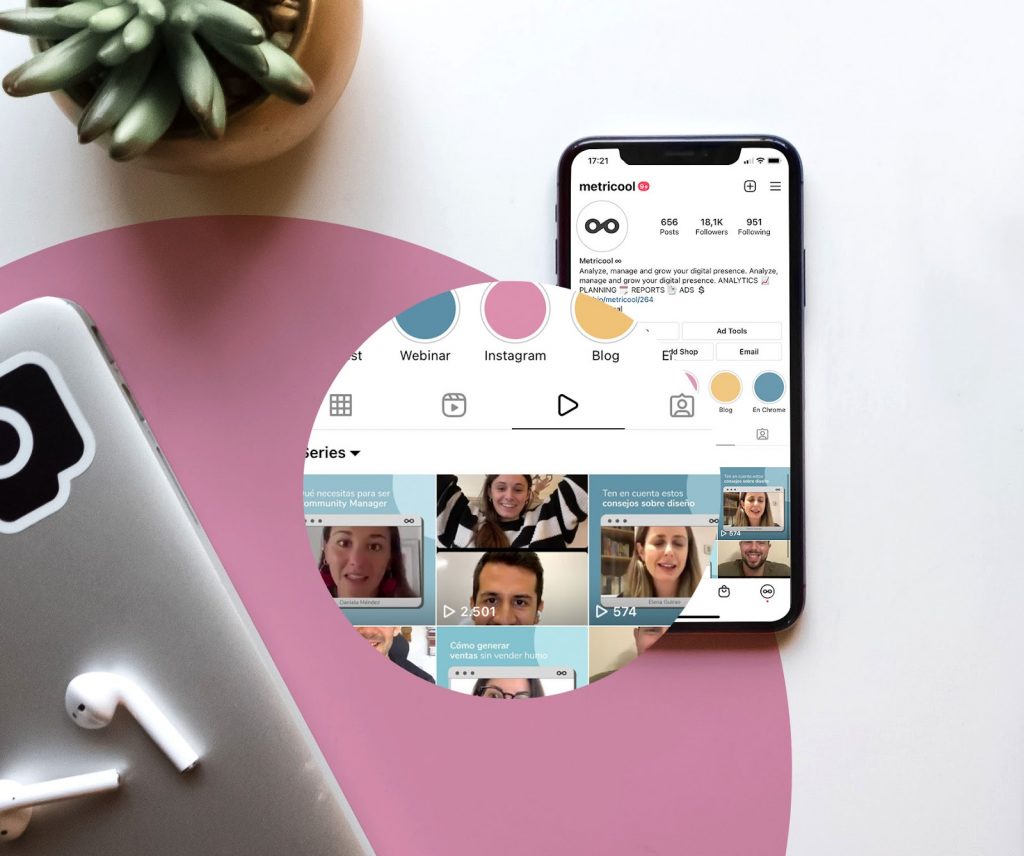 Now that you know how to identify Instagram videos and where to find them, you will probably want to know more about this feature, what characteristics does it have?
Instagram Videos: Features
What characteristics does the video format have on Instagram?
Take note to be ready to share your videos on Instagram!
➡️ Duration of Instagram videos and requirements
The duration of the video is from 1 second to a maximum of 60 minutes. The maximum size for a video of 10 minutes or less is 650 MB, and up to 60 minutes is 3.6 GB maximum.
The format for Instagram videos must be MP4, and you can upload it horizontally and vertically: Aspect ratio between 1.91: 1 and 9:16.
➡️ Video Interactions
Users interact with videos the same way as with any other posts: through likes, comments, saves, or sharing the videos through stories or privately.
Unlike a fixed post, in the video, the user can go 10 seconds forward or backward by tapping on the side of the screen: on the left side if you want to go backward and on the right if you want to go forward.
➡️ Edition
With Instagram Video, the social platform offers the content creator editing improvements and possibilities to upload videos.
· Cover: add a cover photo to your video. It can be a fragment of the video that you upload, or you can create one.
· Tags/collaborator: tag other users and Instagram accounts in your videos. The other option is to add a collaborator. This distinction will appear next to your username at the top of the video.
· Series: On Instagram, you can create a series to group the videos related to the same theme, similar to a YouTube playlist.
Are you attracted to the possibilities that videos bring to your account? Let's go to the next step.
How to upload content to Instagram Videos
If you are convinced that videos are an excellent resource for your account, here is a simple tutorial on sharing videos through your mobile app and computer.
Although Instagram is designed to be used from the mobile app, you can also upload video content from your computer.
Upload videos on Instagram from a mobile device
Open the Instagram app, and let's get started.
1 Click on button
You have it on the upper right side of your screen when you enter Instagram.
2 Choose the content
Instagram shows you the recent multimedia gallery that you have on your mobile device. You have to search the videos because everything comes out at the same time, or go to the videos folder.
Choose the video and click next.
3 Edit the video
On the next screen, you have the option to apply a filter among the usual Instagram options or shorten the video to your liking.
Once you finish editing, click on Next again.
4 Personalize the content
Get to work on editing the external aspects of your video: add a cover, a video description, tags or collaborations, location, add the video to an existing series, create a new one or select the fundraising for an organization.
In Advanced Settings, you have the option to edit the preview, deactivate comments or add captions to make your video accessible for everybody.
5 Post the video
If you have it ready, tap on 'Share', and Instagram will share the video in your feed and the videos section.
IMPORTANT ⚠️
If you want to delete the video, you will have to do it twice. First from your feed and then from the Instagram Video section itself.
Upload video to Instagram from computer
Sharing a video on Instagram from your PC is similar to doing it from your mobile device.
To start, click on the button
, also in the upper right that you will find when entering Instagram.
Select the video you want to upload and the dimensions to share it: original format, 1: 1 (square), 9:16 (vertical), or 16: 9 (horizontal).
Customize it to add the cover photo, shorten the video or turn off the original sound.
Then, you can select whether to add a description, tags, captions and turn off commenting.
As you can see, the differences between the two options are little: some editing alternatives, such as filters, or the option to collaborate. In the end, as we said, Instagram is ready for mobile, but on PC, it is also helpful.
However, What can you do if you want to schedule the content? How can you do it? Surprise!
Schedule Instagram videos with Metricool
With Metricool, you have the option to schedule the videos you want to share on Instagram.
This will help you save work time and plan your content ahead of time. Of course, first, you need a Metricool account. In two steps, you can already work with your profiles.
If you already have a Metricool account, you can skip this step and go directly to the Planning menu, which you can find at the top of the screen.
1 Tap on 'Create New Post' and select the video button in the content scheduling window: 📹.
2 Add a description, choose a fragment for the cover, choose a location or search for hashtags and, finally, save on the selected date and time.
⚠️
If the video is longer than 60 seconds, Instagram does not allow auto-publishing.
3 Toggle the auto-publish button off. If your video is longer than 1 minute, you need to toggle the Autopublish option off to save the scheduled post.
In this way, Metricool sends you a push notification or email with the content to be published so that you can upload it manually.
▶️ A brief tutorial on how to schedule videos with Metricool ◀️
Download Instagram Videos
If you want to download an Instagram video from your channel, for example, a live video you broadcasted, and you want to save, it's easy… but you need an external platform.
To do this, one of the most used pages is Save-Insta. You add the link to the Instagram video and paste it in the box in the center, select the video at the top and click on 'View'.
Finally, the page offers you a preview to download the Instagram video
Content Ideas
Do you want to take full advantage of Instagram Videos' possibilities for your professional or company profile?
Whether you want to make long or short videos, here are a couple of ideas for uploading content to your Instagram profile:
✅ Corporate
It allows your followers to get to know you and your work team. You are no longer a logo, but they can put a face to your business.
You can make introduction videos, tell anecdotes or aspects of the day-to-day in your company.
In the end, the goal is to humanize your brand with your community.
✅ Products
If you have a business, one of the best ways to "sell" your products is through videos.
You need to unleash your creativity: you can unbox your products, do a review and allow users to leave their questions and comments in the video.
✅ Live videos
The live videos are created in a different section, but you can share them at the end of the Instagram live in your videos.
An exciting option is to go live answering questions from your followers, sharing a new product, or even announcing an important offer.
Take advantage of these live videos from Instagram to save them later in your videos tab.
📹 How Instagram Live videos work
✅ Tutorials
Tutorials are an excellent alternative for reaching the largest possible audience and showing your products.
In these videos, you can teach how to use your product to be clear about how it works when they purchase it.
In addition, it is content that never expires. You can keep it in your feed as long as the product or service is still available.
You already have all the information to spice up the content of the Instagram video for your business profile. Take advantage of all the benefits that this format brings to grow on Instagram.
And if you haven't yet started on this social media platform, you need Metricool's Instagram Marketing starter guide.