Scheduling your social networks allows you to optimize your work and focus on other essential tasks on a day-to-day basis.
Videos on Instagram are among the type of content that you can plan ahead of time. By duration and possibilities, they are the ones that take longer to edit and publish.
Therefore, programming Instagram videos with Metricool helps you save hours in your day.
How to do it? Follow these steps!
How to schedule Instagram videos with Metricool
To start planning your social media content from Metricool, first, you need to have an account with us. If you already have one, skip creating a Metricool account and go directly to log in.
Have you already logged in with your account? Then in the drop-down menu at the top right, choose the profile you want to schedule and publish your video.
Let's get started!
In the planning section, click on New Post that you will find on the screen's upper left side to start planning your post.
Attach the Instagram video: Attach the Instagram video file you want to add. Also, add the title and description in the text to copy-paste it in your video when you publish it on Instagram.
Select the day and time: Once you upload the file, choose the date and time you would like to publish your content.
Autopublish: if the video lasts less than 1 minute, it will be published automatically on Instagram as long as you have an Instagram business account. If it lasts longer, up to 60 minutes, which is the maximum that Instagram allows, Metricool will not let you publish it directly, and you will have to toggle off the auto-publish button.
Choose how to receive the notification when it's time to post: Finally, configure how you want to receive the content when the time to publish comes. You can do so by clicking on the "Notifications" button located at the top right of the calendar screen:
Then, you can choose between app (to receive push notifications on your phone) or email.
If you choose to receive a push notification on your phone, you'll find the video in your device's gallery and the text in your clipboard the moment you get the message.
As you see, you can schedule and publish Instagram video content with Metricool in two easy steps.
You have already programmed your Instagram video with Metricool to publish it manually on your feed.
Requirements to upload an Instagram video
To upload your videos successfully, you must consider certain factors:
Video length
We have mentioned the first requirement before, the duration of the video is 60 minutes maximum.
Video format
The video format can be horizontal or vertical and always in MP4 format.
If you upload it vertically, the aspect ratio should be 4:5, while for a horizontal format, it will be 16: 9.
Cover photo size
For the cover photo of your video you can use a frame of the video or upload a photo you have created for it: when you have the video uploaded, click on the three dots to the right of the thumbnail and click on select cover.
In case you want an image created instead of a frame, you will have to publish the video manually, as the Instagram API does not allow you to publish automatically with a cover. It is also important that you take into account the size, which is 420×654 pixels.
Take advantage of this option to create images that attract viewers to your video and thus increase interactions.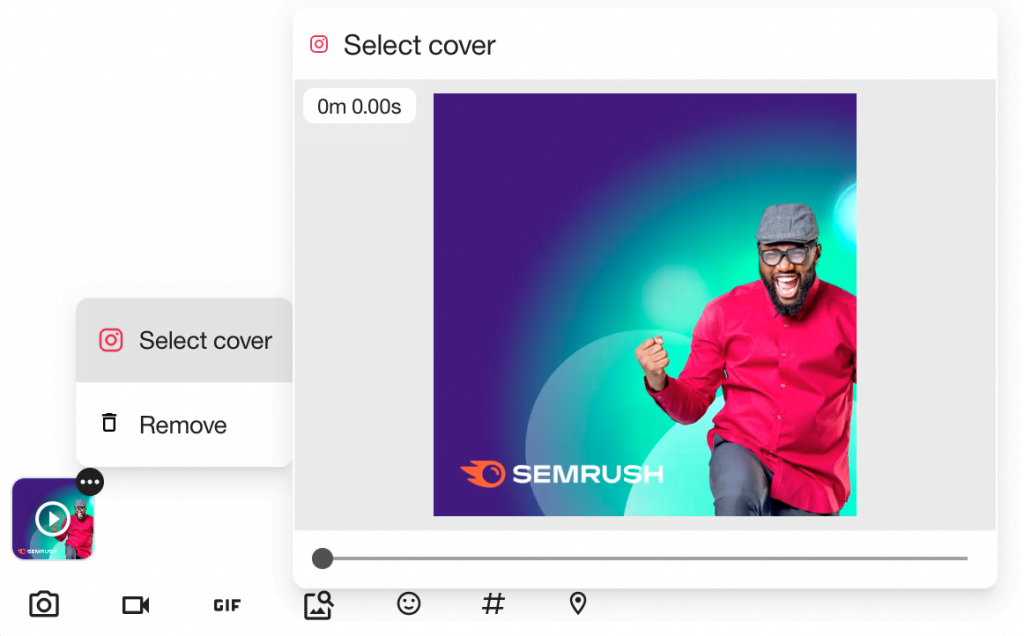 With this Metricool feature, you can plan Instagram videos content ahead of time. The day and time you programmed the content, you will receive a notification, and you will publish easily by simply copy-pasting the content on Instagram.
This will help you to manage your time to dedicate yourself to other essential tasks of your business.
Do you want to start scheduling videos on Instagram now? Sign up with Metricool and start planning the content.