Have you ever gone to schedule a post on Metricool and you weren't fully convinced about the image? Then you'd have to leave the app and alter it. This is no longer the case thanks to Metricool's feature for editing images.
What can you do with this tool? We'll fill you in on all the details in this post.
Metricool image editor
The Metricool image editor is a super straightforward feature of your favorite social media tool.
It's included in:
✅ All the social networks you can schedule posts for with Metricool.
✅ All subscription plans, even the free one.
This handy feature will cut down on time-wasting tasks in your daily workflow as a social media expert. Instead of having to leave the platform for editing images, and log back in, you can do it all from the same place: Metricool.
How does this tool work? Keep reading!
Editing images
Be sure not to miss any steps, although we assure you it's super easy to use and in 5 minutes you'll be editing and testing the image editor.
Log into Metricool and go to the Planner.
Click on 'Create New Post'.
Choose the social network you want to post on and add the images.
Hover over the image you want to change and click on the three dots.
Tap 'Edit image'. Metricool will open a new window with the editor for you to modify the image to your liking.
When you're happy with it, click 'Save'. 
Done! Your image is edited and ready to post.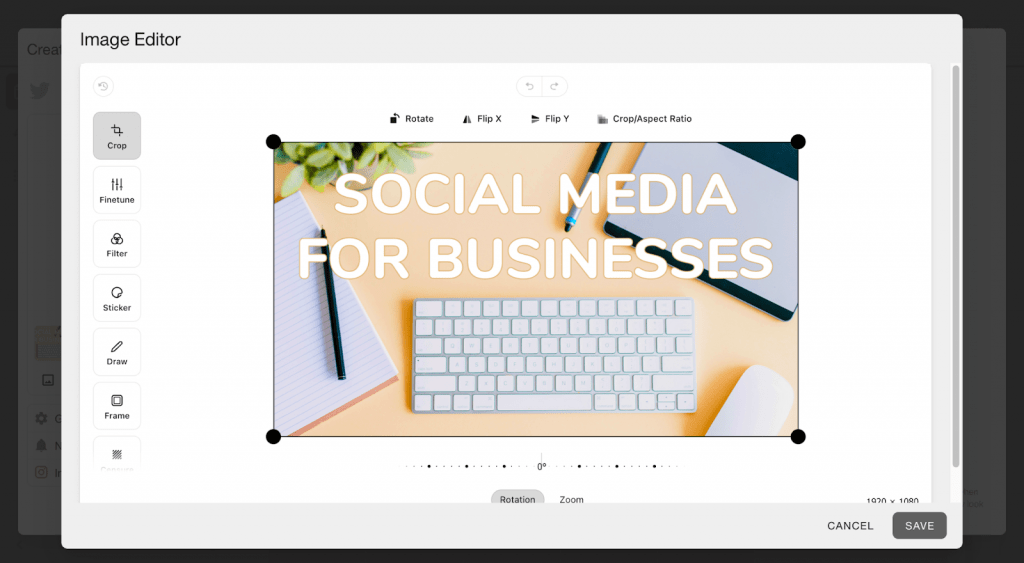 Image editing options in Metricool
Don't worry if Photoshop isn't your biggest strength — the Metricool image editor is all you need.
What tools does it offer?
With this first option, you can crop your image to the size you need.
You can also rotate your pictures, zoom in or out, or add an X or Y mirror effect. The 'Crop/Aspect ratio' feature is particularly useful for posting to social media as it lets you fit images to a specific size, such as the Twitter header.
The 'Editing' tool lets you alter all the aspects of the images themselves.
In other words, brightness, saturation, exposure, temperature, gamma, sharpness, and vignette.
Filters have become one of the most widely used editing resources on social networks.
Metricool gives you a wide range of eye-catching filters to give your image that extra oomph: chrome, cold, black, gold, sepia, blue, etc.
Emojis, logos and images that you can upload from your computer and add to your image. Ideal for adding watermarks or creating edits with social media logos.
Go into 'Paint' mode and draw whatever you want over your image.
Marker, arrow mode, lines, or rectangles to take advantage of the various shapes, add text, or choose the thickness of the drawing. And if you need to, you can always erase what you've created and start over.
Add a frame to your image with multiple editing possibilities.
Color it, choose the size, zoom in, choose the offset, round the corners, or even repeat the frame to create a totally different image.
The 'Censor' option lets you pixelate a part of the image you don't want to be seen or, at least, not seen clearly.
Editing images using pixels?
Modify your photo with the Metricool 'Resize' tool. Choose the pixels and you're done.
That's all you need to know about Metricool's feature for editing and posting images on social media. However, as always, you'll need to create an account to use it.
If you'd like to know what else Metricool can do for you, here's a link to a Mega Tutorial of all the Metricool features.