You might have been on Twitter for some years now and want to get rid of some old tweets.
This might be because you've found tweets with broken links, some Twitter posts that your regret and want to delete… But you can't find them.
Just so you know, if you want to scroll, you'll be doing it for quite a while. That's why we've created this article to tell you three ways on how to find old tweets.
Guide to Finding Old Tweets
Unless you delete them, your tweets will remain on the network and, unless your account is private, anyone can view and repost them.
So, if you want to delete one, you first have to find the tweet in question.
We'll explain three different ways to search old tweets.
Twitter Search
This is the classic method for looking up tweets, and also the simplest way to find old tweets.
This is the Twitter search engine par excellence, which is located on the home page of your profile, in the top right: 'Search Twitter'.
The problem with this method is that it is not very exact since you have to write your username and the keyword that you think is related with the specific tweet.
More often than not, you end up with unexpected results, and you have to try the second option, Twitter Advanced Search.
Twitter Advanced Search
Twitter Advanced Search gives you a range of filters to find your "lost" tweet.
The first section is for keywords, and you can enter anything you remember:
✅ All of these words: if you write 'hello Metricool', you'll find tweets that contain both words.
✅ This exact phrase: if you write 'welcome to Metricool', you'll find tweets that contain this exact phrase.
✅ Any of these words: if you enter 'Metricool' and 'planner', it will search for 'Metricool' or 'planner' or both options.
✅ None of these words: as with the last option, if you enter 'Metricool' and 'planner', the results will not contain 'Metricool' or 'planner'.
✅ Hashtags: if you want to look up a tweet with a specific hashtag, you can find it with this option. If you enter #MetricoolRules, it will show you old tweets with this tag.
✅ Language: you can select the language you want to find the tweet in.
The second section is for Twitter accounts you want to investigate. This might be because it's not your own tweet, but one from an old account you had, or someone else's account. 
✅ From these accounts: in this section, you have to enter the profile that posted the tweet.
✅ To these accounts: in this section, you can find a tweet sent as a response by entering the recipient, 'sent in reply to @profile'.
✅ Mentioning these accounts: to find old tweets that mention one or more accounts.
Select which filters you want to find the tweet in question:
✅ Replies: activate this option to find tweets that include replies and original tweets, or just to show replies.
✅ Links: you can include tweets with links or rule out ones that have hyperlinks.
In the interaction box:
✅ You can add a minimum number of characters in the reply tweets, tweets with 'Likes' or 'Retweets' to find the tweet.
Lastly, the dates section is crucial for finding the tweet in question, or at least to save time searching through your Timeline.
✅ Here you can set a specific date from: month, day, and year and up to the same options.
If you still can't find the tweet you're looking for with these methods, don't worry. There are still more options available.
How to Search Old Tweets: Using Twitter Commands
This method is like the advanced search, meaning you can set the dates, but it also adds the account from which you want to find the old tweets.
To look for tweets using this method, you need to enter the following command:
(from: Twitter account) until:YY-MM-DD since:YY-MM-DD
Perhaps an example would make things a little clearer:
from:Metricool_es until:2021-09-01 since:2020-09-01.
After 'from' you need to add the Twitter username without the @ sign, and the end date 'until' and the start date 'since'.
Hit Enter, and Twitter will give you the search results with the dates and the profile you selected for your search.
How to Look Up Old Tweets: Download your Twitter Archive
The final option you have for searching for old tweets is requesting your Twitter Archive.
Find option in 'Settings and Privacy'. But, how to request it?
1. Log into your Twitter account
Log in with the account from which you want to download the Twitter Archive.
2. Go to 'Settings and Privacy'
You'll find this in the 'More' section.
3. Click on 'Your account'
In the next window you'll find everything you need about your Twitter account. The section we need now is 'Your account'.
4. Click on 'Download an archive of your data'
Now there's just one step left. Click on 'Request Archive' and fill in the information that Twitter asks for: enter your password and the code that they send to the email address you used when you signed up.
Once Twitter has created your archive, it will send you a notification to download. The time it takes to create it will depend on how many tweets you've posted.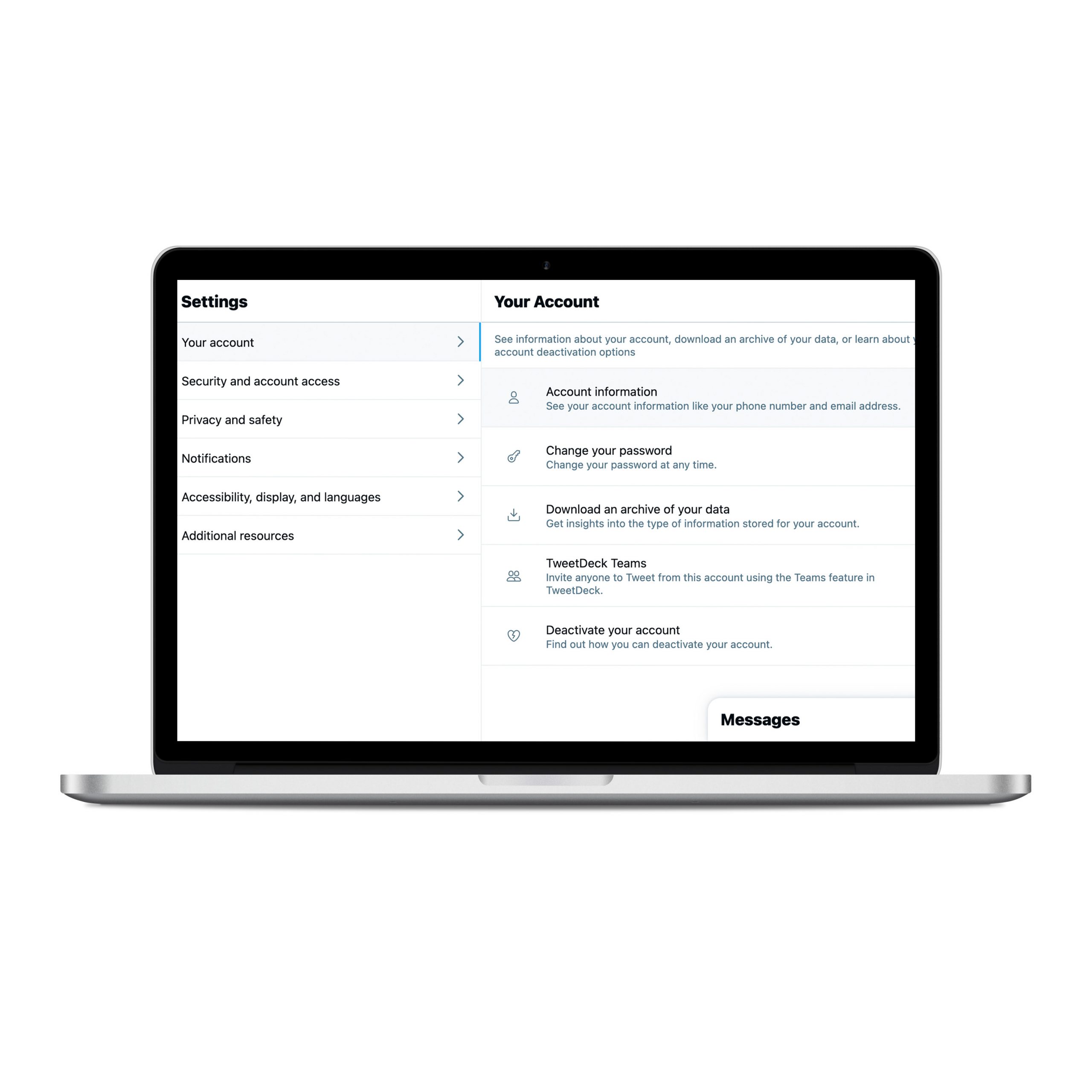 Let's fast-forward a couple of days or weeks and imagine that you have your archive ready to download. In this archive, you'll find a .zip which you have to unzip and contains a .csv file and a .html file.
These are the two ways for viewing your old tweets.
· HTML: This .html file will open in your default browser and will show you your tweets in chronological order, with or without replies, and a very useful link: 'view on Twitter'.
This link will take you to the Tweet you posted, where you can delete it or retweet it if you think it was an important quote.
·CSV: In this format, Twitter presents your activity on the network with your Twitter ID, the source and the publication date.
If you choose this option, it's more complicated to find the tweet because there's no link as such, you can only use the text of the tweet as a guide.
This is how to find old tweets on your account. We recommend the latter option to have an overview of everything you've posted.
But remember, the option to download the archive is only available if you are the owner of the account, or if you have access to it.
Now you have everything you need to find old tweets: recover them, delete them or share them again.