Twitter is a global social network and it will help you to unleash the potential of your brand or business. You will find in this article a comprehensive guide about how to carry out your Twitter marketing and achieve the goals you have set on this platform.
STEP 1
Create a Twitter account and optimize it
Before you get started with your Twitter marketing strategy you must have an account. If you have an unused account you can delete it and start over.
▶️ Here are the instructions to delete a Twitter account ◀️
If you haven't created a profile yet, this is what you need to set one up:
⭐️ Username
Your username will go accompanied with an @ on Twitter. Your name should be easy to recognize and if it's possible, choose the same name as the one you use on other social media platforms. This way, it will be easier to find you and associate your Twitter profile with your brand.
▶️ How to change your username on Twitter ◀️
⭐️ Profile picture
The same as it happens with your username, your profile picture should be easily associated with your brand and identity on the rest of social media platforms. Use a photo that represents you and ideally the same picture that you have used on other social networks.
⭐️ Short bio
In the bio of your Twitter account, you can add a description of your brand or features that describe who you are and what you do. In this section, you can include a link of your website or online store. A way to drive followers to your online business.
⭐️ Cover photo
The cover photo is used to give a visual touch to your profile.You can even use an image as part of your advertising strategy. Use the colors of your brand so your cover photo reflects your corporate identity or personal brand.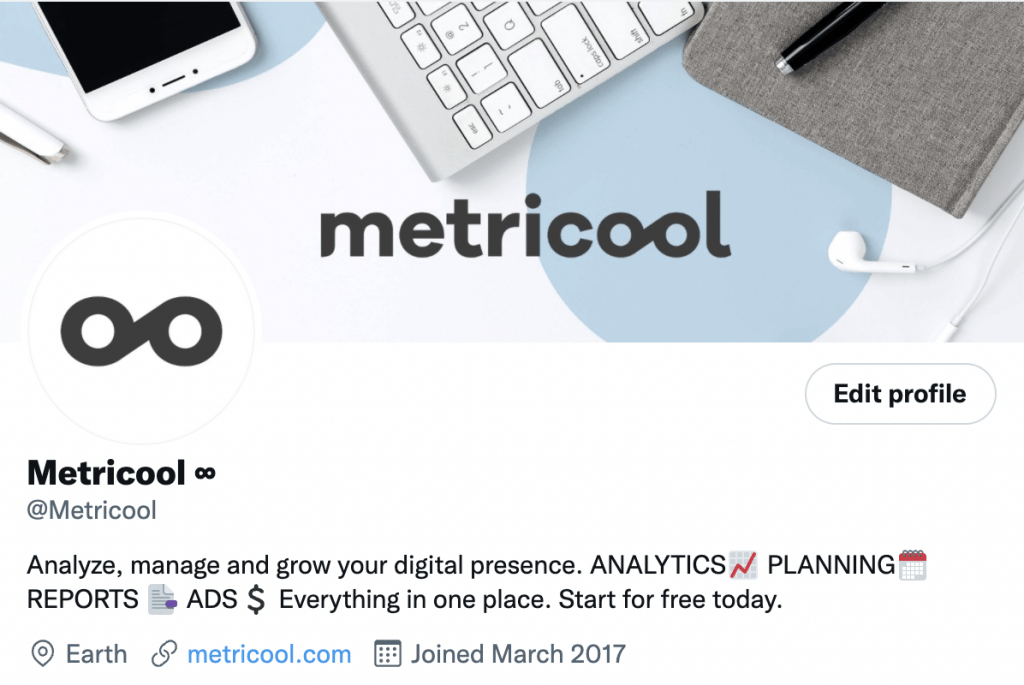 ⭐️ Birth date and location
This part is optional. You can include your location and date of birth (or your brand's founding date) if you want. Depending on your Twitter marketing goals, fill out this info or leave it blank.
Once you have decided what you are going to include in your profile, it's time to create your account, confirm that the username that you want to use is available and optimize your account to stand out from the rest.
Verify your Twitter account
If you have a company or personal brand well known in the industry, getting your Twitter account verified will give you more authority amongst future followers and users who visit your profile.
In addition, it will help you to be found faster and clear out any doubt about the veracity of your Twitter profile.
➡️ Follow these steps to verify your Twitter account ⬅️
Turn your Twitter account into a professional
The microblogging social network allows you to switch your personal account to a professional one, with the option to choose between two types of profiles: business and creator. This option is available to those professionals who dedicate their content for commercial purposes or as a means of work.
In addition, it allows you to access specific tools to get the most out of your business that is not available to the regular user.
Reactivate Twitter Account
We've all had a bad day and decided to take drastic action and deactivate our Twitter accounts, but in retrospect, we realize it's not so bad.
Did you know that you can reactivate your Twitter account without losing any of your content or followers? If no more than 30 days have gone by, you can reactivate your social media account with no problems: it's as easy as starting the session and choosing the reactivate option.
How to Protect Tweets on your Account
If you want your Twitter content to only be available to your followers, you have to protect your Twitter account
Knowing how to make your account private, you can avoid users you don't trust responding to your tweets or seeing what you share.
▶️ Find out here how to protect tweets on Twitter ◀️
How to manage multiple Twitter accounts
Manage multiple Twitter accounts simultaneously can harm your work.
Good planning is vital to have good control of the accounts you manage, whether they are business or your own personal profile.
➡️ How to manage multiple Twitter accounts ⬅️
How to change your Twitter password
It's important to know how to change your password on Twitter, especially if you have a business account since a lot of employees can have access to it.
In the settings, you can change your Twitter password and select how you want to change it if you have forgotten it.
✅ Learn how to change your Twitter password
Use the right size images on Twitter
The sizes to use for pictures, videos and GIFs is different for each social network. To this day, visual content is very important and it's crucial that users can see the images complete and not pixelated.
Social networks are a communication channel for many people, but that doesn't mean that the quality of the content is secondary. So we recommend that you pay attention to the correct size of your images on Twitter and make sure you use them when you share your photos.
STEP 2
Design your Twitter Marketing Strategy: Objectives, KPIs and competitors
The first step is done ✅
Now, as any marketing strategy thats worth its salt, the next step is to define the marketing objectives for your Twitter strategy.
What do you want to achieve on this social network? What type of content is adequate to reach your goals?
➡️ How to Get More Results with Twitter Marketing ⬅️
Once you have set your goals on Twitter, you must think about the content you will share to reach them…
⚡️ Share high-quality content. Images shouldn't be pixelated to keep followers engaged.
⚡️ Share original content. The chances of going viral will be higher.
⚡️ Analyze other Twitter accounts to get inspiration.
⚡️ Benchmark your competitors. You will know how your competitors behave on Twitter.
⚡️Add alt text to your Twitter images so that visually impaired users can understand your content.
How to search for old tweets?
Twitter has several tools for finding old tweets you've posted. You may want to rescue them, retweet them, or why not, delete them
👉🏻 How to find old tweets 👈🏻
Analyzing your competitors is an important part of your strategy, especially when you analyze competitors that are closer to your brand. You can get very valuable information for your strategy.
The type of photos that work best
Which copies are more successful
How to reply to users
Strategies with more impact
STEP 3
Execute your Marketing plan
The content on Twitter has more weight than in other social media platforms. It's a kind of microblog so be careful with the publications you share.
1- Make sure that the content is in line with your marketing targets.
2- Think about what you are going to say before sharing your content.
Below, you can find some valuable tips that will help you to improve your content strategy and therefore, your Twitter marketing strategy.
Program your content to save time
Twitter, apart from being immediate, is a very active social media platform, where brands and people can publish hundreds of tweets per day.
If you tweet once a week, it will disappear fast from your followers feed. This explains why it is so important to keep your account active and with several daily publications at different times.
There are many tools that allows you to plan your publications in advance to help you with this task. For example, Metricool helps you to publish automatically and to discover when your own audience is active to know when is best for you to post.
At the same time, you will have all your tweets organized in a very visual way and be able to check the impact of your tweets in real time and how the performance of your publications is evolving.
If you want to learn more about our tool, you can check our website:
Although you have the possibility of automating your tweets, make sure that your follow Twitter rules and policies so you are not penalize.
💡 PAY ATTENTION TO TWITTER POLICIES
Publish at your best hours
There is always a better time to publish personalized for you, when most of your audience is active and therefore, when they will read your publications faster. This way you will get:
More interactions
Higher engagement
More visibility
Take advantage out of your best times to publish to have a bigger impact and earn more followers.
▶️ Discover your best times to publish on Twitter ◀️
How to make money on Twitter
If you have a big Twitter following, you should start thinking about monetizing it and generating revenue from the content you share
Twitter provides many different ways to achieve this: through Super Follows, Tip Jar or audio room tickets. Even through external platforms like Publisuites.
Take advantage of your Twitter profile and earn money while you are sharing content.
STEP 4
Actions to improve your marketing plan
Improve your Twitter marketing strategy with these actions. They will help you to grow faster.
Run a giveaway or contest on Twitter
Contests and giveaways are very successful on this social network, it is an action very easy to execute that will bring you many advantages:
✔️ New followers
Thanks to contests you can earn more followers. However, it's important that the prizes are related to your business, otherwise, you could attract the wrong audience, users that have nothing in common with your potential customer.
✔️ It increases your engagement on Twitter
No need to say that a contest or giveaway will be retweeted and easy gets 'likes'. You will boost your brand image!
✔️ Visibility
Running giveaways and contests can increase the traffic to your webpage.
Use Twitter for events
Twitter is the best social network to share information about events using hashtags.
As we mentioned before, Twitter is known for being immediate which helps to improve visibility and content diffusion. This is why most businesses use this social network to broadcast events to visualize their impact in real time and get new followers.
✅ How to use Twitter for events: tips
Use the Twitter fleets
A new format where you can gain visibility in twitter stories without your followers having to constantly scroll down the feed.
If you are interested in this different format, here is a link: find out all about fleet.
Increase your followers on Twitter
Beginnings are always hard but if you design a good marketing plan, followers and interactions will increase with little effort.
Even so, there are several strategies that work well and will help you to add new followers fast:
⭐️ Share your Twitter account on your website or other profiles.
⭐️ Encourage interactions – Start a conversation –
⭐️ Create interesting threads about your topics
⭐️ Tag users in your tweets to create interaction, mention other people without using characters, and keep growing on the social network.
⭐️ Manage Twitter direct messages through the social media platform and with Metricool.
⭐️ Remember to measure and analyze your Twitter followers' growth either with Twitter's own analytics tool or with Metricool.
▶️ What you can do to get more followers ◀️
How to share videos on Twitter without retweeting?
How to share a video on Twitter successfully, without retweeting and respecting the creator of the content?
You can share a tweet as if you had uploaded the video directly, but you can see the original tweet's author at the bottom.
Twitter spaces
Make the most of this Twitter feature for setting up audio rooms on the social network and creating debates, interviews, or talks with other users.
Twitter Polls
Twitter Polls are tweets with added answers so that users can give their opinion on a specific topic.
If you have a blog, they can tell you what you could add to your content and what your audience is interested in. There are so many options that could work for your Twitter profile.
➡️ How to do a poll on Twitter? ⬅️
Create Twitter Lists
Twitter lists let you organize and keep up with the latest on a specific topic.
As a content creator, users may have added you to a list they've created, which means you're doing a good job.
▶️ Everything you need to know about Twitter lists ◀️
Discover Twitter Moments
Have you ever felt that you're running short of the 280 characters on Twitter and that creating a thread is a bit of a chore?
Twitter Moments solve this problem: is a collection of your own tweets or those of other users of the social network that you can collect on your profile.
With moments you can create interesting Twitter stories and that, by extension, doesn't allow you to do so in the timeline of the application.
⚡️Learn more about Twitter Moments ⚡️
Tip Jar
Discover how Twitter can help you generate money from creating content on the social media network
Through these donations, your community can offer you support so that you continue creating the content they like.
Twitter Communities
Imagine creating your own forum on Twitter.
That's how a Twitter community work. You create your own space to share tweets with members, where you have your own moderator and rules.
Put yourself to the test as admin of your first community: here's everything you need to know about Twitter communities.
Create Twitter Ads
Twitter Ads is a tool that allows companies and users to make promotions with the objective to drive traffic, gain relevance or branding. The first question is: Are twitter Ads worth it? And, the answer is yes.
▶️ You can discover it here ◀️
On this platform, you can create different types of ads, each of them with a different goal.
⚡️ Drive more traffic
⚡️ Increase visibility on Twitter
⚡️ Segment your audience to create specific ads to them and reach more potential customers.
⚡️Attract users with a small budget.
You're interested right?
Advertising is a great support for your Twitter marketing strategy. If you want to learn more about Twitter Ads and the type of ads you can create:
STEP 5
Analyze your Twitter Marketing Strategy
As with everything on Marketing, it's important to control and correct the actions taken according to a strategy.
If you know what you do and how each action performs, you can find out what is working and what isn't.
▶️ How Twitter Analytics work? ◀️
If you analyze your content and the evolution of your community, you will start:
➡️ Knowing your audience
➡️ Learn about their interests and preferences.
➡️ Discover the type of content that works best.
⚡️ Understanding Twitter Analytics
In short, it's the best way to guide and correct your Twitter marketing strategy looking to the future.
⏩ Analyze your Twitter account with Metricool for FREE ⏪
And up to this point, everything about how to create a great Twitter marketing strategy. It takes time but it is worth it. I promise!
Before I finish this article, I'm going to leave you with a post that if you are a fan of the series FRIENDS, you will love and it will help you with your Twitter strategy:
Have you put into practice any of our tips? We will read your comments.