Verifying an account on Twitter brings multiple advantages., especially if you have a personal brand account or professional profile. The first step is to request verification of your account by following these instructions.
Steps to verify an account on Twitter
Here are the steps to request verification of your account:
1 Go to 'Settings'
Log in with the account you want to verify and go to Account Settings. This button can be found in the left side column, 'More options'> 'Settings and Privacy'.
2 Click Verification Request
If you do not have verification of your Twitter account, you have the 'Verified' section and just below it the Request Verification button.
With this button, you will start the process to achieve the verification of your Twitter account.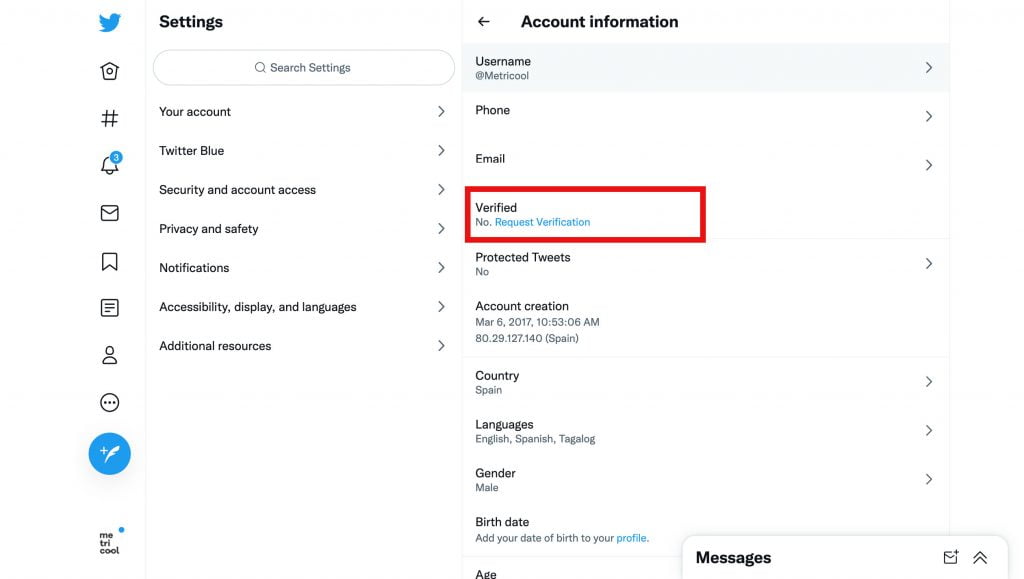 At the moment, this button is only available on some accounts. Don't be overwhelmed or worry if you do not have it yet. Twitter is doing it gradually to be able to review all the requests in the best possible way.
3 Choose the category
This step consists of selecting the type of account or profile you have on Twitter. Depending on which one you choose, the platform has different requirements.
If you are not sure to which one you belong, Twitter has a button to help you choose the right category for you.
In addition to being in one of the categories, you need to have your account with all the information: profile name, profile picture and email address to access this blue badge. It also has to be active in the last six months and be compliant with the platform's rules.
4 Verify your Identity
Once you have picked the category of your account, you need to select how to confirm your identity, a necessary step before Twitter grants you the verification.
In this case, you can choose to do it through your ID, an email, or a web page that directly refers to your Twitter account.
5 Wait for Twitter's decision
Now it's time to wait to know what Twitter decides. If you have followed the steps correctly and the platform accepts your request, you will receive an email with the response from Twitter and the blue badge automatically will appear next to your username.
If, on the other hand, your request has been denied by mistake, you can request it again 30 days after Twitter made the decision.
Categories to verify your Twitter account
If you want to request the verification of Twitter, your account has to be within one of the categories that you can choose.
What are these accounts?
✅ Government.
✅ Companies, brands, and non-profit organizations.
✅ News organizations or journalists.
✅ Entertainment.
✅ Sports and esports.
✅ Activists, organizers, and other influential individuals.
Are there possibilities to expand the categories?

Twitter is aware that these categories do not represent all the profiles you find on the social network. So its plan is to expand the categories by the end of the year. Among them those of scientists, academics and religious leaders.
Advantages of verifying your Twitter account
In addition to the obvious advantages why everyone wants to verify their Twitter account right now, it has other benefits that are unknown to most people:
Verified accounts attract more followers. Twitter users know that there is a profile that shares truthful information and will not be misled.
Increase the visibility of your account
A profile with a blue badge has a better chance of appearing in the top search positions on Twitter.
Of course, if a user searches for an account related to some topic and finds a verified one, it is easier for them to click on it than on another.
This aspect is quite helpful for online businesses, where trust in them is weakened due to the multiple profiles that already exist.

Therefore, if a user is interested in a specific type of product that you sell and your account is verified, you will have better chances than your competition if your account is verified.
Verifying an account on Twitter allows users to know if behind that profile is the "famous person or celebrity" indicated.
We have already requested to verify our account. And you?
If you want to know more about Twitter and how to make a good marketing strategy, here is a guide: