Twitter Spaces, also known as audio rooms, is a Twitter feature that you can use to host an audio conversation with other users on the social network.
This tool is currently in the trial stage and not all users can access it from their profiles.
Right now:
✅ iOS and Android can join a chat on Twitter Spaces as listeners.
✅Twitter web users can enjoy the audio rooms from their account in the browser they use by default.
Twitter has worked so that the Twitter Spaces infrastructure adapts to the browser screen to have 
What can you use Twitter Spaces for?
Spaces allows you to connect with Twitter users in a different way. You can create a live podcast on a topic, hold a debate or open a space to speak with your followers or other users.
How does Twitter Spaces work?
Since only a few users can create audio rooms, in order to understand how this product works, we're going to tell you about some of the features of this new addition to Twitter:
✅ Users that participate in the room
On Spaces, there are three types of participants:
Host
This is the person who creates the audio room. The Host decides when the audio starts and finishes.
They also have control over which users can speak, and they also have the power to remove, report, or block them on Spaces.
Most importantly, if they block a user on Spaces, they will also be blocked on their Twitter profile.
Speakers
These are the users that the Host selects to actively participate in the Space.
When the Host creates a room, they can select who will form part of the team of Speakers, from one of the following options:
·All participants.
·The people they follow.
·Only the people they invite to speak.
Listeners
Any Twitter user can participate in a Space as a Listener. If they want to speak or say something, they need to ask for permission from the Host by pressing the "Request" button under the microphone.
✅ Users who can access each room
Right now, any audio room is public for any kind of Twitter user.
If you want to join one, you can do so on Twitter, at the top part of your Home screen, next to Fleets.
If you want to invite different users, you can do so via direct message (DM), by posting a tweet with a link to the room, or by sending an invite link.
✅ Maximum number of people in a Space
The number of listeners per audio chat on Spaces is unlimited, but there is a limit on the number of Speakers there can be.
In terms of the Speakers, there can be a maximum of 11 people speaking at the same time, including the Host.
✅ Accessibility for all users
Twitter makes an effort to make all its features accessible to all kinds of users.
In this case, Spaces can be subtitled so that people with hearing impairment can participate in each room. To do this, the Host and the Speakers have to activate the subtitles before starting the session.
If they want to use this feature, you can activate them as a participant by clicking on the "Show Captions" button.
✅ Describe the audio room
If you want to, you can add a description to your Space or a name for the room you've created. This can help users who haven't joined your Space yet to find out what you're going to discuss, to see if it's of interest to them or not.
If you're going to discuss a range of topics in the same Space, you can change the "subject" at any time while it's active.
✅ Is the content from the rooms saved?
While the Twitter Spaces session is active, you can access the content. Once the Host ends it, it will no longer be available on Twitter.
But the platform will store copies of the session (and the subtitles, where applicable) for at least 30 days in case they need to review the content to detect any breaches of the Twitter Rules and Policies.
If this happens, the copy will be stored for a further 90 days in order to work out what happened and allow the people involved to appeal. 
✅ Schedule a space
As a Space creator, you can schedule an audio room for a specific date. You can program the time and the title you have chosen for it.

As the host of the room, don't worry if you forget the date. Twitter has a first reminder half an hour before the session starts and another just at the start time.

If you are part of the audience and have signed up for the room, you can request that the application remind you of the date. 
✅ Ticketed Spaces

This option is intended for content creators on Spaces. From 'ticketed Spaces', they can create spaces that only offer access through paid tickets.

It is a way of rewarding the creator of the space and giving attendees access to exclusive content.

At the moment, this function is available for a few users in a beta version. These users can set the price of the ticket and decide how many tickets they will sell.

After reading a bit about the features, you now know a little more about how Spaces works. But how to start your own audio room?
How to join Twitter Spaces
If you're one of those lucky users who can make their own audio rooms, but you still don't know how, we'll teach you how to do it.
1 Open Twitter and follow the steps as if you were going to post a tweet
Click on your Twitter app, long press on the "Compose" button, and tap the Spaces icon.
To find the Spaces icon, you just need to look at the options available and select the one with multiple circles in a diamond shape.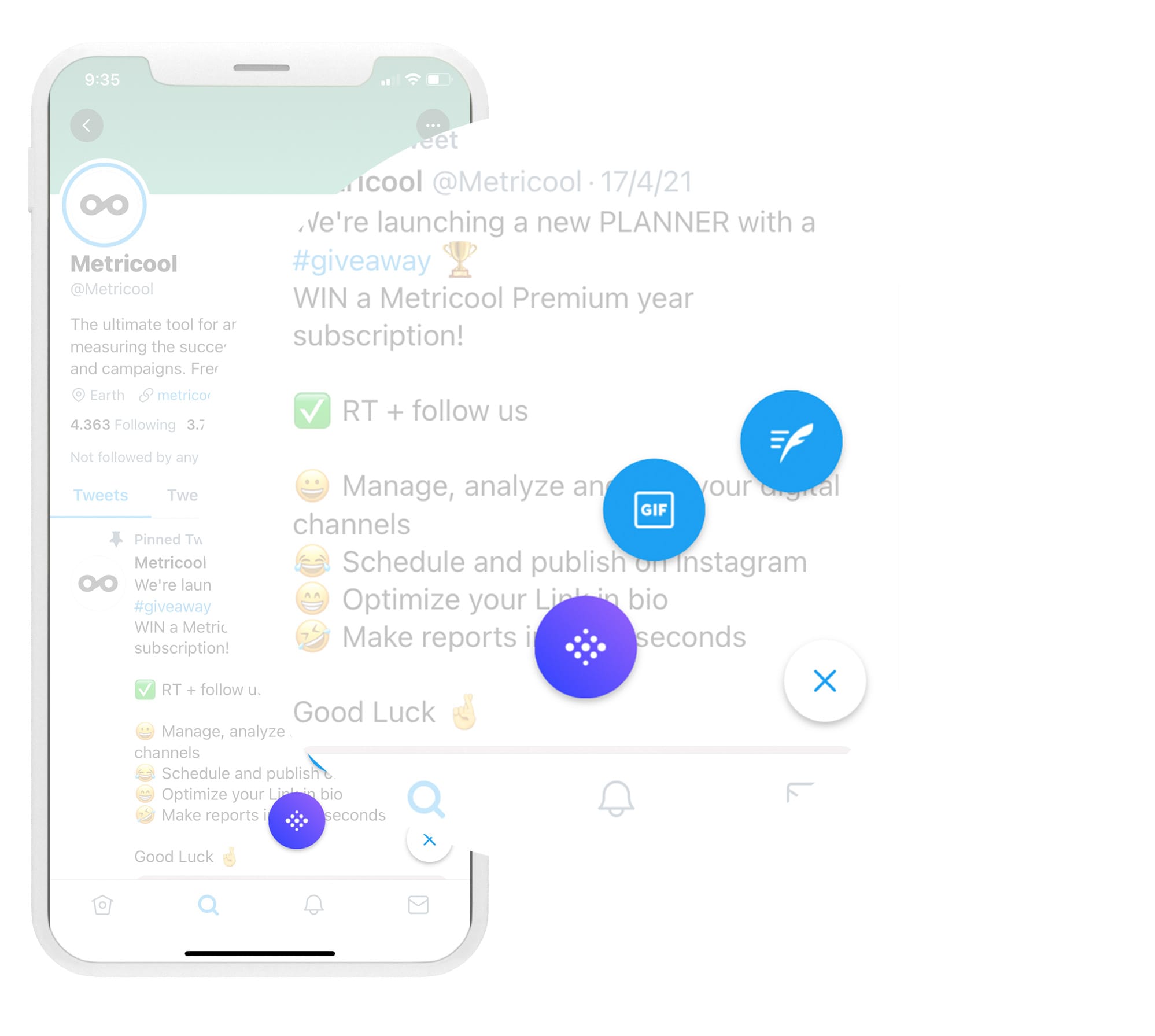 2 Invite users to join
You can invite any Twitter user as a Listener, an infinite number of participants, and up to 11 Speakers including yourself, the Host.
You can do this through a public message or a link to Space.
3 Turn on your microphone to start your audio room
Remember to activate your microphone when you start your Spaces session, and also to give microphone access to the other Speakers so that they can speak and take part.
4 Add a description or title
Just as if you were doing a live stream on any other platform, Spaces is great because you can add a title to your session.
As such, if users come across your Space and see what it's about, it will encourage them to join.
5 Start talking
Once you've got everything ready, you just need to start the session. Begin by introducing yourself, tell people what the audio room is about, and introduce the other speakers who'll be participating.
Now you're completely ready for when the time comes to start your own audio room on Twitter Spaces.
Stay tuned on our social media profiles to find out when Twitter activates this feature for all users.