It's time to take your business account to the next level: Twitter for professionals.
However, can I now turn my personal account into a professional one? Yes, you can.
Twitter for professionals is a social media profile that allows you to improve your presence on Twitter as a business.
The recipients of this type of account are clear: content creators, companies, brands, and publishers who want to give their account a professional touch.
Turning your personal account into a professional profile allows access to some tools: the platform's advertising system (which includes Quick Promote) and products that Twitter will add in the future, such as professional profiles and Twitter Shopping services.
How to convert your professional account
To create a professional account on these social platforms, you first need a personal professional, like other social networks.
If you are not yet on this platform, check out this post on creating an account on Twitter.
Do you already have a Twitter account? Let's get started!
1 Enter your Twitter account
Log into Twitter with the profile you want to turn into a professional profile. This process can be done from the mobile app and the web version.
2 Click on 'Twitter for professionals'
Go to 'More options,' the button below your profile icon, and tap on Twitter for professionals.
In the mobile version, swipe open the sidebar when on your Home timeline in the app.
3 Choose a category for your account
Depending on the area in which your business operates, you can choose one of the categories that Twitter makes available to you.
If you want to go faster, search by keyword in the search engine at the top of the window.
4 Select an account type
In this step, you have to choose the type of account you want on your Twitter profile. Here are the two options:
▶️ Business: Ideal if your account belongs to a brand, retailer, service provider, or organization.
▶️ Creator: an ideal type of account for content creators, influencers, public figures, or artists.
5 Welcome to Twitter for Professionals
You are now part of Twitter for professionals with your new business or creator profile.
In the last step, Twitter invites you to edit your profile (the bio, the username, and change the previously chosen category) and choose topics to follow to be up to date with everything that happens in your field.
From now on, your account belongs to the Twitter group for professionals. The category you have chosen will appear on your profile, just below your bio and next to the location.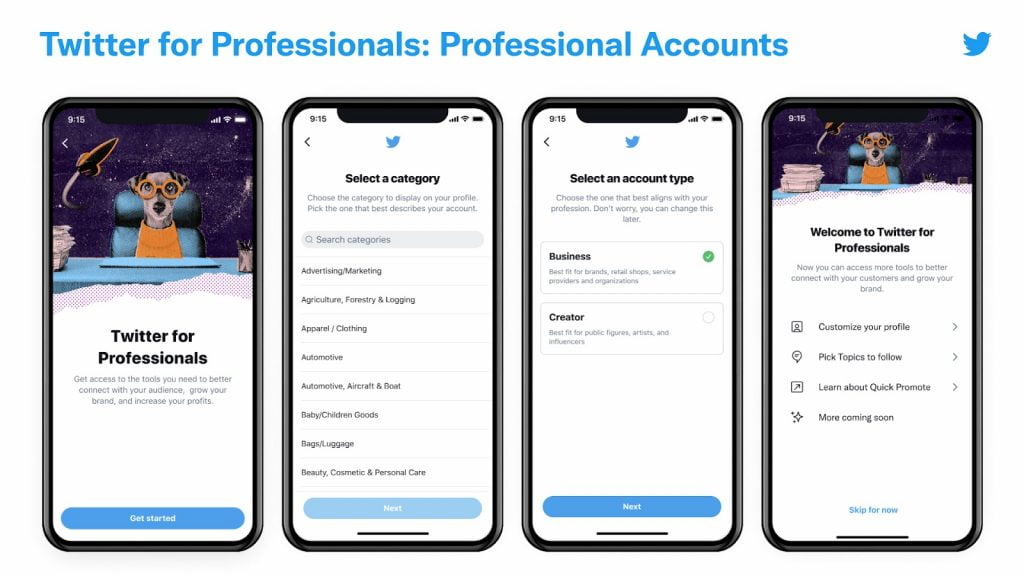 Do you want to go back to your personal account again?

Click on 'Edit profile' on your account page and scroll down to 'Edit professional profile.'

Here you can change the account type and come back to a personal account, or switch the account type from business to creator or vice versa.
Requirements to join Twitter for professionals
Do you want to have your own business or creator account?
Twitter allows you to access them as long as you meet these requirements:
Comply with the user agreement
You must have complied with Twitter rules and not have a history of repeatedly violating the Twitter User Agreement.
Twitter wants to avoid bots, so fill out your profile with all the information you can about your brand or business: account name, profile picture, and bio.
Identity on Twitter is an important issue. Focus on showing who you say you are and avoiding photos of public figures that have nothing to do with you or false identities that can be confusing.
If you don't meet these requirements, it will prevent you from getting your Twitter account for professionals.
Frequently Asked Questions
Perhaps you have already decided to switch your account to a business or creator profile, but you still have doubts.
With these FAQs that we have prepared, we hope we will help you make the best decision.
⚡️ "The word professional is very ambiguous …"
It's true if you think about it. What are the professionals that Twitter is talking about?
According to the social platform itself, professionals are those people or entities that use Twitter for commercial purposes or as a means of work. This definition includes traditional companies to the newest businesses, content creators, or publishers.
⚡️ "Let's see those benefits that these professional accounts have …"
Having a professional business or creator account on Twitter allows you access to specific tools that the traditional user has no option; it also helps professionals differentiate from personal accounts, improving their presence on the social network.
Of course, this type of account is free for any user.
⚡️ "And if I want to create a professional account when I register …"
Probably you have thought about creating a professional account directly. However, you need to do it from an existing account to create a professional account.

If you use your profile for commercial and business purposes, remember that you can measure everything that happens with your content with Metricool.
And if you haven't started on the social network yet, we help you with the first steps with Metricool Twitter Marketing guide.
If you have any questions, we will read your comments. 👇🏻