​Black Friday is the fourth Friday of November, right after Thanksgiving, which is a holiday celebrated all across the United States. Black Friday is considered the kickoff to the Christmas Campaign.
It's the day that most  companies, businesses and stores offer product discounts and sales with the objective of encouraging potential customers to start their Christmas shopping.
If your idea is to carry out a Black Friday campaign with the objective of increasing your sales and also, you want to differentiate from the rest, we have put together some original and creative ideas that you can put into practice to stand out and succeed with this year's campaign.
Ideas for a Black Friday campaign
Next, you can find some valuable ideas that you can apply to your Black Friday campaign and strategy for this year. Some profitable and successful companies have put them into practice with great results.
Use Live videos on Facebook or Instagram
Live videos on social media platforms are content worth seeing in a short period of time, when they are broadcasting. Therefore, these types of publications generate a sense of emergency amongst users.
We can use live videos to hold a raffle, to communicate offers or to advertise exclusive promotional codes for the Black Friday campaign. It's a way to increase your audience and boost your engagement on social media.
Lowe's stores followed this strategy on Facebook and their video went viral. In a few hours they reached 42,000 visits and over 1,000 likes. Their Black Friday campaign improved their engagement and skyrocketed their sales but also, increased their brand awareness.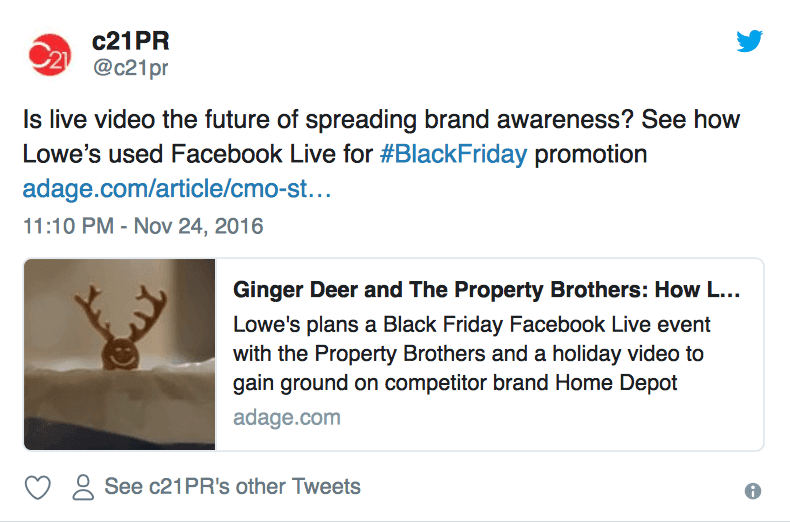 Extend your promotions until Cyber Monday
Cyber Monday is the next monday after Black Friday. It started as a day for online purchases and sales of consumer electronic products.
However, nowadays most of the businesses (both physical and online stores) continue their discounts and offers until this date. 
Customers know that they have an extra day to make all their purchases and most of them normally wait until Cyber Monday to finalize all their shopping. 
Create personalized offers
Every client wants to feel that they are special to a brand what encourages them to buy even more. There are companies that are real specialists in making each person feel loved and in giving customers the impression that they have received a tailor-made Black Friday offer just for them.
Treating  your customers well increases your sales but it also builds customer loyalty for future purchases.
When you have a fantastic shopping experience in a store, you will always come back…
Amazon and Forever 21 are two big companies that master these types of campaigns and make every client feel special.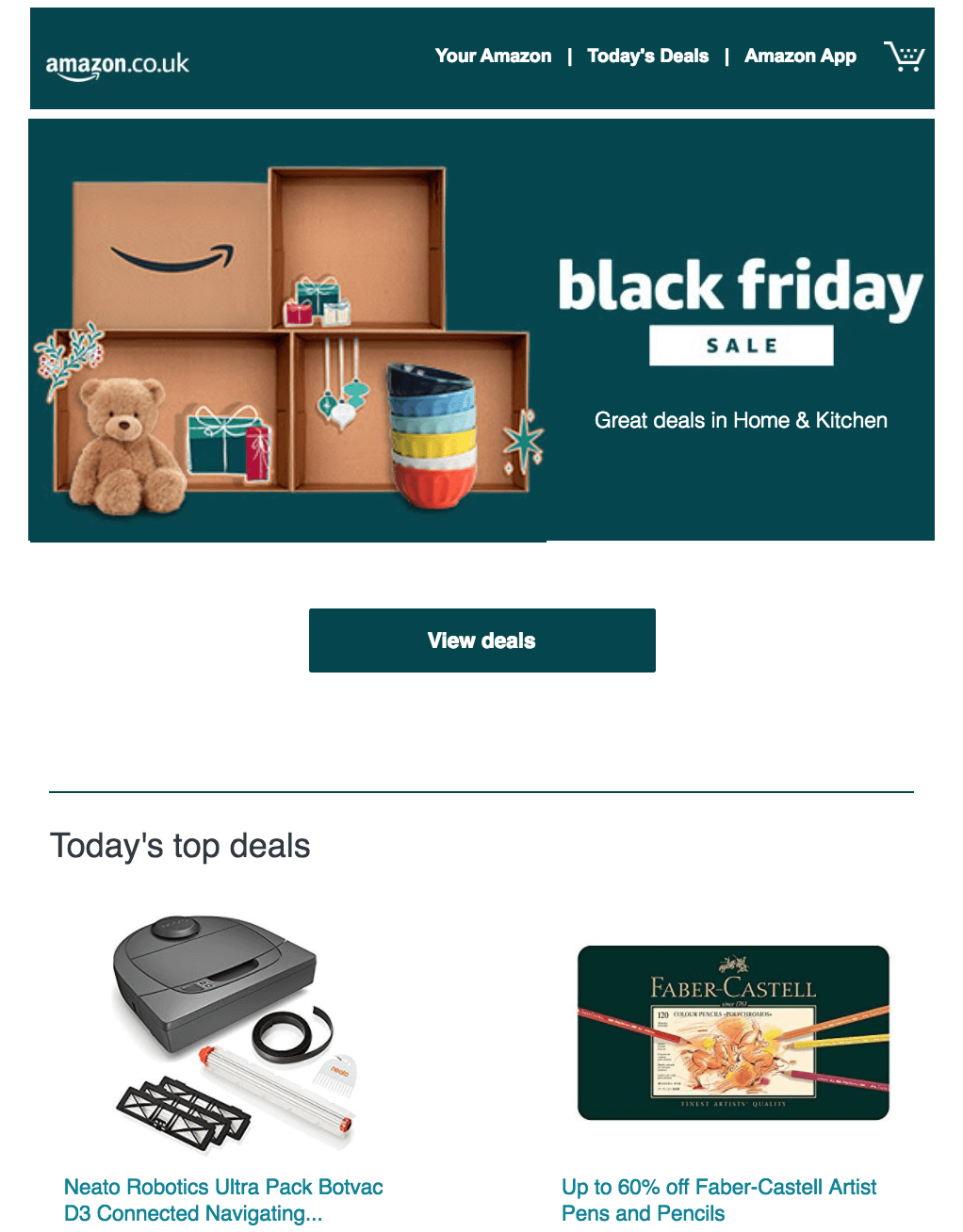 Email marketing Campaigns
It's one of the most  popular communication channels for Black Friday and Cyber Monday campaigns. It's a great way to advance your customers the available offers for those dates so they won't miss a thing.
Some of the key points for email marketing campaigns are:
▶️ Send emails in advance: Launch your campaign before Black Friday starts where you announce the offers and discounts planned for that day. Your customers will know what to expect and most importantly, it will create expectation amongst them.
Adding a countdown is a way to use the scarcity principle as a marketing persuasion tactic to encourage customers to pay attention to the risk of missing out the deals.

▶️ Use striking and attractive subjects and copies: Before you start sending your emails, think about the amount of emails regarding Black Friday that customers might receive. Make sure yours catches your customers' eye to stand out from the rest.
Look at this inbox,
Which emails capture your attention?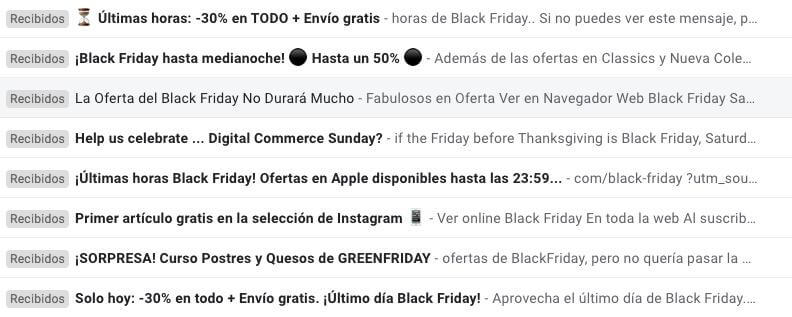 As you can see, including emojis or using capital letters helps to attract attention. Dedicate some time in finding the best way to create subjects that pop.
▶️ Segment and personalize your emails: Try to maximize the personalization of your emails to get the attention of your customers. If you have properly segmented your customers throughout the year it will be easier to do it.
Create expectation
Make noise and create expectation amongst your customers about what you are planning for Black Friday. Everybody knows that  products and services will be discounted on Black Friday but they don't know the exact amount or discount percentage and when exactly the offers will be available. These types of campaigns are very successful.
Flash sales
Flash sales go in line with the previous section.
This strategy is becoming more and more popular amongst companies. It consists of putting a product on sale with a big discount for a limited period of time. This encourages potential customers to keep an eye on your site and social networks and ultimately, to buy your product.
Use social networks to announce your campaign
Social media platforms are the perfect window for any company. They help content to go viral and reach more people. This explains why they are essential for promoting your Black Friday campaign.
Use images and videos and be creative on social media. Use the black color to stand out. Be imaginative, innovative and different.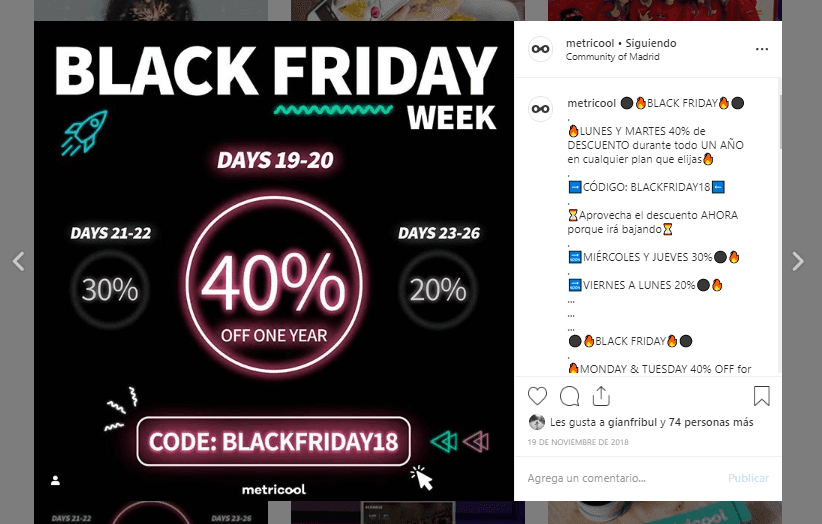 Take advantage of cross-selling and upselling
Black Friday and Cyber Monday are dates where users are trying to hunt the best deals and great discounts.  Take advantage of this moment and offer product or service bundle discounts. Package deals work very well.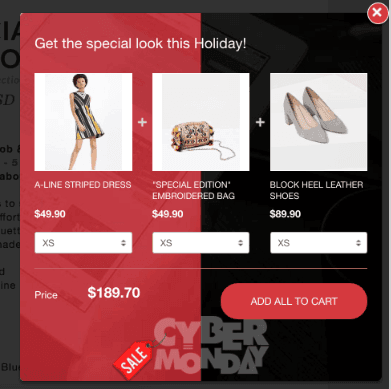 This is a summary of the creative and original ideas that you can apply to your Black Friday campaign this year.
Have you already designed your strategy?