Looking for a complete social media analytics of the social media sites you work with? Well, that's pretty much what Metricool's Brand Summary feature is.
Read on to find out all about this new feature of the tool and how it can help you in your daily life as a social media pro.
Social media analytics with Metricool Brand Summary
Metricool Brand Summary is a section on your dashboard with all the metrics from your social networks neatly gathered in one place.
Basically, it gives you a global view of your brand based on your community, your content, and your ads.
And all this is related to what we're about to tell you now, the structure of this section, which we've divided into:
▶️ Accounts.
▶️ Social media sites.
▶️ Ads.
So, what do they do?
Account 
In this section, you'll find information on all the followers of each of your connected social media accounts, sorted by highest to lowest number of followers.
In the featured section, you have all the followers you've accumulated on all accounts.
Without leaving the account part, you can see impressions from all your accounts, also sorted from highest to lowest, and the total impressions on all your social media profiles.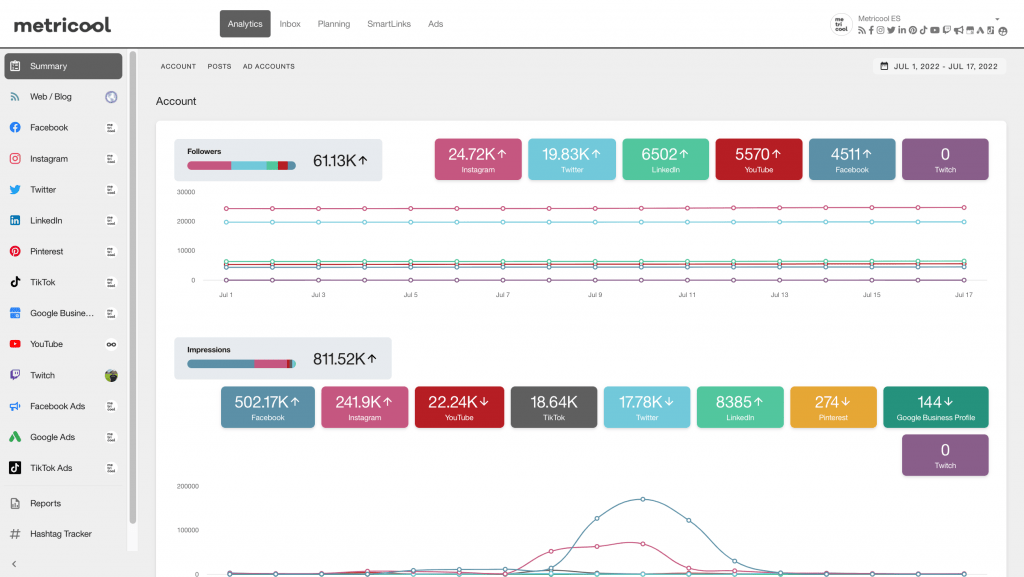 Posts
The second section, Posts, rounds up all the data and metrics on your content's performance.
In the first point, you can see your total interactions ordered from highest to lowest based on the social networks you have connected.
In the second part, you have the total number of posts on all networks and below that, the number of posts per social network.
Finally, the list of posts shows you the posts with the highest number of impressions and the social media site you uploaded them to.
Ad accounts
This is the last and most extensive section of the Metricool Brand Summary feature for social media analytics.
It's the most extensive because of the amount of information it offers: metrics about ads through TikTok Ads, Google Ads, and Facebook Ads.
When you click onto this section you'll find five information-packed graphs showing Impressions, Clicks, CPM, CPC, and Expenditure, along with a table with the best-performing campaigns.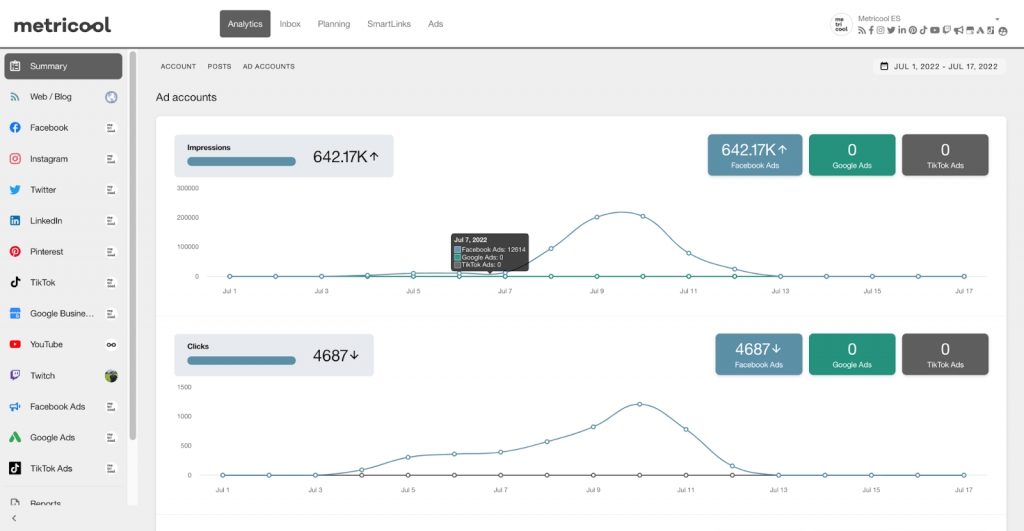 Metricool Custom Reports
As if the social media analytics you get on the Metricool summary weren't enough, you can also add these metrics to your custom reports.
Whether you're delivering it to your customers or presenting it to agencies as a media kit.
How does it work?
✅ If you select only the summary tab, all social networks and ad platforms will appear in your report.
✅ If you check all social media networks in your report, all the information will also appear.
✅ If you want one specific social network to appear, uncheck the tabs of the rest of the networks.
How about you? Have you tried Metricool's Brand Summary yet? To get you started, here's the complete guide to Metricool and all its features. Don't forget to drop us a comment under this post and let us know what you think.