What would you answer if someone asked you what the most challenging day for a social media manager is? Without a doubt, the preparation of a social media report, such as Facebook. We know this task is a time thief, but with Metricool, you can automate the process of creating Facebook custom reports. 
Facebook social media report with Metricool
Facebook offers many stats and relevant analytics to know how your content strategy has worked. Organizing all the information provided by the platform can be challenging. This is when Metricool comes into play.
If you don't have a Metricool account yet 👇🏻
▶️ Sign Up here for free ◀️
If you already have a Metricool account and are subscribed to one of our premium plans. Follow the steps on how to create your personalized Facebook reports in one click.
1 Enter Metricool and click on Analytics.
2 In the left column, scroll down to Reports.
3 Before downloading the reports, you can personalize your report.
⚡️ Select the period you want to include: the previous month is selected by default.
⚡️ You can customize your report with templates where you can choose the colors and which slides you want to include. Bear in mind that this option is only available on Team and Enterprise plans.
⚡️ Choose which social networks will be in your report or how the tables will be sorted by (engagement, reach, reactions,…). Plus, include the maximum number of rows on each table.
⚡️ Customize the report with your company's logo or your client's.
⚡️ Remember that you can enable the option to receive the report to your email or your client's with a personalized message at the beginning of each month.
4 Choose the format for your report: PDF or PPT. It will take a few seconds to download.
5 The report is ready!
How long did it take you? Probably less time than it took you to prepare your morning coffee. 🙂
What information will you find in your Facebook report?
We know that you have fallen in love with this option of downloading your social media reports instantly.
However, which analytics will you find?
⭐️ Community Growth
You can track the success of your Facebook company page by the growth of the community you have.
You will find an evolution chart on the first page of your Metricool report including the number of page likes, followers, and posts published in the period selected. Perfect for comparing published posts and the reaction of your community.
In addition, you have information about your audience demographics such as gender and age, and countries and cities.
⭐️ Page interactions and impressions
How your audience has reacted to your publications is key to knowing if the strategy you are following is the right one or, on the contrary, if you should make some adjustments.
The information you will find:
✅ Impressions obtained.
✅ Clicks on the page: calls to action and website clicks.
✅ Posts: engagement, interactions, average reach per post, and the number of posts published.
✅ Interactions: reactions, comments, shares, and clicks.
⭐️ Ranking of Posts
Here you can see reactions, comments, shares, clicks, link clicks, reach, views and engagement.
In addition, when you download the PDF, a link will take you directly to the published post.
⭐️ Competitors
The list of competitors allows you to obtain valuable insights into how your competitors perform.
You will see the number of page likes, posts published, reactions, comments, shares, and engagement.
Data to analyze your competition and see their situation on Facebook.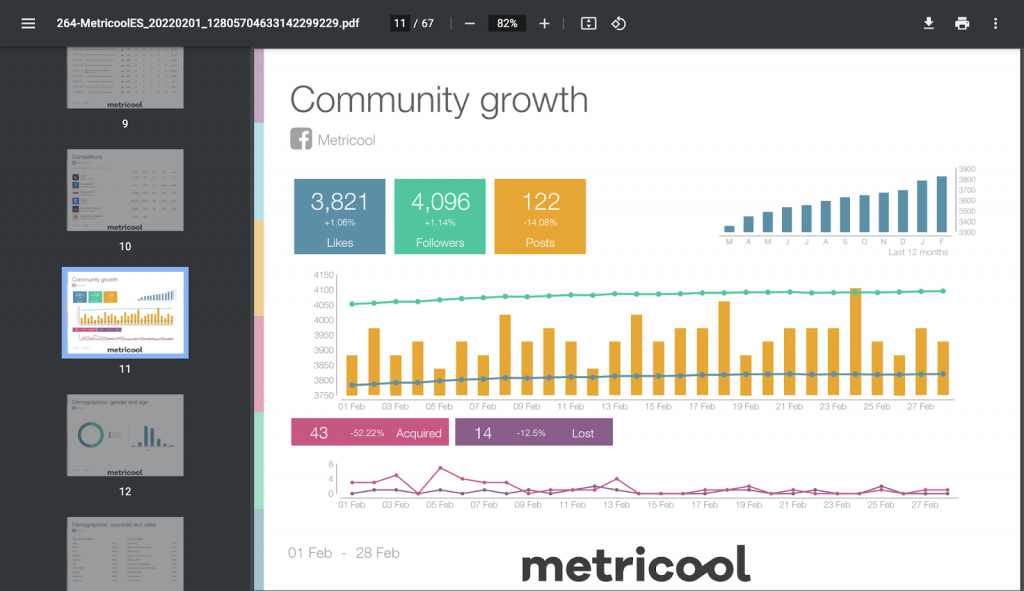 And voilá, now you have your Facebook social media report at the click of a button with personalized reports from Metricool.
If you want to learn more about our tool in depth, we leave you this Metricool mega tutorial to discover all its features.