Reels on Facebook? Yes, they have landed on this platform.
What is Reels on Facebook?
▶️ Reels on FB are short videos, up to 30 seconds (they can last up to 60 in some countries), in a vertical format that you can find on your Reels page or Facebook's feed ◀️
Short videos on Facebook allow you to share a different type of content, more casual and concise than other Facebook formats such as posts with links, photos, or videos.
How to see Reels on Facebook?
✅ You can only see them from the Facebook mobile app.
✅ Facebook displays reels in the feed news. In other words, not just from pages you follow, like TikTok's 'For you' section.
✅ You can access them through your profile in Menu > Reels.
✅ To continue viewing Reels, you can scroll down, as it works on Instagram Reels or TikTok.
❌ There is no Reel search engine, and you cannot access those that a user has uploaded from their page.
You can boost your company page if you include reels in your marketing strategy on Facebook.
Don't leave yet. Here we will tell you how to share Reels on Facebook and what you can do with them.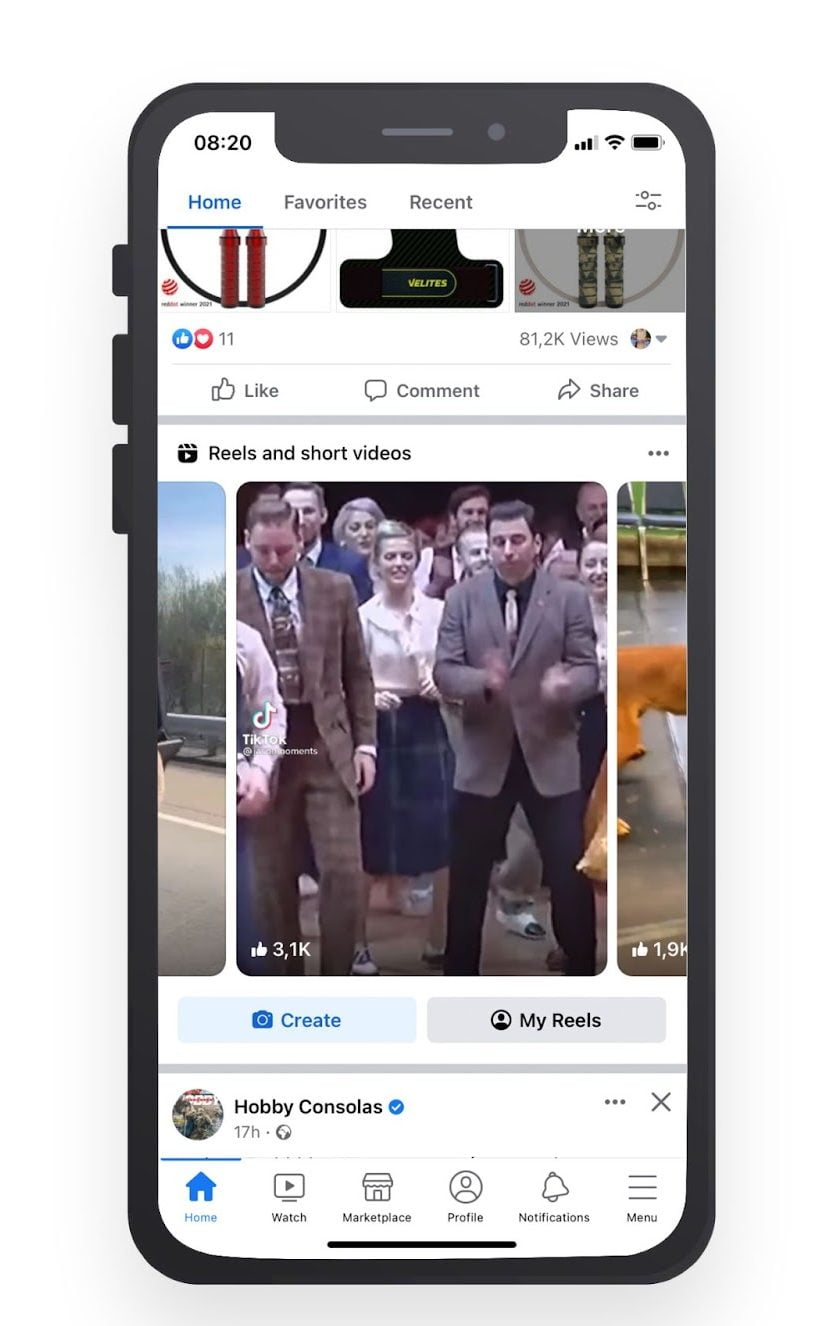 How to make Reels on Facebook
You can create Reels from:
✅ The feed (when you scroll down you will find the section between posts)
✅ A short video by clicking on the camera
✅ Under the 'What's on your mind?' section at the beginning of your Facebook homepage.
✅ In 'Create a post' from your brand page, in the 'Photo/Video', 'Add to Story' or 'Reel' options.
How to get Reels on Facebook?

You can access the reels you have created or saved from the Reels page. When creating a new short video, click on your profile image at the top right.
When you start creating a reel, Facebook will take you to the recording page, the screen with your camera, and different options.
Let's do it!
1 Lights, camera…
Edit all aspects of your Facebook Reel before you start recording.
Facebook allows you to add music, recording speed, filters, timer, and put a wallpaper for your video: it can be a template from the social network or a photo from your reel.
2 Action!
When you have everything ready, click on record. Make as many clips as you need for your video. Keep in mind that the limit is 30 seconds and must last at least 3 seconds.
Once you have recorded your Reel, tap on Next.
3 Post-production
It's time to make your short video attractive.
Add an explanatory text on the video and place it anywhere on the screen, shorten the video, add captions or more filters.
4 Post the Reel
Before publishing, remember that you can add a description about your short video: what it is about, add hashtags, etc. Also, you can choose if you want the reel to be public, only available for Facebook friends or just specific users.
If you are done setting up the reel, click on Share reel at the bottom and done!
We recommend that you upload the Reels in public mode so that they can reach more people and get more interactions.
How you can interact with Facebook Reels
Speaking of interactions. Interactions are crucial on any social network, and for Facebook, Reels works the same.
How to interact with Reels on FB?
✅ Drop a Like on any short video you find.
✅ Leave a comment.
✅ 'Follow' the creator of Reels and keep abreast of their short video page.
✅ Share it on your wall or copy the link to take it to external pages or applications.
✅ Saved Reels: it on your Reels page to see it whenever you want.
These are the different types of interactions you can get with Facebook Reels. It is up to you to create good content to continue growing on the platform and encourage users to interact with your content.
Upcoming news
The truth is that the Facebook Reels feature is constantly evolving.
The platform itself has been in charge of ensuring that there will be new features around this content in the short term, among which the following stand out:
📍Monetization of Reels
Facebook allows the monetization of Reels through overlay ads and they are displayed as banners or stickers. The banner at the bottom of the screen and the sticker at the top right.
These ads do not disturb the user who is watching the Reel, they will enjoy the content without ruining the playback of the content.
If you have access to Facebook's in stream ads, the tool automatically gives you access to the overlay ads.
By activating this option, Facebook will show ads in your Reels that are interesting to the viewer. In other words, the higher the quality of your Reels, the more chances you have to monetize your content.
📍Other features
As we mentioned at the beginning of the post, users can record Reels of up to 60 seconds in some countries. Something that Facebook will soon implement in all areas.
The 'Remix' feature already available on Instagram will soon be on Facebook. This feature is about recording a short video through another user's content and posting it on your Reels page.
The format is similar to TikTok Duets.Facebook will also make available to users the option to save Reels in drafts and several internal video editing tools to get the most out of your content.
📍Where to see Reels
If you are on Facebook, you will have noticed that it is somewhat complicated to see or search for Reels. In the coming weeks, the platform intends to make the search for content easier:
The Reels can be shared in Facebook stories. You can see and create from the 'Watch' section.
Differences with Instagram Reels
What are the differences between Instagram and Facebook Reels?
Although they belong to the same company, Meta, and the type of content is similar, there are some differences between them:
⚡️ Duration
One of the key aspects of short videos. They determine how to organize the content included in the video.
On Instagram, the total time is 60 seconds, while on Facebook, it's limited to 30. You'll need to trim the video to add it to Facebook's short videos.
⚡️ Captions
This feature is available on Facebook Reels but not on IG Reels. In both, you can add text manually and place it where you want, choosing the duration and customizing it with the font and color.
Also, on Facebook, you can add the captions generated by the application itself, which will be helpful if you upload a video explaining something.
⚡️ Choose songs from other Reels
On Instagram, it is common that if you find an audio or song that you like, you use it to record your own video. By clicking on the title that accompanies it, you can record it directly.
This is not possible on Facebook, so if there is an audio that you like, you cannot use it for your reels, and if there is a song that you like, you will have to search for it manually.
⚡️ Cover photo
This option is only available on Instagram Reels and not on Facebook, although it makes sense, and we'll explain why.
On Instagram, the cover photo is used to see the Reels from the creator's feed, which is not possible on Facebook at the moment.
⚡️ Other options
At the moment, Facebook has not enabled certain options available for Instagram Reels.
These include tagging other users or adding a location for your short video.
Social networks continue to grow and provide new content opportunities. Take advantage of these Facebook Reels to continue growing and increase your page's presence on the Internet.
Have you already tried Facebook short videos? Share your thoughts with us. 👇🏻