Metricool is a tool that allows you to analyze, manage and measure the success of all your digital content. It provides all that you need for your social media strategy in one place: web analytics, blog content, metrics and a planning tool for your social network accounts: Twitter, LinkedIn, Instagram and Facebook. It also gives you the possibility of studying your competition (Benchmark).
Start using this tool for free. You can always upgrade to a premium version for a fee if you want access to more features
With Metricool, you'll be up to date with what's going on with your website. You'll also be able to monitor your website or blog to learn how your content is performing on Google and across social networks.
Which pages are more successful and receive more visits? How much time do your visitors spend on them?
Are your ad campaigns working?
Which social network drives the most traffic?
In few words, Metricool helps you to analyze your website in detail without needing to be an expert at web analytics. Monitor your Twitter, Instagram, Facebook or LinkedIn accounts. Know in real time which followers are active in the moment so you can interact with them and publish content that can be of interest to them.
Next, we will review all the things you can do with Metricool point by point.
Community Management
Monitor the growth of your social networks automatically. Follow the evolution of your community. Find out which people or brands can help you to keep a conversation going and grow with them. Obtain an analysis of your main followers to know the most influential and active ones. Managing your community will help you to expand your presence in social networks and attract new users interested in your brand.

Content Management
You can analyze all data and metrics for your social networks with this easy and intuitive tool. You can gather stats about your content such as link clicks, interactions or impressions received on each post. With Metricool you can measure the evolution of:
Followers: How many you win or lose.
Posts: With a ranking with the main ones.
Interactions.
Web and blog analytics
Would you like to know the most visited pages of your website? Metricool provides you with all the information about your blog or website: Visitors, number of times that your article was shared or the most visited pages.
You can also find out the countries from where the users visited your blog and the traffic sources.
Google analytics and other similar tools can offer you the same data. However, they are more complicated to use and don't offer all metrics in one place. Metricool makes web analytics simple for all types of public.

Content planner for your social network accounts
Organize your publications visually with Metricool's content planning tool.
You can schedule your content every week.
Add any types of images, GIFs, videos or emoticons.
You can choose the best time to post on social networks. The time is customized by considering your specific audience.
Plan your social network strategies and schedule it!
Autolists
Create autolists for your content and decide the days and times that you want your posts to be published automatically. You can run or pause an autolist whenever you want.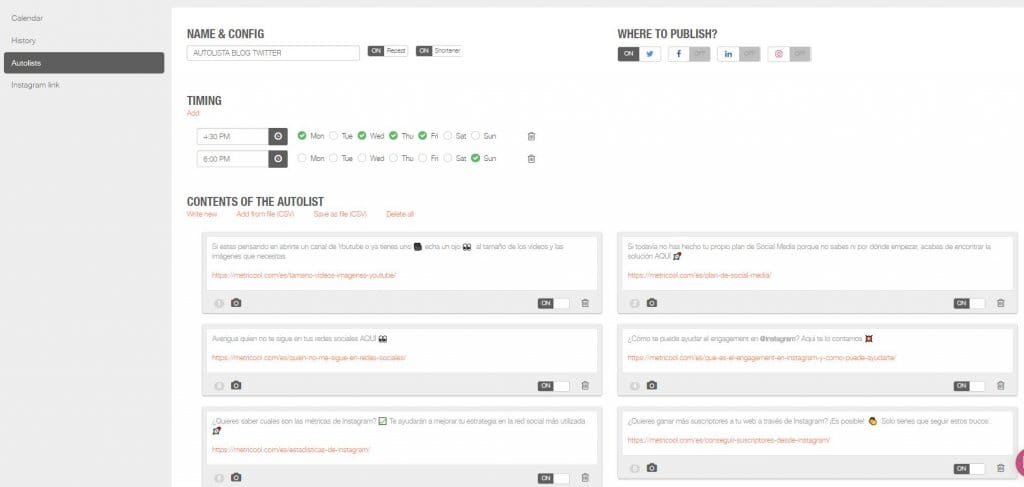 Facebook Ads
Monitor your ad campaigns that are run through Facebook Ads and download automatic reports about the performance of your strategy on this social network. You can obtain the following metrics:
Reach: Impressions, reach and spent
Results: Clicks, conversions and spent
Performance: CPM, CPC, CTR and spent
You'll finally be able to add a link to your Instagram publications! Drive traffic from every Instagram publication to any specific page of your choice. You will connect your audience to specific content, drive traffic to your web and guide your followers to your products in an easy and direct way. Our link in Bio is a perfect alternative to Linktree.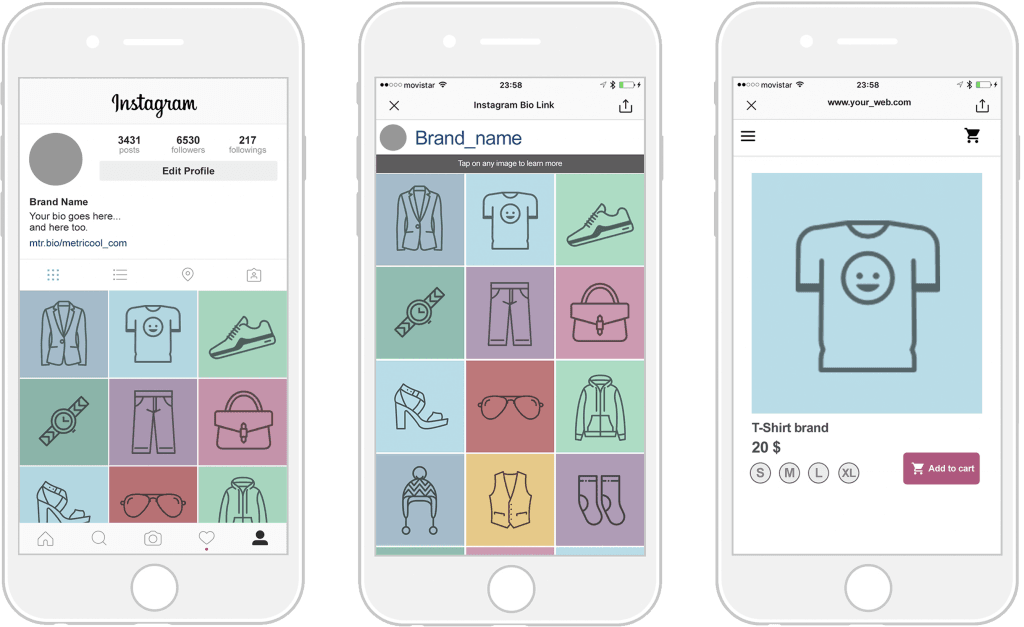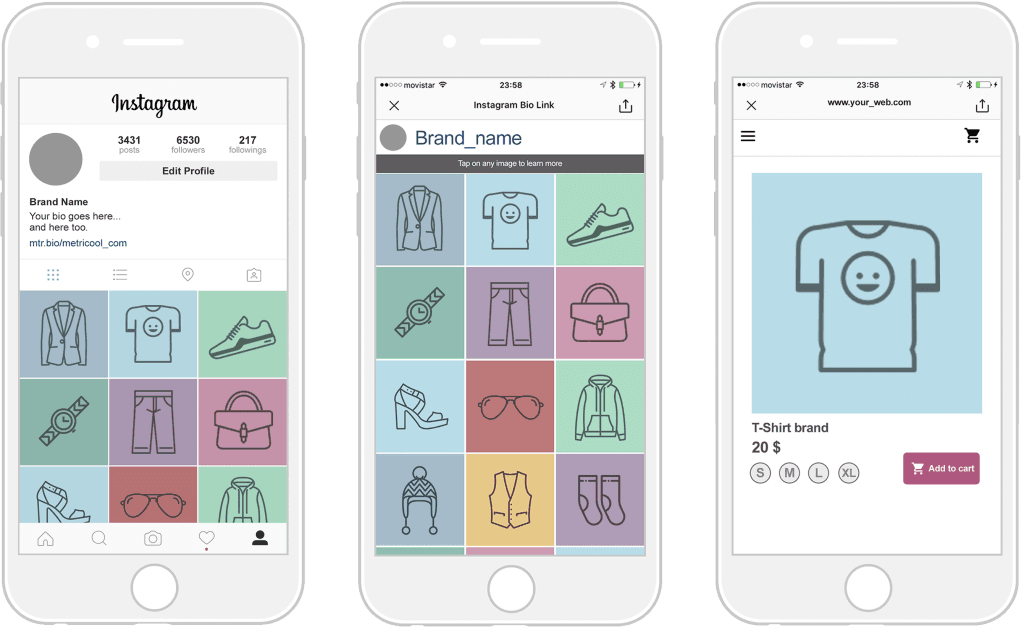 Reports
If you have a premium account you can generate reports to show the reach and impact of your content on your costumers, followers and sponsors.
You can customize your reports by choosing the exact info you want to be included. You can also adapt the design including your logo on every page.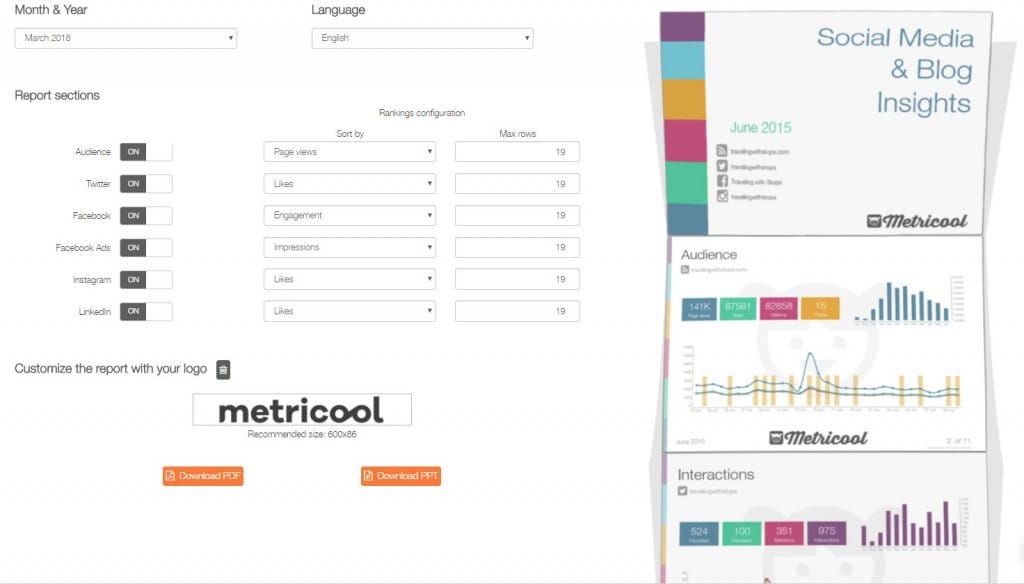 Other features
Metricool offers other interesting features:
Benchmark analysis for Instagram and Twitter
Analyze your competitors on Instagram and Twitter. Metricool allows you to establish a benchmark to control your competitors on these platforms. You will know about their evolution on social networks, the number of followers, likes, comments and their engagement. It will help you to improve your strategy!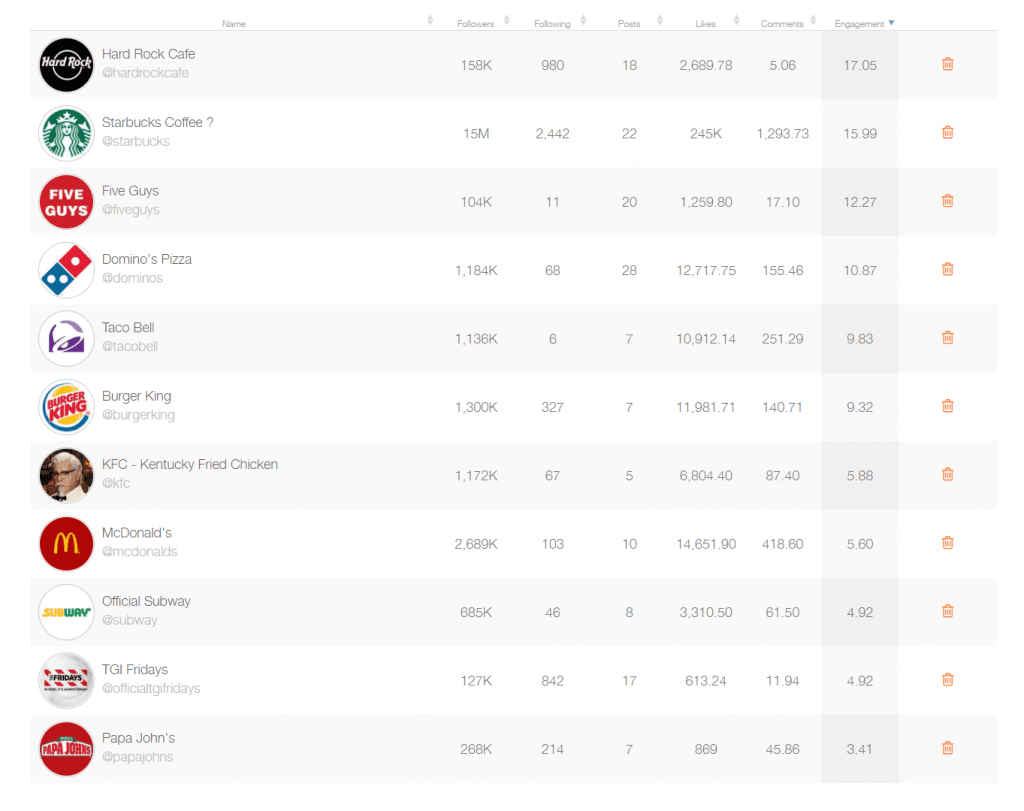 Hashtag Tracker
You can monitor any hashtag with Metricool but also, any key word, profile or topic on Twitter.
With this feature you can measure the impact of any event through its hashtag and encourage participation with the real-time info displays that this tool provides.
Lastly, as we mentioned before, Metricool has two types of users:
Free: An account that never expires. You can only configure one profile. Even so, you can get metrics from the main social networks and schedule up to 50 monthly publications.
Premium: There is a pricing table available to check the option that best adapts to your needs.
Don't you know Metricool yet? Try it and let us know what you think!