Metricool is a tool that allows you to analyze, manage and monitor the success of all your digital content.
It offers you everything you need for your digital strategy in a single place: web and blog analytics, social media metrics and planning, competitor analysis and, the creation, management, and analysis of your online advertising platforms.
Metricool: What it is for
If you are wondering what you can achieve with Metricool, you will find in this article a summary of all the features that you can obtain with our tool.
With Metricool, you can learn at any time what's going on with your website, your social media, and advertising platforms:
✅ Monitor your website or blog to discover how your content is performing.
Which pages are the most successful, most visited, and how much time do your readers spend on them?
Are your ad campaigns increasing the traffic to your site?
Which social networks carry the most traffic?
In short, analyze your website in detail without having to be an expert in web analytics.
✅ Analyze your social networks: Facebook, Twitter, Instagram, Google My Business, Twitch, YouTube, or LinkedIn.
You can also know when your followers are active on Twitter, Facebook, or Instagram to interact with them and share content when they are more likely to read it. We will review in detail everything you can accomplish with Metricool.
✅ Perform a competitor analysis on the main social networks: Instagram, Facebook, Twitter, Twitch, and YouTube.
✅ Analyze your online ad campaigns' performance on Facebook Ads, Google Ads, and TikTok Ads.
Manage and optimize your ads to get the most out of them and make your strategies as profitable as possible.
How Metricool works
Now that you know what Metricool is and how it helps you in your digital strategy, we will explain how it works.
Let's start at the beginning. To analyze your accounts and manage your marketing strategy from Metricool, you need to register.
Once you become a Metricooler, it's time to get the most out of our tool.
Analyze your web or blog
By connecting your website to Metricool, you can analyze everything that is happening on it.
In the Analytics section, you have the option to click on your website and check all your analytics for the date ranges you choose.
Discover the visits received on your page or blog, the traffic source, and where your audience comes from.
Also, in the Real-Time section, you can analyze what is happening on your website at this precise moment:
Number of visitors
From which countries and cities are they viewing your content
The most popular pages among users
From which devices users access your website
You can get a lot of useful information to optimize your page.
Organize your social media strategy from Metricool
SOCIAL MEDIA CONTENT PLANNING
Plan your content ahead of time and organize your posts visually with the Metricool planner.
✅ Schedule your week in advance and save time to dedicate it to other essential tasks.
✅ Add images, videos, emojis, or GIFs, and leave the post 100% ready.
✅ Select the best hours to post on the main social networks according to the time your audience is more active.
✅ Preview your Instagram feed to see how the scheduled posts will display on your Instagram feed before publication. Also, it will allow you to change the images if you are not entirely convinced of how they look with the rest of the posts.
✅ Schedule your content on Twitter, Facebook, Instagram, LinkedIn, Google My Business, Pinterest and TikTok.
✅ Schedule carousels on Instagram and threads on Twitter.
CREATE CONTENT AUTOLISTS
Make lists of content to schedule them on Metricool and have them published automatically.
Define the days and hours that you want to publish your content automatically. Remember that you can start, pause or make an autolist circular at any time. Keep your social media platforms always active effortlessly.
There are three ways to add content to an autolist:
Manually
Through a CSV file to add all the posts at once
With an RSS feed, so any update on your blog will auto-publish on your social media channels.
Analyze your performance on social media
In addition to planning your content on social networks with the Metricool planner, you can analyze your strategy's impact.
➡️ In the Analytics section, select the social network and the time frame you would like to analyze. 
➡️ You will see the content divided into three main sections, although everything will depend on the social network you want to analyze.
Community Growth:  you can see your profile's evolution, the number of followers, and what your audience is like (demographics).
Posts: analyze the impact of your posts individually and as a whole. Discover which ones worked best and which ones need to be optimized.
Competitor analysis: analyze your competitor's strategy by looking at their content published. Learn from their activity and get inspired.
In the 'Summary' section you have the metrics of all the social networks connected together and one by one ordered from highest to lowest.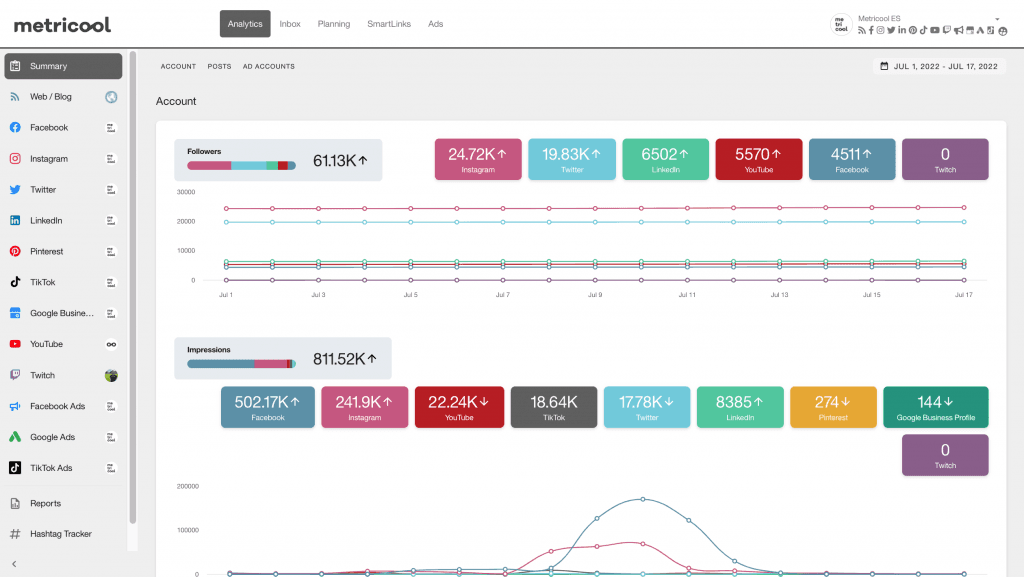 Discover your performance in online advertising
Apart from carrying out your social media and blog strategy, you can also keep track of your ad campaigns on Google Ads, Facebook Ads, and TikTok Ads.
FACEBOOK ADS
Connect your Facebook Ads account to Metricool and create your own ad campaigns without having to leave the tool.
Manage your ads' performance, analyze them with Metricool's interactive charts, and if you have a Premium account, download the reports you need.
GOOGLE ADS
Have you already created a Google Ads account? If you haven't, don't worry, as you can create your Google Ads account from Metricool, and you will have access to a 50% discount promotion on all your campaigns for 31 days.
Then, you can start creating ads, manage them in real-time and measure their performance from Metricool, all in the same place.
Also, if you are not familiar with online advertising, you have the option of accessing Google's recommendations to improve your performance.
TIKTOK ADS
Do you want to know if your ads on TikTok are working as you expected?
Connect your advertising account with Metricool and analyze all the information about each ad you make in a dashboard.
Other Metricool features
Yes, we haven't seen all Metricool's features yet, and we are sure they will come in handy.
METRICOOL SMARTLINKS
You can finally make your posts clickable through your Instagram bio.
Drive traffic from buttons and Instagram posts to any website you want. With this feature, you can drive your audience to any specific content, bring traffic to your website, and make it easier for followers to reach your products.
Also, with this feature, you can monitor the performance of all your links: detailed data of the visits to the link and CTR.
You can add both buttons and images with links.
Do you want to try it?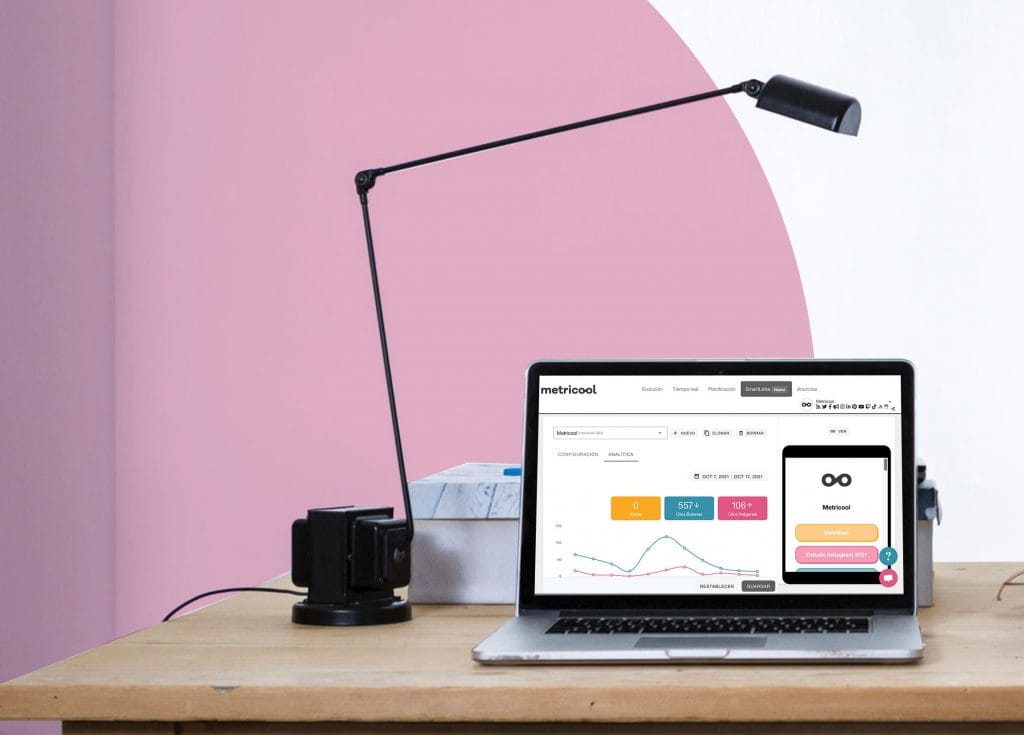 POPULAR HASHTAGS
Do you want to know which are the appropriate hashtags for your post on Instagram?
With Metricool's feature to search for hashtags, you can find the ideal hashtag for the post you are scheduling. Only for Premium users.
As simple as typing the related keyword and the platform will show you the most popular hashtags on that keyword.
AUTOMATIC AND PERSONALIZED REPORTS
If you have a Metricool Premium account, you can generate personalized reports that will help you test the reach and impact that your content has had on your clients, followers, or sponsors.
You can customize the content of the reports by choosing the data you want to include. Adapt the design, including your logo on each page.
ANALYZE YOUR COMPETITION ON SOCIAL NETWORKS
Analyze your competition on Instagram, Facebook, Twitch, YouTube, and Twitter.
Metricool allows you to perform a benchmark where you can control your competitors on social media.
You will know their growth, followers, likes, comments, or engagement.
It will allow you to improve your strategy!
TRACK HASHTAGS ON INSTAGRAM AND TWITTER
With Metricool, you can analyze:
Any hashtag on Instagram
Hashtags, keywords, or user profiles on Twitter
With this feature, you can measure the impact of an event through its hashtag in real-time. Also, encourage the participation of users on social networks.
Finally, as mentioned before, Metricool has two types of plans:
Free: A lifetime account to monitor one brand and all its social networks associated (except LinkedIn, only available on premium plans). It allows you to schedule up to 50 posts a month.
Premium: You will be able to monitor multiple brands, with no historical data limitation from the moment you connect your profiles, generate custom reports, and a long etcetera. You can check out the prices and a comparison of each plan here: https://metricool.com/pricing/
Have you tried Metricool?
Share your thoughts with us!
Now you know what Metricool is and how it can improve your social media marketing strategy. If you want to learn more about Metricool in detail: