Let me guess… Do your clients want to advertise their brand on Facebook? Do you feel a bit out of your comfort zone developing a campaign using Facebook ads? If your goal is to increase the number of interactions and design your own campaigns with Facebook ads successfully, stay with us.
We have prepared a detailed guide with essential and clear information that will help you in the process of creating ads with Facebook, so you can reach all your goals.
More information about managing Facebook Ads campaigns with Metricool by clicking here.
What's Facebook Ads
Before getting started, it's important that you know what exactly Facebook ads are and how they can help you with your campaigns. Facebook offers an ad platform that will assist you in the process of creating your advertising on Facebook.
Through this tool, you can design and create your ad campaigns so you can get more interactions, higher traffic to your website, increase the number of followers, more sales, more subscriptions, etc. Thanks to segmentation and targeting, you can reach your target audience easily. However, at the end of the day, the ultimate goal should be that your brand or company increases their profit.
Advertising Tools on Facebook
There are two types of tools that you should know to carry out a campaign on Facebook:
Power Editor: This platform is directed towards accounts with several clients. For example, advertising or marketing agencies that normally create different ads at the same time. It will help them to have good and detailed control of their campaigns results.
Ads Manager: If you're working on your own project or for a few clients, then this tool is a better fit for you. You'll be able to run your campaigns in a very easy and intuitive way.
Advertising Targets and Types of Campaigns
What type of ads can you create with Facebook ads? Not sure? Don't worry, that's why we are here, to give you all the info you need step by step.
But before we get started with the different types of campaigns that you can create with Facebook ads, it's crucial that you establish a clear goal for your ad:
Increasing the visibility of your brand on this social network.
Prestige or authority: Getting other people to take a specific action on your website.
Generating sales. Conversions growth
Different types of Ads on Facebook
Now that you have clarified your goals, the next step is to determine the type of ad that you want to create. Pay attention to all your possibilities and choose the one that adapts better to your needs!
✔️ Brand Awareness: This is a great option if you're looking for building brand awareness and reaching people who will probably identify with your brand. You will strike a higher number of users related to your brand with this type of ad.
✔️ Reach: You should use this option if you want to show your ad to the largest audience.
✔️ Increase the number of likes, shares and comments. This is your best chance to get it. This type of ad is known as promotional publication and it will help to boost engagement. Send more people to your Facebook page, website or online store with this type of campaigns.
✔️ App installs: Do you have an app for your business? Thanks to this feature you can get more people to download your app. Check it!
✔️ Video Views: You can also promote your videos and design original ones with your own images. This will help to improve your brand recognition.
✔️ Lead Generation: Is your goal to increase subscriptions? With this type of campaign, it will be so easy. In the same ad, you can collect all the relevant info using a form that people who interested in your business will have to fill out. You will decide the data that you want from them, such as: name, email address, phone number, etc.
✔️ Conversions: With these ads, you can obtain the conversions that you need. For example:
Sales on your online store
Subscriptions to your blog newsletters
eBooks downloads
Get your services hired
However, it's important that you use Facebook tracking pixel to monitor all your conversions. Is this all Greek to you? Simply follow Facebook's guidelines when you are creating your ads. This pixel is nothing more than a piece of code that you will insert on your page head to help you measure and monitor users that viewed your ad.
Product Catalog Sales: Create ads for all items from your catalog.
Store Visits: Is it possible to run campaigns to reach clients located near your business? With this feature, you can promote the location of your store and increase the number of visits.
How to create your campaign using Facebook Ads
If this is the first time that you are going to create an ad using Facebook, don't be afraid, we will show you in great detail how to use this social network to run your campaigns. Follow all our directions!
Let's suppose that you want to promote one of your Facebook posts to increase the number of interactions. Once you have published your post on your page, follow the steps below:
Step 1: Design your Campaign
Go to your Facebook profile or company page and choose the option "Create Ads" that you can find in the drop-down menu on the top-right side.
Step 2: Campaign Objective
Once you are in Ads Manager page, select the option "Engagement".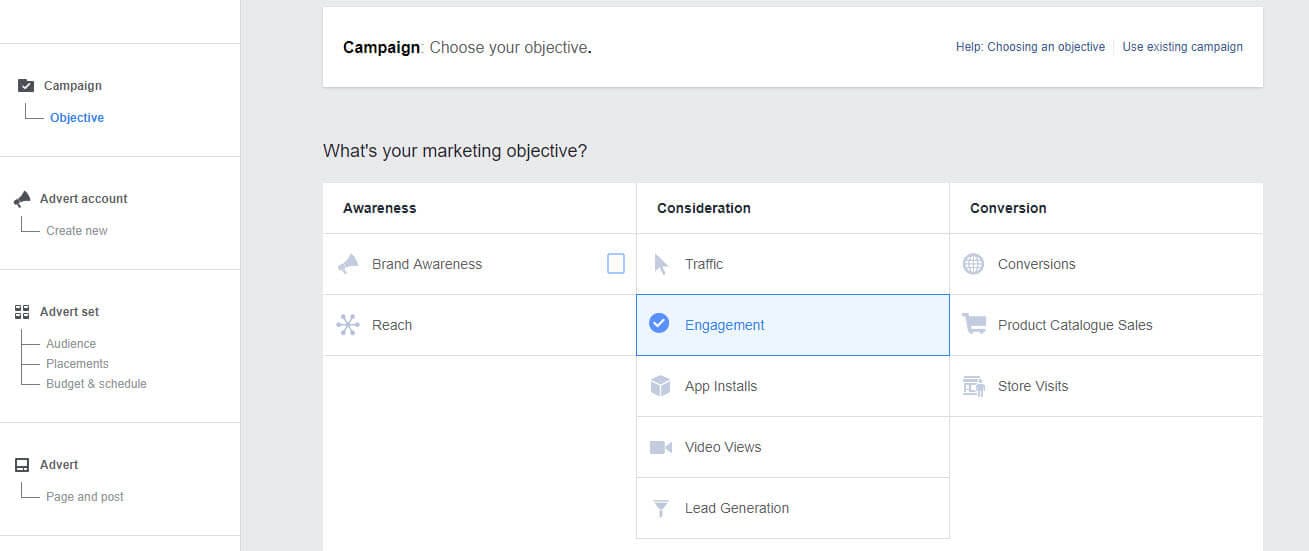 Step 3: Campaign Name
Before setting up your ad account, you must choose a name for your campaign. We advise you to choose "Engagement" followed by a word that you think will best identify your ad. For example, Engagement Carnival.
You will also have the option to choose between Post Engagement, Pages Likes and Event Responses. In this case we will opt for Post Engagement.
Step 4: Choose your target audience
Do you have a specific buyer in mind? Who do you want to reach with your ads? This is probably the most important step of your campaign since it will determine the success of it.
Try to define a target audience putting yourself in their shoes. That is, finding their preferences, interests, demographic data, social status and even their behavior. The more clear you define and detail your target audience, the faster you will reach your potential clients.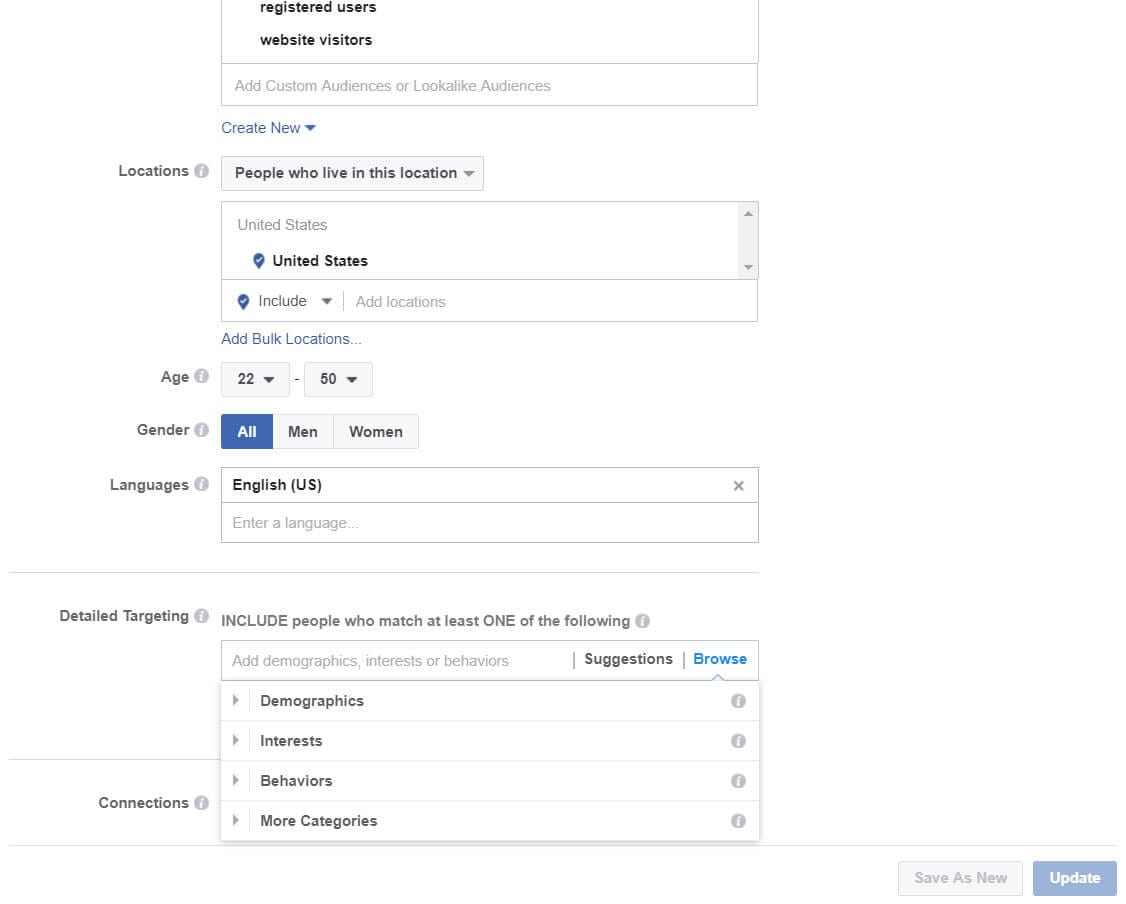 Step 5: Placements
Where do you want your ads to be shown?
On Instagram? On the right column on Facebook? Feeds? Here you will have the opportunity to choose where your ad will appear.
Would you take a piece of advice? If you want your ad to be shown on Instagram and Facebook, it's better to first create an ad for Instagram and then design one more adapted to Facebook. Doing it this way your campaign will be more effective than if you create a unique ad for both platforms.
Step 6: Budget and Schedule
Now is the moment to set the budget that you will use to run your campaign.
You can pick from $1 to the amount you consider more convenient. You can also choose between automatically running your ad or setting a start and end date, so you don't have to waste your energy doing it manually. You decide how much you will spend!
Step 7: Ad Name
Now it's time to choose the name for your ad. You should use a simple and characteristic name to use it for future campaigns on Facebook.

Step 8: Ad Preview
How do you want your ad to be shown? You can choose between creating a new ad or promote one that was already published on your Facebook page.
If you are going to use an existing post, Facebook will ask you to select the Facebook page where you want to create your campaign. You can also connect your Instagram account in case you want the same ad to appear on this platform. Then, you must choose the post that will be promoted.
Also, if you click on advanced options you can choose a pixel tracking that will monitor your website conversions. With Facebook pixel, you will be able to run retargeting campaigns in the future and measure the conversions from your ad.

Step 9: Order
Your campaign is ready to be launched but you can have a quick last look to make sure everything is correct. There is still time!
Click on "Review" and once you are satisfied with your choices you can click on "confirm". Facebook will review it to check that all the requirements to be published are met and in a few minutes, your ad will be available and running.
Want to know more technics to create the perfect strategy on Facebook?
Complete guide about Facebook Marketing
Are you ready to start running your first campaign with Facebook ads? Start today, remember that practice is the best way of learning.
How to analyze the performance of your Facebook ad campaigns

From Facebook Ads itself you can check the metrics of your ad campaigns. It will help you to decide whether a type of advertising is profitable or to implement some changes to your strategy. You can also discover what types of ads work best. However, it's true that Facebook Ads platform is a bit complicated to use and interpret, this is why I come with an alternative that you will probably like… Metricool monitors and plans your social media content and also lets you analyze your Facebook Ads metrics and manage and make changes on your Facebook and Google campaigns from the same platform. Besides, you can download reports of all your campaigns with a Premium version.So, do you want to give it a try?