We have news about the new Chrome extension for Social Networks offered by Metricool. Yes, exactly as you've heard, plan your content from your desktop with a few clicks.
What are Google Chrome Extensions?
First of all, I will explain what a Google Chrome Extension is; in case you are not very familiar with it.
They are apps to carry out very specific tasks while browsing the internet.
When you download Google Chrome on your computer, some of these extensions are automatically included, like YouTube or Gmail. As you use this browser, you can start adding the extensions that you need most.
There are many extensions: to block ads, take screenshots, or even improve user privacy.
What is Metricool's extension for?
This extension offered by Metricool is a new feature that we have added to Google Chrome. It allows you to easily publish or schedule your content on the social networks that you have previously linked to Metricool.
It's not a replacement of the desktop where we usually plan publications, but it comes in very handy when you want to post something while browsing the internet.
How do you install it?
If you want to install the Metricool Chrome extension I will explain it step by step:
1. Open a new tab on Google Chrome and search for: chrome extensions.
2. Once there, in the search engine type: Metricool. Or click here.
3. Click on the extension.
4. And click on the option: add to Chrome.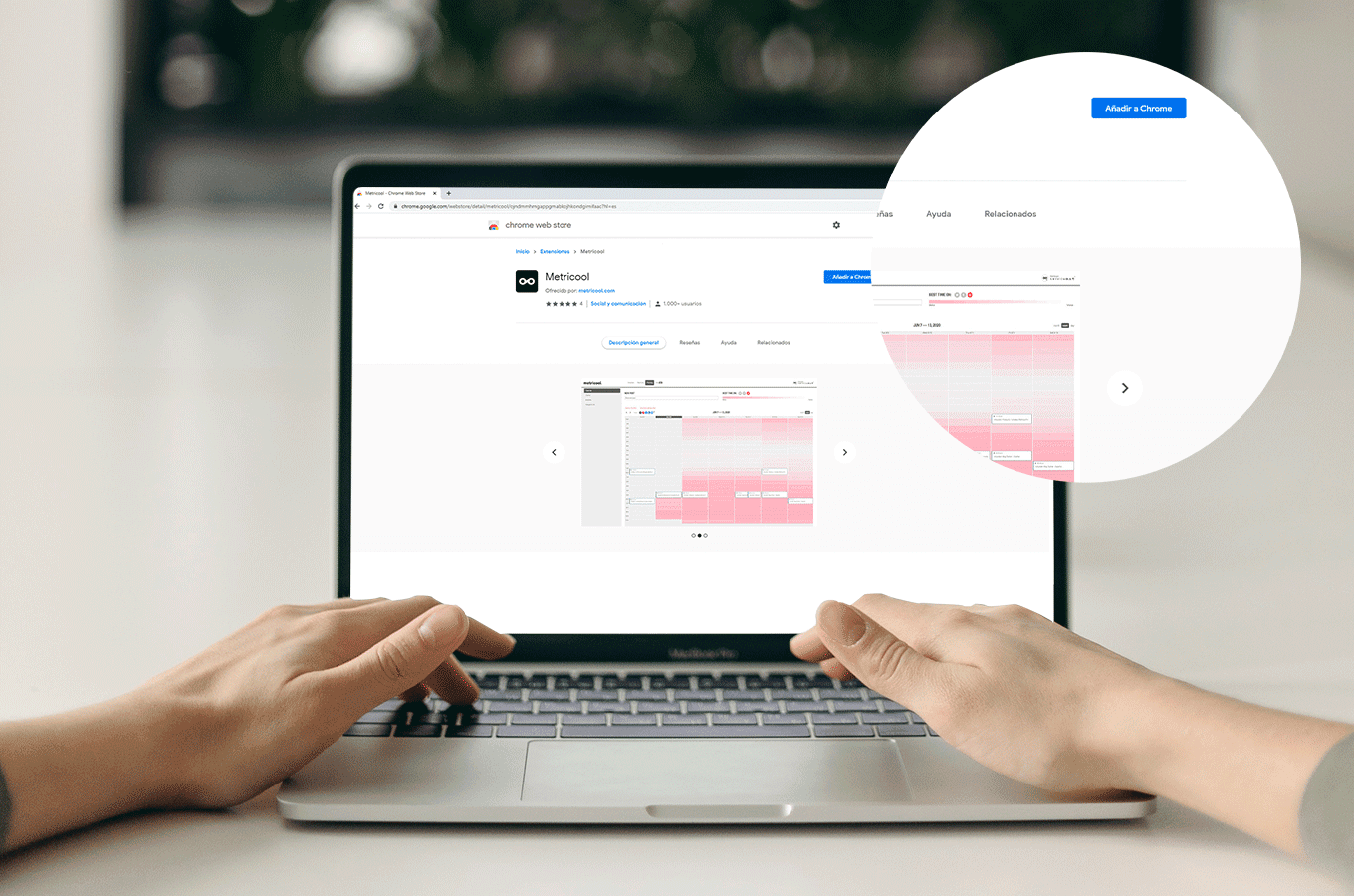 And that's it! You already have the Chrome extension added to your web browser.
Now… How can you use it?
How to use the Metricool Chrome extension
This will make your life easier and save you a lot of time… you'll see.
When you are browsing the internet, and you bump into an article that you'd like to share on Twitter or a web page that you want to add to LinkedIn, instead of copying the link and having to go to Metricool's home page…
📌 Click on the extension that appears at the top right, as shown in the image below.
📌 Select the text you want to share and the web link and right-click with the mouse. The option to share with Metricool will appear.
📌 If you have the latest version of the Metricool app, you can share the content from a web page, Instagram post, or a tweet. Select the content you want to schedule, click on share and the app itself will open to take you to the Metricool planner. Now you can easily schedule the content the day and time you want.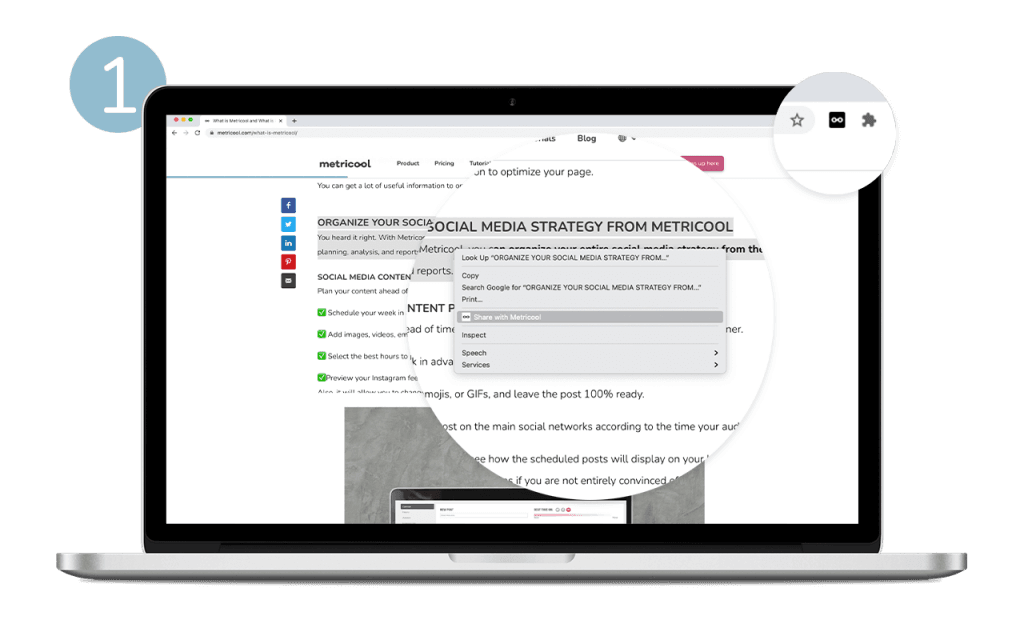 Once you have used either of these two options, a new window will open in the browser where you can plan your content on Metricool.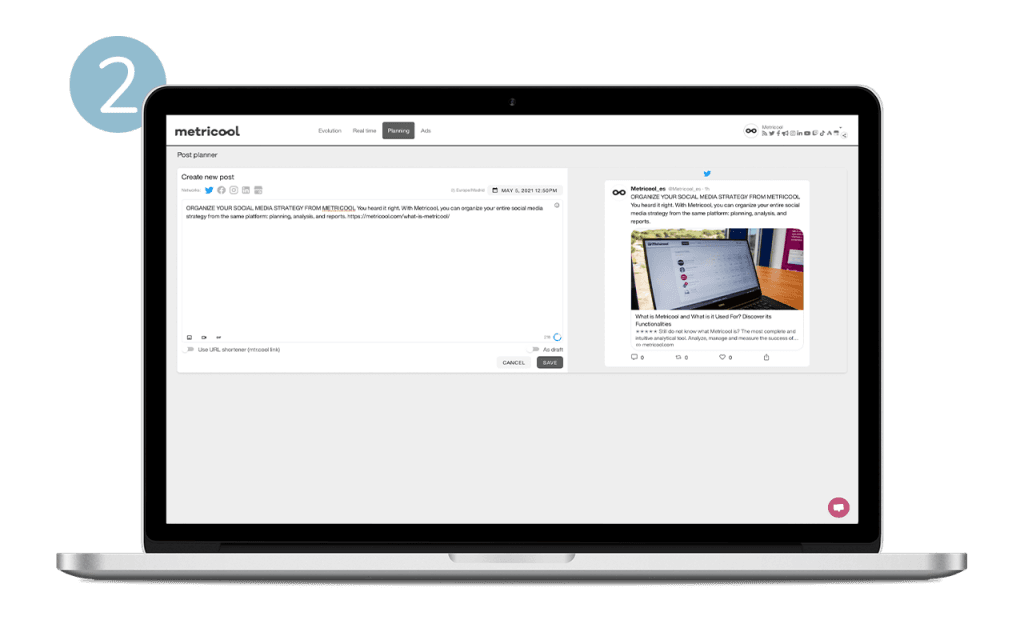 On this screen, the title and the website link will be loaded. You can edit the entire publication: time and date, social network, add images, etc.
Once you save it, the Metricool planner will open automatically, where you can check that the post appears as you have configured it. Also, you have the option to edit it.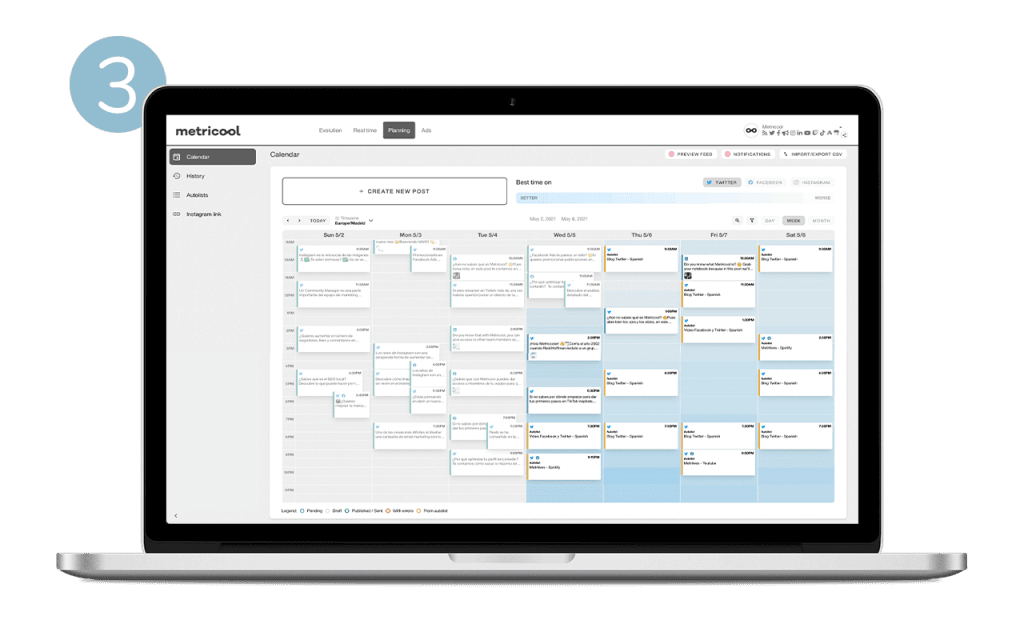 So, what are you waiting for? Go and install Metricool's new Chrome extension. You won't know what to do without it!