You post constantly on your social networks and your content is very good. You invest in advertising to increase your followers but despite your efforts your fans grow at a snail's pace. Does this situation sound familiar? Why is it so difficult for you to get followers on your Instagram accounts?
There may be effective strategies that you have not tried, such as the one I'm going to discuss next: increase your followers with hashtag strategies. And something to keep in mind, if the plan doesn't work, try changing the plan but not the goal.
Instagram's Algorithm is getting more and more complicated and it's increasingly more difficult for your content to stand out, therefore a hashtags strategy could be very effective.
How to get followers on Instagram using hashtags
If you think that this type of strategy is exclusive to Instagram, you are mistaken! The use of hashtags has become an almost obligatory practice for all social networks. Therefore, if you want your networks to come alive, it is very important that your company or brand uses this kind of strategy.
What hashtags are
They are labels that are used to group content for a specific topic. It's like a convergence point for all the people who are interested in a specific event.
They allow the information to be grouped, organized and classified in relation to a subject.
THE #HASHTAGS
They are labels that allow the information of a certain topic to be displayed in chronological order. All content shared using this tag will appear publicly.They are an important part of Marketing on Instagram
These labels group content to be publicly presented and organized in the timeline, facilitating the whereabouts of their location and the exchange of information or content between different users. So what does a good hashtag look like on Instagram or other social media?
Easy to remember
It should make sense
Brief and simple
Catchy for Users
Easy to use on Instagram and all other social networks
This way, a user who does not know your brand will be able to locate you by chance from seeing the right hashtag. It sounds good, doesn't it? We'll continue with effective Instagram hashtags strategies.
Create your own hashtags
On my list of tips to increase your followers through hashtags, the key thing is to develop your own tags. Thanks to this, you will differentiate yourself as well as…
Create expectation among users
Improve your positioning on a particular social network
Increase your visibility
But the most important thing of all is to turn that hashtag into a trending topic. Something you can achieve by conducting a specific contest or event. Increase your followers and clients with this method!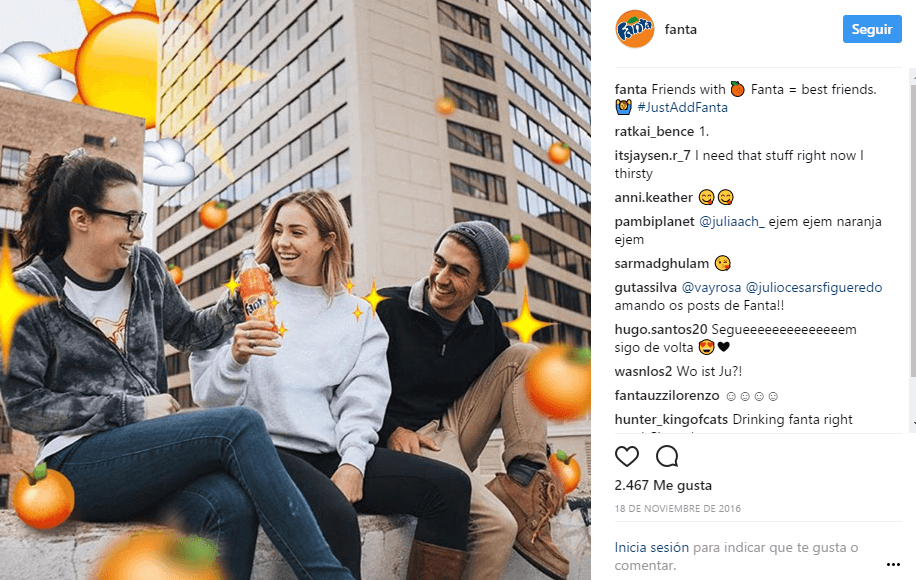 Use the most popular hashtags
Do you want to find the most popular Instagram hashtags without dying in the attempt? Don't worry. Metricool's hashtag search function is the solution to your problems.
How? If you are a Premium member of Metricool, you have access to this function to find the appropriate hashtag for your Instagram content.
As simple as writing a keyword related to the post you are planning to publish, and Metricool will show you the most important hashtag on that topic and the number of posts published with it.
Easy right? Become a Premium member and find the best hashtags for your content on Instagram.
Decide on trending hashtags
Can you imagine being able to position yourself on a topic that many people are talking about right now? Do you follow the trends of the moment on social networks daily? If not, you might need to start, because taking advantage of trending hashtags will help you increase your followers in a short time.
To discover these trends, you just have to go to Twitter, consult the list that appears as trending topics and adapt the current labels to our content on Instagram. But best of all, you can also undertake a more detailed trend search and filter it by geographic location. This way you won't miss any trending hashtag in your area!
Controversy can be your best ally to stand out
How many on Social Media will not use these same tricks to increase their fans or followers? Likely the vast majority. With that in mind, you have to try to stand out, and by this I don't mean that you will be able to reach everyone, but at least those in your target audience.
If your content does not generate debate or some kind of emotional response from the user, your message might not grow, it will disappear over time and all will have been in vain. Don't you think? So your next step should be to write down in a document all those "crazy ideas" that cross your mind and publish them. Of course, as long as they relate to your social media accounts and with a touch of humor.
Take advantage of the most popular and viral trends
Why not take advantage of trends to create your own hashtags or adapt them to your brand? And by this I don't mean only using the trending topics, but also to use the campaigns or themes of other brands that are going viral at the same time.
A clear example has been the recent launch of the small toy "fidget spinners", where brands have been able to take advantage of it on their social networks.
Another great example was the Pokemon Go phenomenon. Which brands did not jump on the bandwagon of this trend to create messages on different social networks?
What is the main objective of all of this? To give more visibility to your content by taking advantage of a current topic's sway.
Now you only need to put it into practice on your social networks and open the door to new followers and potential customers. Hashtags on Instagram and on any other social network are essential. Do you think I have left out any strategy using hashtags? If so, I invite you to tell me in the comments.
Analyze your hashtags with Metricool
With Metricool, you can analyze all the hashtags that you have used on your Instagram account.In the evolution section, you will have a table like the one below with the hashtags you have used and the following metrics:
You will see in which images you have used these hashtags
The average impressions of all the posts in which you have shared the hashtag
The total number of posts in which you have used the hashtag
The average likes received by the posts with the hashtag
The average number of comments received by the posts published with the hashtag analyzed.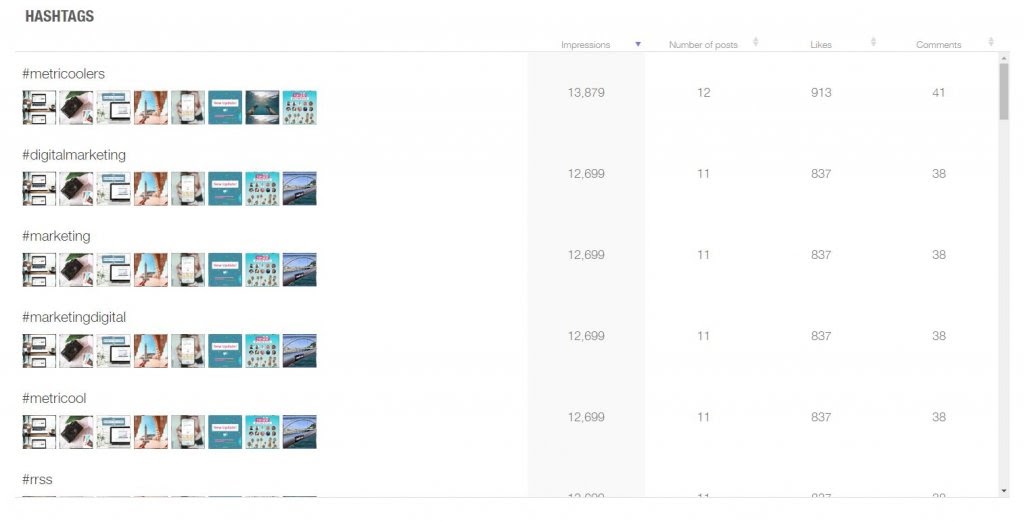 You can organize the table based on the metric you want and discover which hashtags have been more successful and how each of your hashtags works.