Not that long ago, Instagram decided to stop being an app only designed for mobile devices, so they launched a website version.
Most smartphones have Instagram's app installed. It's indispensable if you want to guarantee a successful Instagram strategy.
However, you can now edit your profile and visit Instagram from your desktop or laptop without having the app downloaded.
How to access Instagram Website         
The first step is to access Instagram via the Web by visiting Instagram.com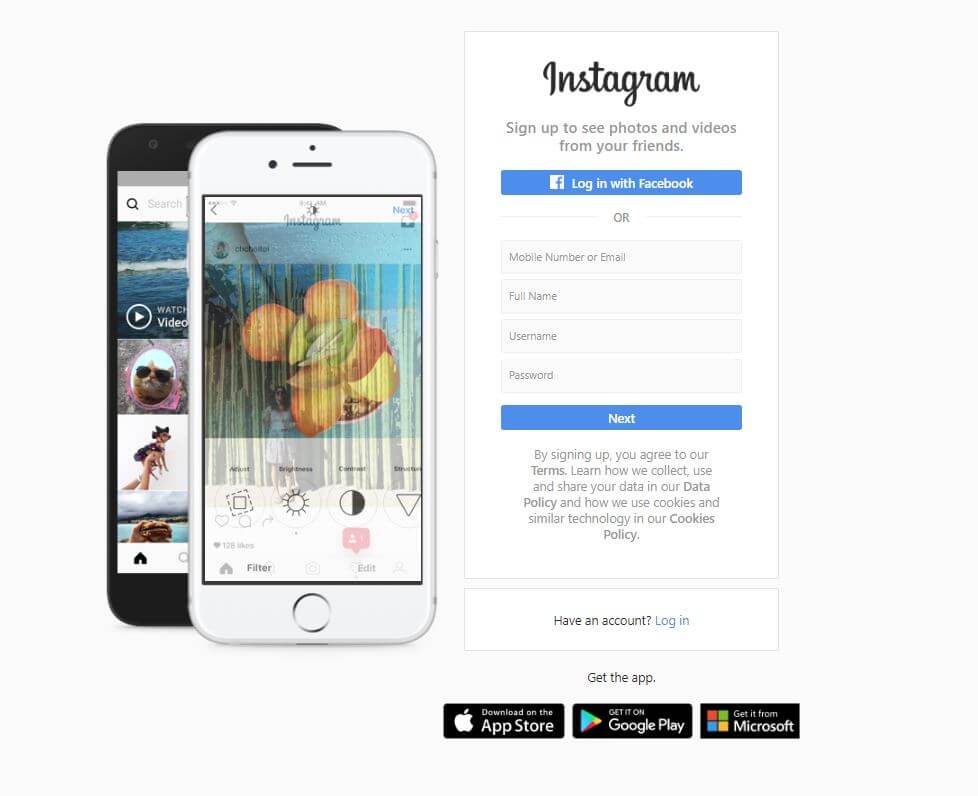 It will immediately open a page to log into or sign up. Once you enter, the layout is very similar to the mobile app.
How Instagram Website works
Once you are logged into Instagram, you will realize that the web version is very similar to the mobile app.
Photos are displayed big in the center of the screen. There are slight differences like icons that appear at the bottom in the mobile version, they are displayed at the top right corner on the web browser. Stories are shown on the right side when they are normally displayed at the top on the phone.
You can like a photo or comment the same way you do it on the phone using the icons that appear under the content.
Clicking the heart icon or twice on the image à like
Tapping the comment icon or adding it directly under the text that accompanies the image à comment or leave an opinion
Differences between Instagram website and the mobile app
Instagram gives you the opportunity to visit your account from your PC or Mac, but there are some limitations to the things you can do.
What you can't do from Instagram on the Web
You can't upload images, videos or stories from a computer
Instagram website doesn't allow you to upload any type of content from your computer. You can visit your own content or that of third parties.
Send direct messages, use the direct icon or comment on stories
There isn't an option to interact with other users or send direct content using Instagram on a web browser.
You can't interact on stories either. You can't comment or repost stories with other users. You can only see them.
Like comments
You can't like comments on Instagram's web version.
Therefore, products tagged on images won't be displayed on Instagram Website. The shopping bag icon won't be displayed either.
What you can do
Pause videos
This is one of the clearest differences between both versions. On Instagram website, you can pause videos by simply clicking them.
However, if we do the same on the mobile app, that is, click the video, we will mute or add sound.
Edit your profile
You can view and edit your Instagram profile from both the mobile app or a web browser.
Checking your notifications
You can only see notifications related to your profile or user through a browser. However, with the mobile app, you can also see other user's interactions
Use Link in the Bio
As you know, you can't add a clickable link in each content. This is why, link in the bio was created, and you can use it in both versions.
View images and content from other accounts
Instagram's main feature is to display user's photos that you follow and Instagram stories. With Instagram website you can view both.
Like or comment on posts
You can like posts using a web browser the same way as you do it with the mobile app. Click twice on the image or tap the heart icon under the image.
You can also comment on images on the web version.
So, it's clear that Instagram is designed to be mainly used on the mobile app. On the other hand, Instagram's web version allows you to view public profiles from all over the world, you don't even to have an Instagram account since you don't need to be logged into Instagram from your desktop or laptop.
If you haven't tried to access Instagram from a web browser and see how it works, it's time to do it. Go ahead!
Do you have any doubts? Drop us a text in the comment section.