If you have a professional profile on LinkedIn, either for your business or as a personal user, and you don't know how to make the most of it, this guide is for you.

Why should you optimize your LinkedIn profile?
You'll ensure that your profile is always high up in the search results, meaning that businesses will find you before others.
You'll make your profile attractive to businesses, which is crucial for a social network for professionals and work.
You'll connect with professional profiles in other sectors apart from your own, or similar ones, meaning you can keep working on your personal brand.
These are some of the reasons why using LinkedIn effectively could be to your advantage in your business or your personal brand.
If you don't know how to go about doing this, here's a guide with tips on how to optimize your LinkedIn profile.
Are you ready?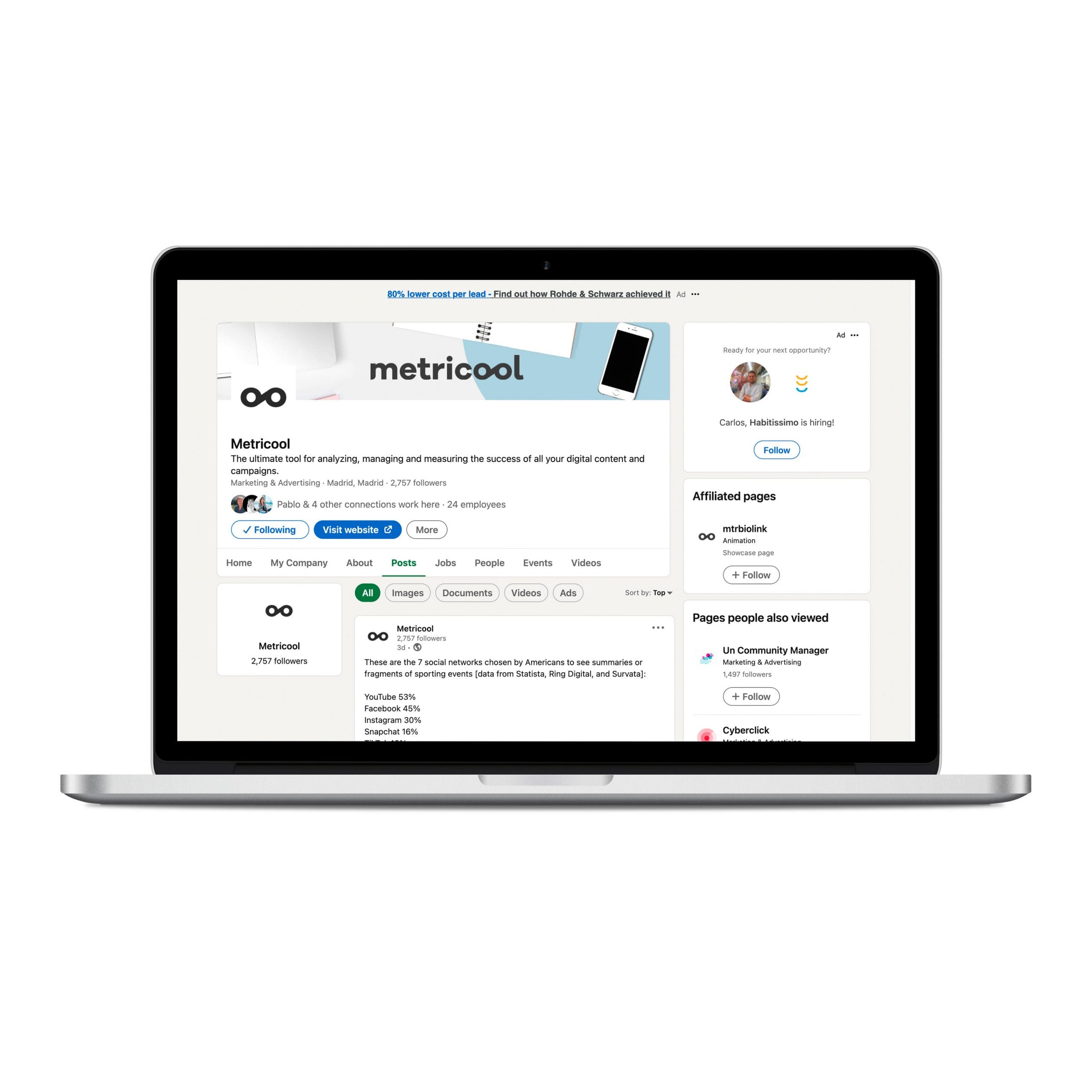 How to use LinkedIn – Guide and tips
From getting the most out of your profile to creating quality content, every aspect of your LinkedIn profile is relevant.
Still not sure you need to work on your profile?
To give you a better idea, according to data from "Omnicore Agency", as of March, this year LinkedIn had 300 million active users.
With so much competition out there, your aim is to make your Linkedin profile stand out from the crowd.
Apply these tips and learn how to use LinkedIn effectively.
Fill out your profile
This is the first step towards having a complete LinkedIn profile, filling out all the fields on your profile.
Remember that the first thing that users see when they reach your account is your profile and, what's more, it's the primary image of your brand and how other users see you.
❌ If they see that it's not well kept, not complete or with a bad profile image, this inspires mistrust.
✅ The best way to move forward is to have a well-kept profile that's attractive for businesses.
How can you boost your LinkedIn profile?
Add a professional-looking profile picture
Forget about photos of you in your free time or with friends, this is LinkedIn and a good presence is what counts.
You can do the same with your banner, which could be the logo of your business or brand, or a motivational phrase.
Fill out all the introductory data that users will see under your profile picture
Your full name, your line of work, your current job, your education and your location.

You can use this formula to make an impact in your main picture or at the beginning of your "About Me" text:
I help [ideal client] to get [main benefit] through [what you do], even though [objection from your ideal client]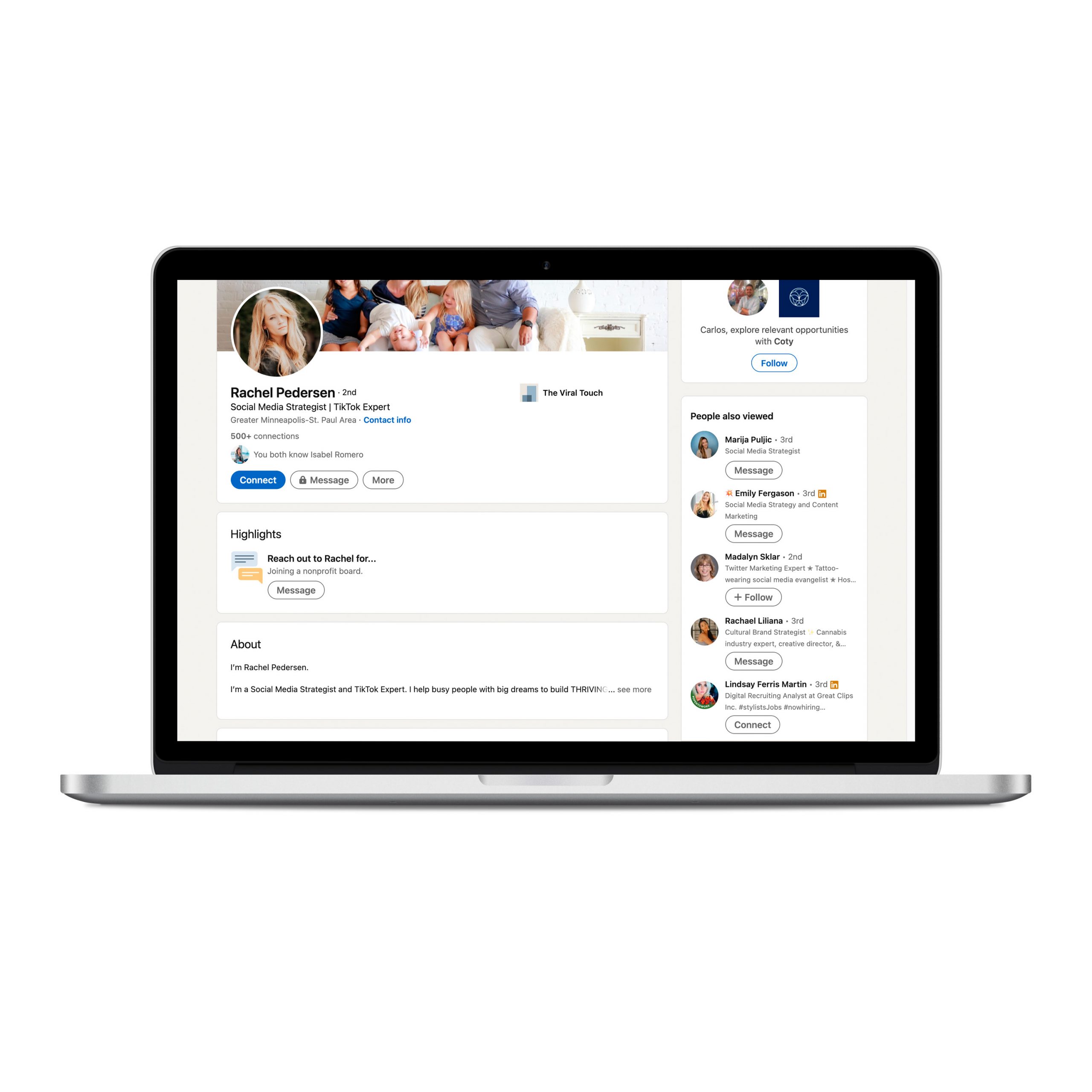 Follow this up with information on your recent work
So that other users and businesses can see your experience, as this was your CV.
Include an interesting fact about yourself
Describe your line of work, fun facts about your company, etc. You have 2000 characters to use, so don't hold back.

State your aptitudes and skills in your work
For example, if you're a social media manager, you could include marketing or social networking skills.
Connect with other users
LinkedIn allows you to connect with other users on the platform, regardless of whether they work in the same sector as you or not, and you can also show an interest in different companies or businesses.
To view your connections, you have the "My Network" option, where you can see all of your contacts, accept invites from other user or send out invites.
Why should you increase your connections?
✅ You can keep up to date with what's going on in your sector: news, interviews, job offers that could be of interest to you.
✅ You will go up in the search results list on LinkedIn and other users and businesses will find you quickly.
Interact with other users
To make your LinkedIn profile more effective, it's crucial to interact with other users.
If you go unnoticed in a community that is normally very interactive, you'll be left out of certain circles and your profile won't grow.
How can you do this?
Interact with other users' posts
You can recommend them, comment what you think about what they've shared, share it on your wall or send it by direct message.
This will mean that other users will pay attention to your opinion and interact with the wall too.
Talk to others via direct message
Try and make your contacts more personal by speaking to them via direct message, sharing your thoughts and interests.
This will keep your public and private profile active, and other users will know that you're there to talk to.
Engage with LinkedIn groups
LinkedIn groups can be a great source for debating a specific topic, either in your sector or the world of work in general.
You just have to find a group that really interests you based on the keywords you've chosen and join. This is a great way to develop your personal profile and your professional network.
Why are recommendations important on LinkedIn?
One of the key aspects for growing on LinkedIn are recommendations, a section of the platform where you can write a "letter of recommendation" on the profile of another user, which will be visible to the public.
This is a way of helping other users position their profile, meaning that companies will place their trust in them if they are looking for work.
✅ Write recommendations for your connections, speaking positively about your experience working with them, if this is the case, or about their skills.
✅ Ask these users to write a recommendation on your wall, this is useful for both of you, and businesses will see it when they come across your profile.
How to manage your business Linkedin page?
If you have a company or business, it's important to add a LinkedIn business page where you can manage all the news and offers that you want to post.
This page is similar to your personal page, you just need to change your personal details to those of your business: the name of the business and the description of what it does.
Why should you have a separate page for your business?
➡️ To post news about your business and job offers: press articles, blog posts, if you need to fill a job in your company, etc.
➡️ To have a brand image that represents you and create a community around it, where your users will find quality content.
➡️ To add content about your sector that may be of interest to the users that follow you.
TIP:
If you're going to use your page to promote your business or brand, it's important to analyze the performance of your activity. With Metricool, you can analyze the growth of your community with new followers and impressions and the interactions you generate with your post, and manage various personal or business accounts using the same tool.
Create interesting content
On any social network, posting interesting content means that you will get more interactions, boost your community and improve your brand presence.
Both on your LinkedIn personal page and your business page, if you share content that's relevant to users, your profile will grow.
➡️ REMEMBER
to mention the people involved in your content: the person who wrote the article, the source where you got the information from, etc. This will help you reach even more new users.
What kind of posts can you share?
Texts that go with a link
For example, an interesting article in your sector, where you draw the user in with an interesting introduction. Then you put a link to your website or to the article.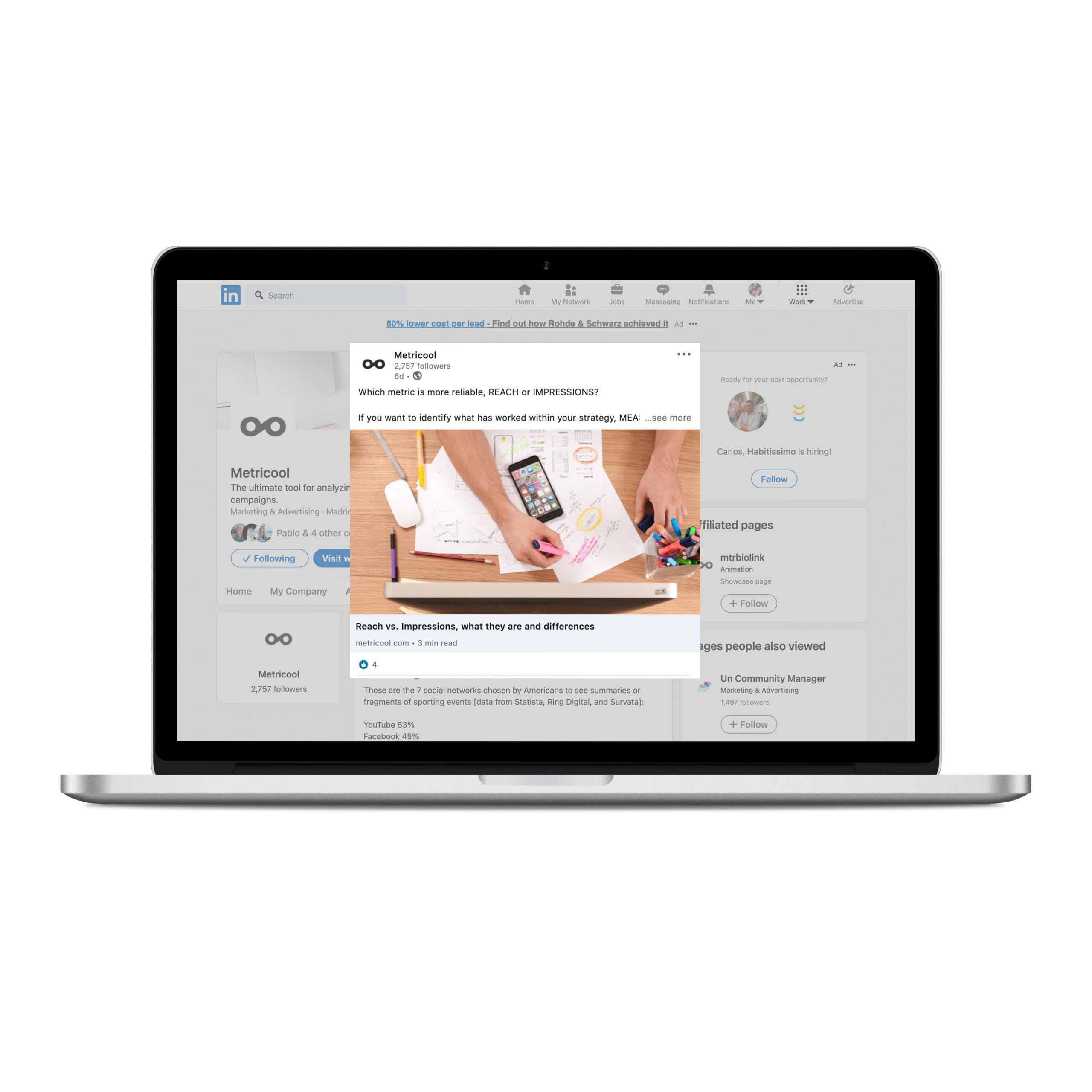 Post with multimedia content
Images and videos are a great source of content to get more interactions and impressions from other users.
Try to upload content with interesting images or videos: infographics, questions and answers or tutorials.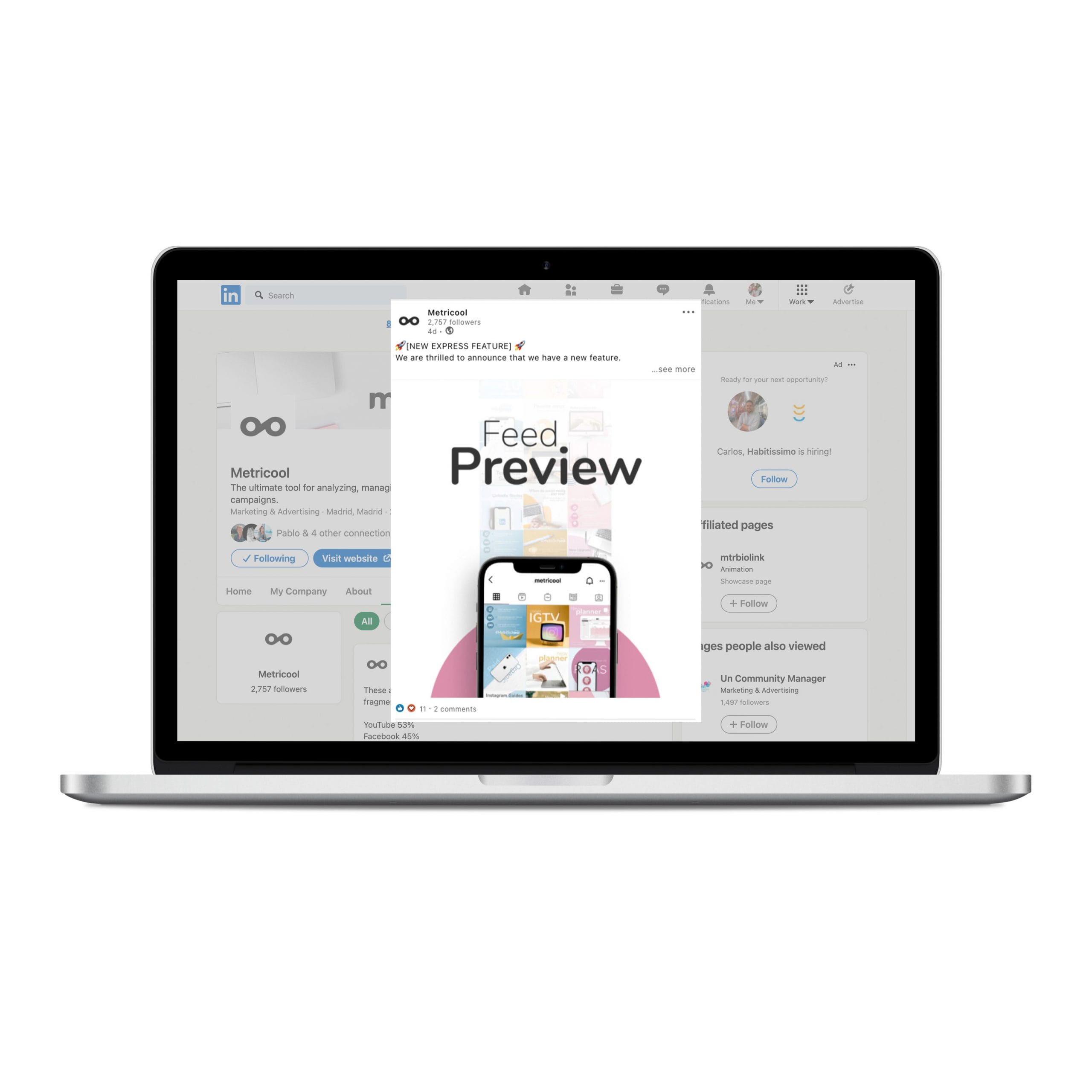 Full articles
If you want to write something longer than a post, you can use LinkedIn as your own blog, where you can add posts and longer articles (up to 110,000 characters).
It's easy to use when you want to update it, click "Post article". Add the title, the body text and the multimedia content you want.
TIP:
If you want to keep your business profile or personal brand active while spending time on your work, the best idea is to schedule content.
Metricool allows you to program your LinkedIn content, both for business pages and individual accounts.
New opportunities and Search for jobs on LinkedIn
LinkedIn is the social network for sharing news and connections with other professionals and also for finding work, or for recruiting as a business.
According to Omnicore Agency, LinkedIn has over 30 million businesses on its network. There are 20 million open job offers from these companies.
What can you do with LinkedIn?
If you are a business
The LinkedIn search engine will be very useful for finding the ideal candidate for your business. You can search using different criteria such as location, previous work, preferred languages or education.
If you don't find the right candidate, you can publish advertisements, with which you can add more search options and have your offer reach more people.
If you're a professional
On your personal profile, you can look for work in the "Jobs" section, by searching for the key work for your sector. What's more, you can learn about the business that's offering the job, the bosses and the other employees.
In this respect, you can get additional benefits from a Premium LinkedIn account, which will give you a better search engine for finding work. What's more, you can see which businesses have viewed your profile in the last 90 days.
Now there's no excuse, you can start working on your LinkedIn profile to improve your brand or business presence and boost your connections with other users.
If you have any queries, we'll be waiting in the comments section