Do you waste time logging in and out of your LinkedIn profile to enter your company page and publish your posts?
Automating LinkedIn is, without a doubt, the solution to manage your work time efficiently.
It is crucial to be active in your company or personal profile to:
1 View notifications:
Reply to comments, see who has visited or recommended you.
2 Reply to messages:
Being active and consistent also means not forgetting your connections and replying to all types of messages.
3 Recommend posts:
You can interact with other profiles by sharing or recommending their updates.
You can carry out all these tasks at the end of the day, but if you want to avoid logging in constantly and monitor and automate your work, you will be able to focus on other important tasks while you continue growing on LinkedIn.
With Metricool, you can do this and more. Let's have a look!
How to automate your activity on LinkedIn
It is time to get your act together and make the most of your LinkedIn profile, personal or company page, without neglecting the rest of your work.
How? Planning out your strategy.
Automate with Metricool allows you to:
👉🏻 Grow on LinkedIn organically.
You won't need to go to your LinkedIn profile to publish. You just have to pay attention to your notifications and messages. Metricool will take care of the rest while your profile grows and gains visibility.
👉🏻 Optimize your time to dedicate it to other essential tasks of your day to day,
Thanks for planning your strategy, scheduling content, and making better decisions based on real data.
👉🏻Keep your activity on LinkedIn under control
You analyze your metrics, growth and identify the posts with a better performance.
Plan and schedule on LinkedIn
Having a content strategy in place helps you manage the time more efficiently for your posts. However, what happens when you don't even have time to publish?
With Metricool, you can sit at the computer any day and plan the week or the whole month with all the posts you have already prepared. In other words, you prepare the text, choose the time and day on the calendar and click on save. Metricool will do the rest.
Why should you schedule your content with Metricool?
✅ You gain extra time
Instead of entering the social network every day, you will have all your content planned ahead of time, the tool does it for you, and you can focus on the rest of the activities.
✅ You can test how your posts will look like before they are published.
To ensure that you have everything under control, with Metricool, you can see how your posts will look when they see the light.
You will have time to edit the posts and make sure everything is perfect.
✅ Control all your content.
From Metricool, you can use a template and upload your publications in bulk by importing a CSV file.
It's as easy as filling out the template with all the posts you want to schedule, and Metricool will be in charge of the rest.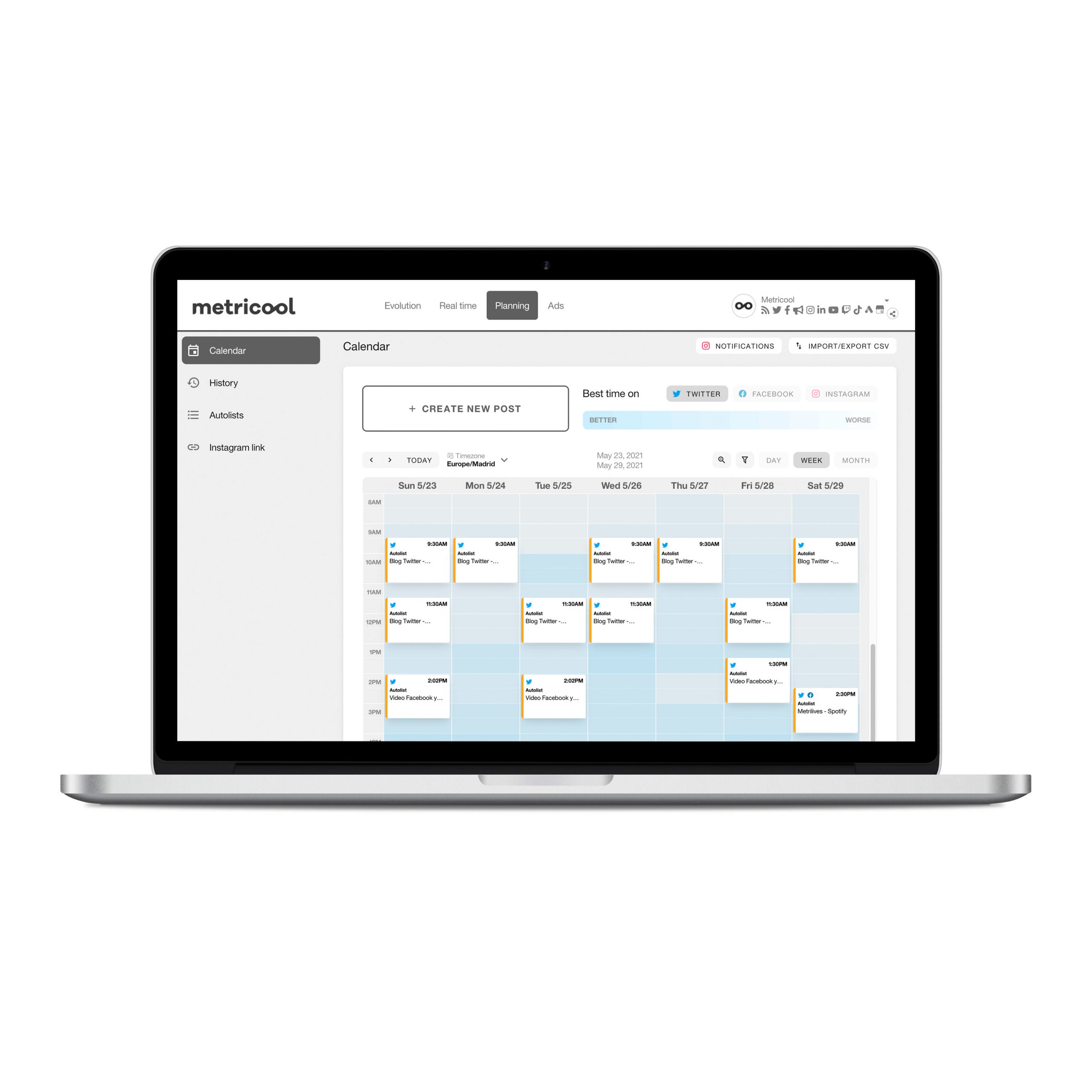 Create autolists
With this feature, you can create autolists with the content you want and use the RSS feed to automatically post on LinkedIn every time there is a new entry on your own or other websites.
It's pretty straightforward: choose a post, select the periodicity of the publication, what days you want it to appear, and choose LinkedIn. Then, Metricool will take care of the rest while you can continue with other essential tasks.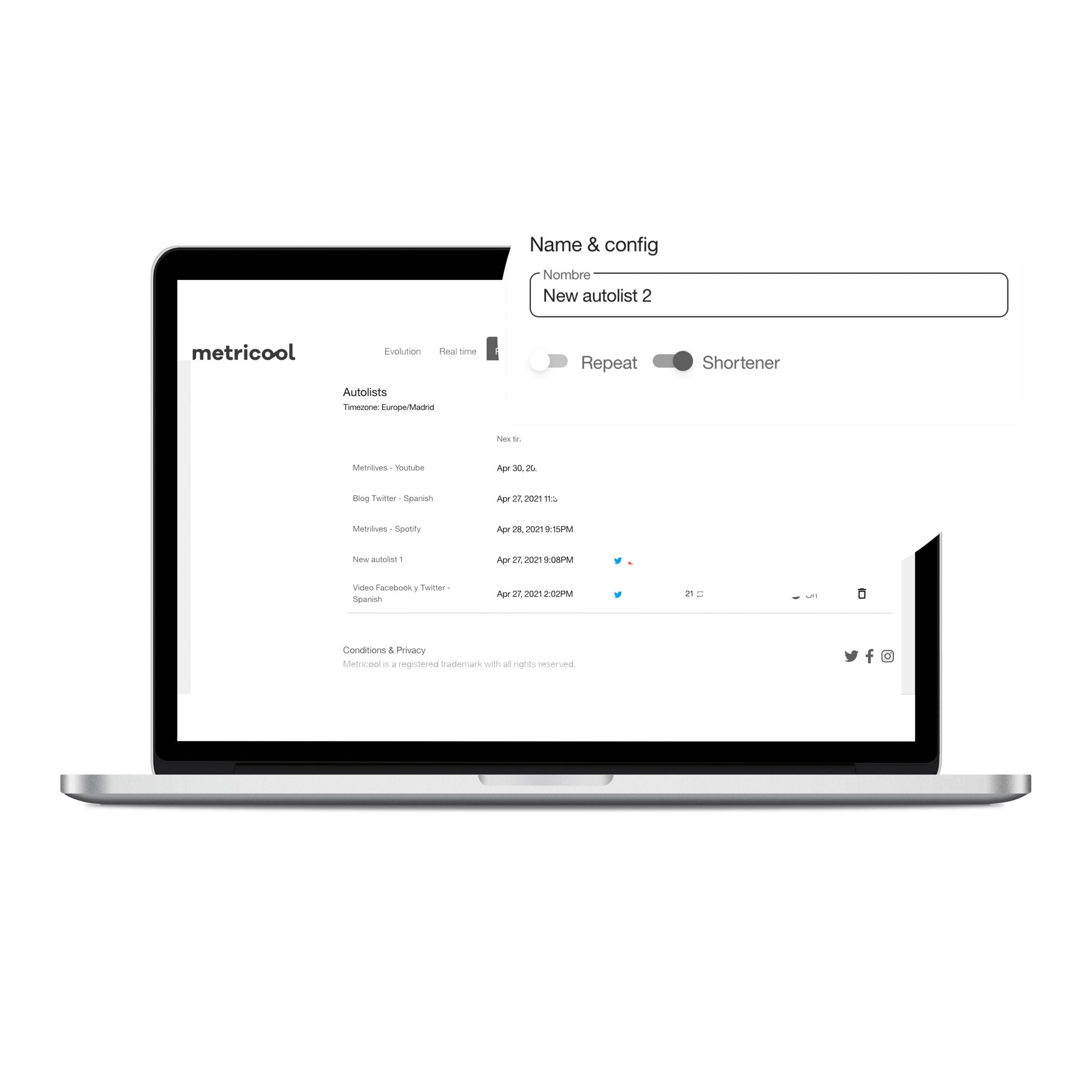 Are you a community manager? Your LinkedIn work is safe with Metricool.
LinkedIn on Metricool for a social media manager
If you work on social media, you will know what we are talking about: that publication that you forget or post that never appeared on your profile.
What are the advantages of Metricool as a scheduling tool?
➡️ Manage multiple profiles from the same account
Do you work with several companies and their social profiles? With Metricool, you can add multiple LinkedIn profiles depending on the plan you have subscribed to.
In this way, Metricool keeps all the profiles you add properly organized to avoid forgetting a publication or a profile, everything under control.
➡️ Analyze the performance of your activity
Do you want to know the result of your hard work? On Metricool, you can see and analyze how your strategy is working in three sections.
Growth: your new followers, impressions, and published posts.
Interactions: your likes, comments, and clicks.
Posts: You can sort them by the metric that interests you the most.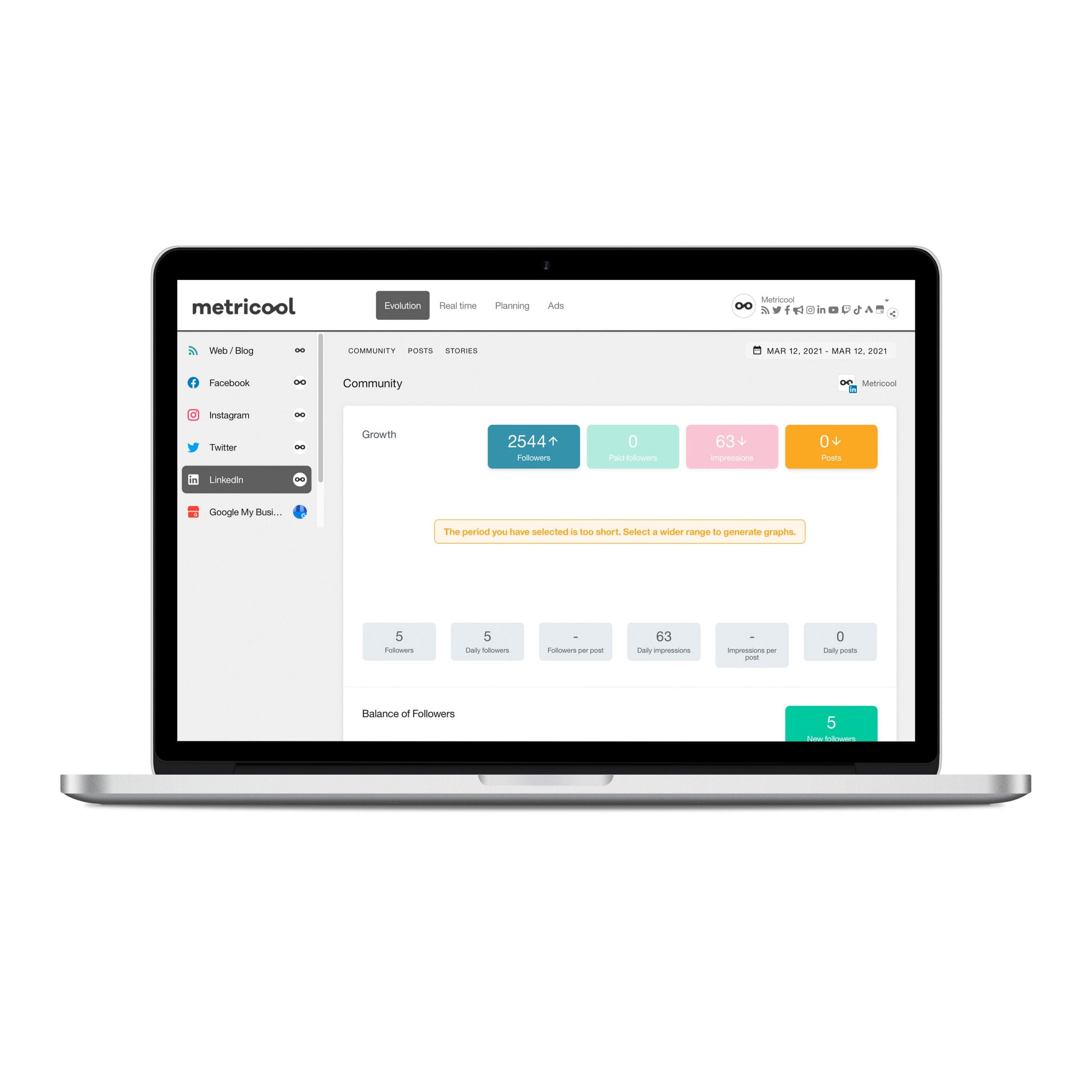 Now you know how to automate your activity on LinkedIn and the advantages for you to do it from Metricool.
It's time to start your strategy.
Do you have any questions? We will read your comments.