Aren't you including LinkedIn in your marketing strategy?
If you only use it to follow and accept new contacts, you are wasting the potential of this number 1 professional network that started in 2003.
LinkedIn differs from the other social networks on one thing: its focus is on the professional world with the objective of connecting professionals from all types of fields and companies all around the world.
If you want to get the most out of LinkedIn from a Marketing perspective, this article is a comprehensive guide to learn how to design a successful strategy for this social network.
How to automate your LinkedIn activity
Where to get started with your LinkedIn Marketing Strategy?
Users are present on LinkedIn for two main reasons or objectives:
▶️ They have a personal profile and are actively looking for a job or want to promote their personal brand. Here, you can also register your account and change the password whenever you want.
▶️ They are promoting and trying to increase the visibility of their company.
If you are on LinkedIn either for the first reason or the second one, you will have to design a marketing strategy to achieve your goals.
So, take note of how to stand out on LinkedIn…
🚩 Check here how to grow your profile and improve the impact of your post on LinkedIn 🚩
Create your company page
A LinkedIn Page can serve as a window display for your business to interact with:
Prospective customers
Users interested in your brand
Users who want to work for your company
These pages should help your marketing strategy and include all the relevant information about your brand or company. Take it as if it were your cover letter to capture the attention of future customers.
A LinkedIn company Page allows you to include updates to promote and show your audience the products or services that you are offering.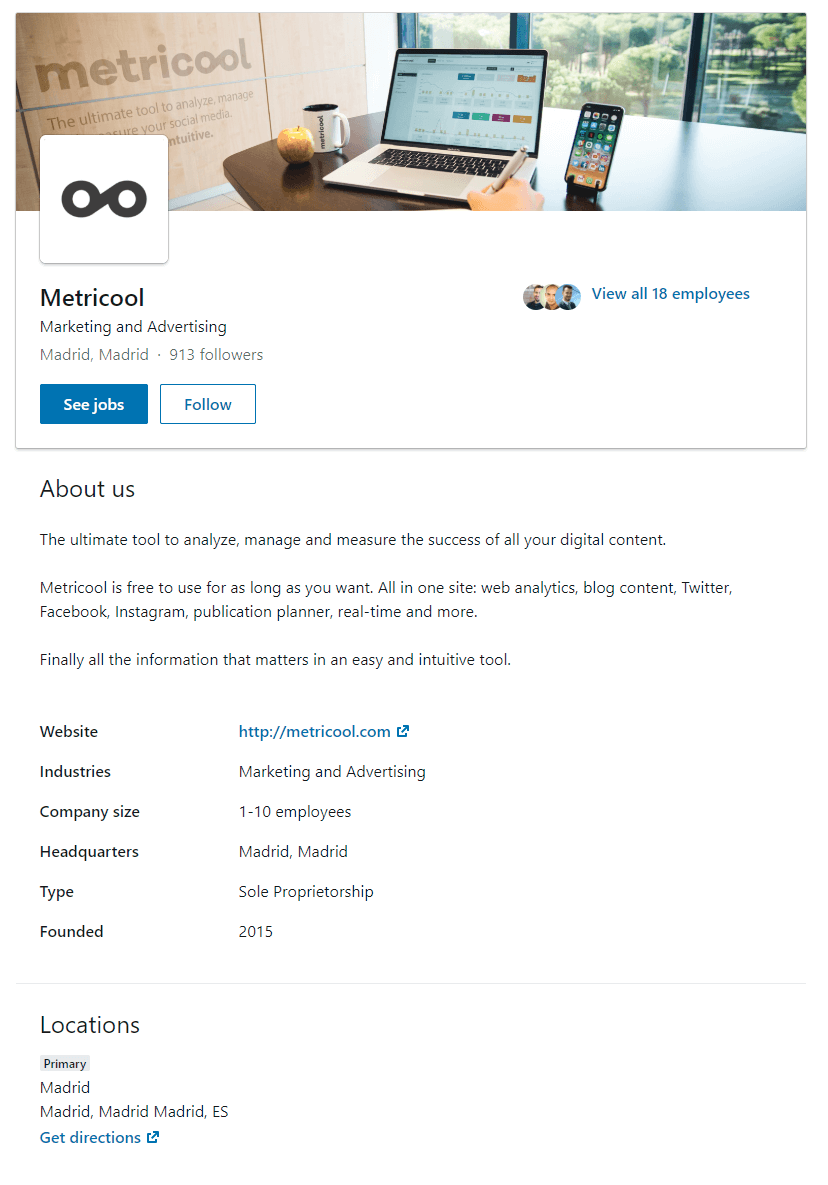 Having a LinkedIn company Page brings a lot of advantages to your marketing strategy…
🔥 People interested in your company can learn more about it by entering your Page profile.
🔥 You can post job offers and hire new staff.
🔥 You can create a communication plan to introduce your products and services
🔥 It helps to improve the position on LinkedIn
More about LinkedIn for Business and how to create a page
So, if you don't have a linkedIn Page, don't wait any longer and create one.
In the next step we will tackle how to optimize your account, improve the positioning of your page and get more views than your competitors, etc.
LinkedIn for Business: how to create a page
Optimize your LinkedIn Page
Your profile photo: a first impression can't be repeated twice
LinkedIn is a window to the professional world, a platform to interact with thousands of professionals and companies. This is why your image is crucial for your LinkedIn marketing strategy.
Be aware that…
The lack of a profile photo generates distrust.
How to use LinkedIn to be more effective
Which photo should you choose to keep in line with your marketing strategy?
Choose a photo that identifies your brand and is striking at the same time. Make sure the quality of the picture is good.
You can find all the information about how your profile photo should be in the following article.
➡️ Some valuable tips for a good LinkedIn profile picture ⬅️
Images Sizes
Photos and videos are key for your LinkedIn marketing strategy. Each day more users prefer seeing photos over having to read texts, this is why it is so important that you know what the right measurements are to share photos, videos or GIFs on this social platform.
On LinkedIn, the main focus should be on the quality of your profile and content.Therefore, the images that accompany the content must have the right size to keep up with the quality of that content.
The right sizes for LinkedIn images
Some marketing aspects to consider
Once your LinkedIn profile is optimized it is time to take a step forward and stand out with your marketing strategy.
Learn how LinkedIn algorithm works
The same as with the rest of social networks, LinkedIn has its own algorithm to manage how users' publications are displayed.
Learning how it works will help you to get more visibility, this way you will know what to do with your publications and discover what LinkedIn likes…
There are two main objectives for this professional network:
✔️ Prioritize relevant content
✔️ Promote engagement
I want to learn more about LinkedIn algorithm
This means that you need to prioritize content that is relevant to your sector and leave behind the more informal content for another social network.
This is crucial for your marketing on LinkedIn.
➡️ Check here how to use LinkedIn SEO ⬅️
Increase your engagement
The engagement is the ability that a company has to captivate their customers and encourage them to interact with them.
LinkedIn wants to promote engagement so your focus should be on attracting your audience, captivating them with your content and encouraging them to interact with you, that is, like and share your content, make comments, etc.
To be able to do all this, you must show interest towards your users and invite them to interact with your publications and brand.
Analyzing how your engagement rate varies depending on the LinkedIn marketing strategy that you apply will provide you with priceless information.
Do you want to know how to measure your Engagement on LinkedIn?
Yes, I want to measure my LinkedIn Engagement
⏭ Tips to increase your engagement on LinkedIn ⏮
For this I recommend you to use different content formats on LinkedIn, you can use normal posts, LinkedIn Pulse, LinkedIn Stories…
Improve your LinkedIn Social Selling Index
LinkedIn SSI stands for Social Selling Index.
What does this mean?
LinkedIn gives an index to the accounts in relation to how they position as a personal brand amongst the rest of users, that is, the position that LinkedIn considers that your brand occupies on people's mind.
This index is a number based on 4 factors:
📌 Complete profile
📌 Finding the right people
📌 LinkedIn activity
📌 Professional relationships
Pay attention to this index because it can help you with your marketing strategy!
👉🏼 Discover your LinkedIn SSI and tips to improve it 👈🏼
Post job offers on LinkedIn
Are you looking to fill a vacant position at your business? One way to find the best candidate is by posting your ad on the professional social network, LinkedIn.
You can post your ad in the "Jobs" section or on your own wall so that other users can share it.
Ideal for finding your perfect candidate.
How to post job offers on LinkedIn
LinkedIn Recruiter
If LinkedIn helps you as a user to find a job, is there an option for you, as a company, to search for the ideal candidate? The answer is yes.
LinkedIn Recruiter is the solution to your problems: cover the network of LinkedIn contacts, filter between several options, contact the users that interest you the most, and find the ideal candidate.
A perfect solution if you are a large company and are actively looking to fill job positions.
▶️ How LinkedIn Recruiter Works ◀️
Schedule posts on LinkedIn
Scheduling and planning your posts on LinkedIn helps you manage your work more efficiently and save time, maximizing your performance in your day-to-day life.
Discover how to publish on LinkedIn
With Metricool, you can schedule your content, create post autolists, and always keep your LinkedIn profile or company page active.
Use copywriting for LinkedIn
Yes, that's right, persuasive writing also has a place on LinkedIn, where you convert prospects into customers in the B2B world.
By applying an excellent copywriting content strategy, you can succeed in the professional social network and attract new users to convert them into customers.
Of course, you will have to prepare your content well and think about which sections to apply it to: your profile, posts or resume.
LinkedIn ads: boost your marketing strategy and make it grow
LinkedIn also allows you to invest in ads to increase the visibility of your business and achieve your marketing goals.
This professional platform brings a great advantage for advertising: the possibility of segmenting your audience and therefore, reaching the public that is interested in you or your brand..
LinkedIn lets you make two types of ads:
1️⃣ Sponsored Content: To promote your company and increase your visibility.
2️⃣ Traditional ads: With texts and images, very popular to promote courses, webinars, ebooks, etc.
If you want to learn more about each type of LinkedIn ads and what you can use them for, click on the following article:
Analysis of your LinkedIn Marketing Strategies
All marketing strategies must be measured to know what works well and what doesn't.
If you make the mistake of not measuring your actions, you won't know if your strategy is profitable and this might be costly both in terms of time and money…
To assess your LinkedIn strategy, you must know the social network well and measure all relevant parameters:
Engagement
Increase of page subscriptors
Interactions Evolution
🚩 Learn more about LinkedIn Analytics with Metricool 🚩
Here, everything about how to create a successful LinkedIn Marketing Strategy…
Now is your turn to create one!