Have you heard about LinkedIn SSI but you are not sure what exactly is? Keep reading and discover what it is, what it is for and how to improve it.
What's Social Selling Index (SSI)?
SSI is the acronym of Social Selling Index.
This index developed by LinkedIn measures the position that a person has as a personal brand for the rest of users. In other words, how a personal brand ranks in people's mind.
This index is very important for those who are interested in generating more business from LinkedIn.
SSI is made of 4 elements that measure the efficiency of a professional brand on LinkedIn:
➡️ Complete profile
This index values how complete your profile is on LinkedIn
➡️ Find the right people
Find people related to your industry and connect to them.
➡️ Engage with insights
Interacting on LinkedIn is another important factor. The same for sharing valuable content periodically.
➡️Professional relationships
Build relationships with professionals like you. Comment on other people's publications or share their content on your LinkedIn feed.
SSI Definition
LinkedIn SSI is a formula created to measure the performance of social selling strategies on a scale of 0 to 100.
How to know your LinkedIn SSI
If you want to discover your LinkedIn SSI score, simply click on the following link:
➡️ Find your LinkedIn SSI score here ⬅️
First, you can check the score of each of the 4 key elements mentioned before. This score ranks from 0 to 25 for each of them so, if you add up all these elements, the result will be a maximum of 100.
You will discover how well you are performing in each of these factors and know what you need to improve to increase your SSI.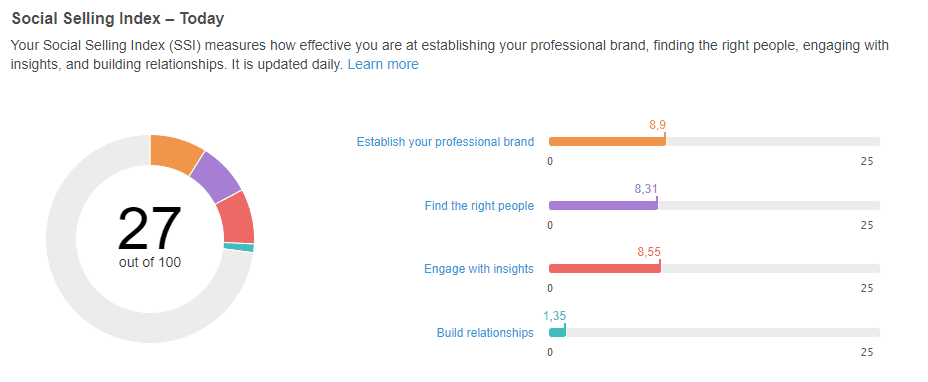 Then, on the second part of the page you can check the evolution of your LinkedIn index over time.
Besides, LinkedIn also offers this index in contrast with other professionals in your industry and in your network so you know where you stand.
Keys to improve your LinkedIn SSI
If you want to increase your LinkedIn SSI score, you should consider the following:
✅ Enhance your personal brand. You should keep a complete profile so other users know what you do.
Having endorsements and recommendations from other professionals adds more value to your profile. Ask for references to people who worked or currently work with you.
✅ Build relationships. Be very active on LinkedIn: Comment on publications or share content from other people, interact in groups or share your professional expertise.
✅ Generate engagement and trust. Create and share valuable content. Also, be frequent in your publications and make sure that the content you share is meaningful for your audience.
Do you want to improve your LinkedIn marketing strategy?
✅ Show that you can help other professionals. Network effectively on LinkedIn.
Now that you know more about LinkedIn SSI and how to improve your presence on this social network, start applying it to your strategy!