Inmovilla has integrated Metricool into its CRM for real estate. A success story for its tool that allows its clients to manage and measure their social networks effortlessly.
Inmovilla is the leading Real Estate CRM solution in the industry with over 3,600 real estate agencies that use this real estate software every day to optimize their work without losing quality.
Without a doubt, Inmovilla is considered like a Ferrari within the Real Estate CRMs thanks to the multiple functionalities that allow a real estate agency to grow, digitize and evolve. The integration with Metricool has been a significant advance to help Inmovilla clients have a clearer vision of how to evolve on social media, thanks to metrics. Also, it helps its clients save time with the post scheduler.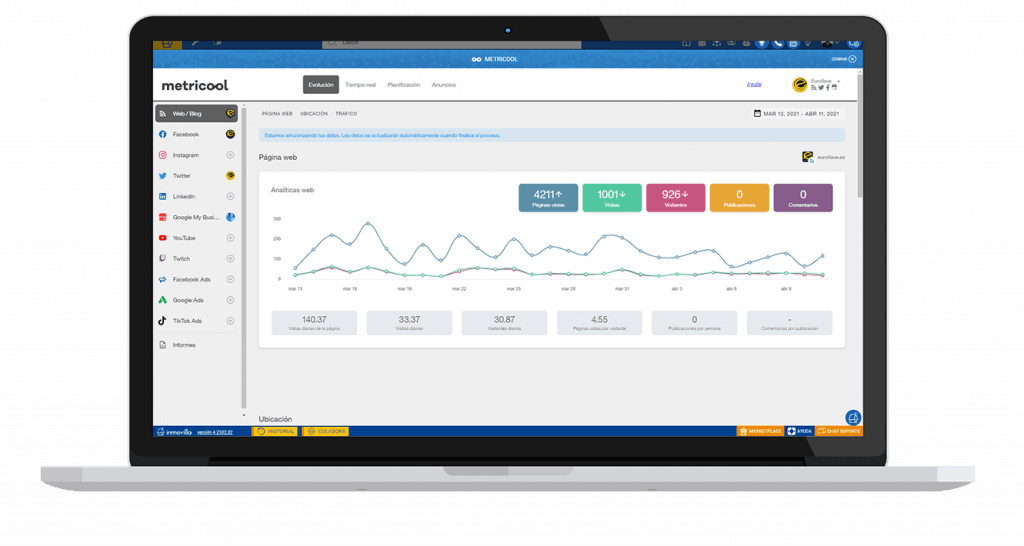 Jorge Valverde, COO at Inmovilla, and Raul Segovia, Inmovilla's CEO, tell us about the integration process.
At a very low cost, our real estate agencies can use the full potential of managing social networks and ads with just one click within our CRM, which helps them in the day-to-day management of their social channels.
There are still many undecided customers in hiring this new functionality. We are sure that it is due to lack of knowledge of use, or lack of time since those who have hired this service have a very high level of satisfaction.
The ease and simplicity of use of the tool fully integrated with our CRM.
The first step was to reach an excellent economic agreement so that our real estate agencies could enjoy the tool at the best market price. After this, the integration at a technical level was straightforward and without any complications.
It is a simple tool to use, easy to learn how to get the most out of it, and undoubtedly has great potential if you make the most of it.
"With Metricool, our real estate agencies can know in real time, and through scheduled reports, the evolution of their detailed metrics related to their website and social media channels.

In addition to being able to schedule their posts on all social media channels from a single tool"

Jorge Valverde, COO at Inmovilla
Undoubtedly, the pandemic situation that we live with Covid has resulted in agencies having to digitize processes to serve and provide the best service to their clients. This is not possible if they don't have the best digital tools.
Measurement and action all thanks to Inmovilla & Metricool.
Everything you need to know about Metricool White Label. 👇🏻