Want your Google Ads custom reports in just minutes?
Check out this mini guide we've put together to get your monthly report with Metricool.
Remember, this is a Premium feature, from Pro5 membership up: to sign up for Metricool and choose a plan, follow this link and register.
How to Download Google Ads Custom Reports With Metricool
If you already have a Metricool account, you're all ready to go. You're already familiar with the tool and know all its different options.
Never used Metricool before? We'll give you a minute to sign up so we can get started. The clock is ticking!
Open Metricool: the platform will send you to your dashboard, where you have all the options for managing your social media, blog, or website.
Click on the Analytics section, the first option on the top left of your dashboard.
In Analytics, scroll down to the Reports section.
Customize your report with all the options Metricool has to offer.
From the language to the period to analyze, template with your account colors (only for TEAM plans), sections to include, and your company's logo or your client's company.
When you've given it your personal touch, choose the format to download the report.
Either PDF or PPT. Click on the format you want and Metricool will load your report in just minutes. The exact time depends on how many social networks you include.
In this section, you also have previous downloads: here, you can see the most recent reports prepared and download them immediately, without waiting.
Done! Now you have your Google Ads report downloaded.
💡 MetriTip
If you want to skip these steps, you can schedule your report to be sent by email. The first of each month, Metricool will send your report to any email address you want, with a personalized message. Surprising your clients has never been this easy!
What Do They Include?
The theory is great, but you're here to get your Google Ads report ready to send to your client.
So, what you really want to know is what the report includes:
⭐️ Reach
In the first section of the reports, you'll find information on impressions of your ads and spending, so you can draw a direct connection between these two metrics.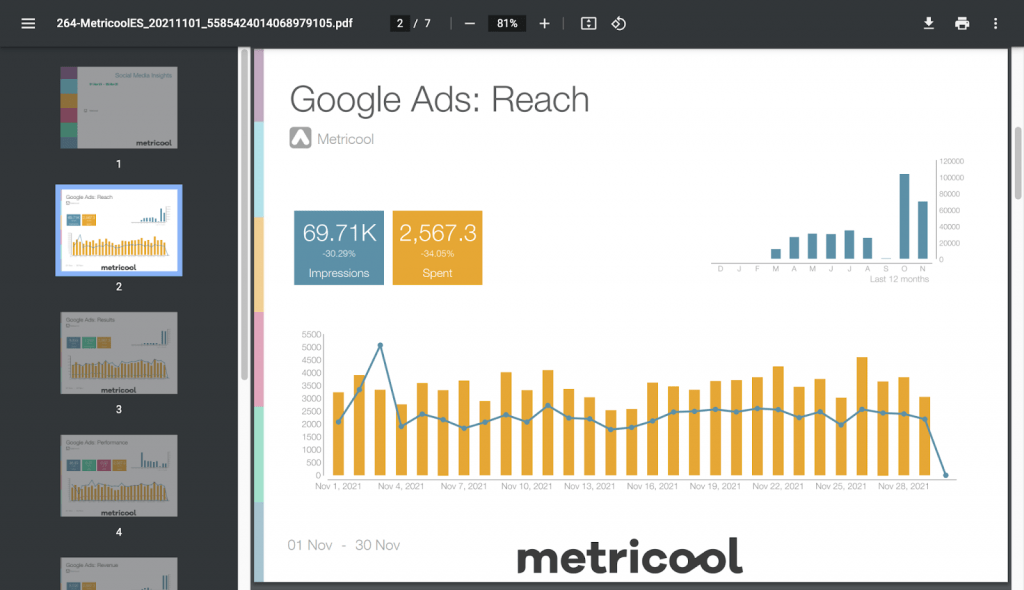 ⭐️ Results
The results obtained include the number of clicks on your ads and conversions.
Here you can also see your total spending and compare what you invested and got in return.
⭐️ Performance
This section of your reports shows detailed performance info on your campaigns, with metrics like CPM (cost per thousand clicks), CPC (cost per click) and CTR (clickthrough rate).
Also compared to your spending.
⭐️ Revenue
This gives you information on the value of conversion and ROAS to measure the return on investment in Google Ads campaigns.
⭐️ Campaign ranking
A list with the performane of each of your ad campaigns.
This section ranks all the information: campaign name, impressions, clicks, conversions, CPM, CPC and CTR, conversion value, ROAS, and spent.
No excuses for not getting your Google Ads custom reports to your client. It's ready in just a few minutes and, as you've just seen, Metricool even sends it automatically to the email address you choose.
Want to know more about Metricool and how can it help make your social media life easier?