If you're a social media manager and reading this post, it's for one reason: so you can manage multiple Facebook pages at the same time without losing your mind.
We could say brains over brawn but, in this case, it's Metricool over brawn.
Because that's how to manage multiple Facebook pages and groups: with your Swiss Army knife for any social media network it's as easy as connecting your fan page or group to Metricool.
How to manage multiple Facebook pages with Metricool
What does Metricool have to offer for managing multiple Facebook pages through the platform? I'll tell you right now:
✅ Ease:
Connect all the pages and groups you need and work with to Metricool.
In one click, you can switch from one fan page to another for the brands you've registered. Analyze your work and day-to-day.
✅ Control:
With Metricool, you manage multiple Facebook pages but also your profiles on other social media networks you use every day: Instagram, Twitter, Pinterest, etc.
Having all your work on one platform is a gift for any social media manager.
Connect your Facebook page or group to Metricool and you're ready to go!
Remember, you need a Metricool account to work with your Facebook fan pages.
▶️ Sign up to use Metricool HERE ◀️
Now you're inside your Swiss Army knife, what can you do with it to administrate your Facebook accounts?
Plan your Facebook pages content
Scheduling content for your Facebook page is one way to grow on the platform and save time: with all your content automated, you can work on other things.
With Metricool, you can schedule your posts with all the options available through the platform: pictures, video, gifs or mentioning other pages, plus you can get a preview of the post to see what it will look like before posting. 
Beyond standard posts, you can also schedule Facebook Reels and have the tool publish them automatically.
Don't like it? Test out different emojis, change the picture or polish the copy until you're happy with what you see.
Plus, if you add pictures you can include ALT text so your content will reach users with visual difficulties.
You also have the option to create autolists so the wheel of your content will never stop spinning and a section with the history of your posts.
🚀 Star functionality with Metricool
We've saved the best for last because with Metricool you'll know when it's best to post on Facebook. Meaning the hours when your audience is most active so you can boost engagement.
It's easy: when you're in the Metricool planner, look for the darkest areas on your calendar. Click on one and schedule whatever content you want. And success is yours!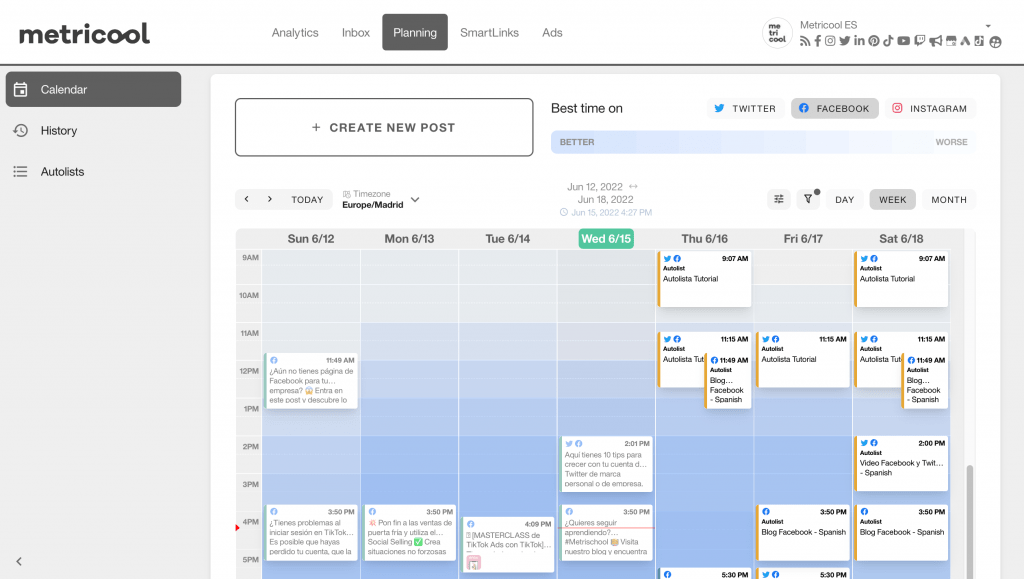 Analyze the metrics
Scheduling content is great, right? But without the metrics, it's hard to evolve and understand your strengths and weaknesses.
On Metricool, you have an Analytics section to monitor everything that happens on your Facebook fan pages and groups.
What data and analytics does Metricool give you?
❇️ General overview
In the first section, you have a general view of your page.
You have data on the growth your fan page or group has seen over a chosen time period and the number of Likes, followers, impressions, page views and posts.
You also have a Likes balance to see if you've gained or lost them at a glance.
❇️ Demographics
The gender, age and origin of your followers can tell you about your target audience and who likes your content.
This way, you can prepare your strategy based on the users you find in the Metricool metrics.
❇️ Clicks on the page
This is an essential metric to know if your calls to action are working and you're driving traffic to other pages.
Check this section for the number of clicks on the action, the website button, the page visits and number of posts.
❇️ Posts
The foundation of your success with a Facebook page or group: the content you share.
With Metricool you can analyze how your posts are working based on engagement, interactions with comments, Likes or shares, the average reach per post and impressions.
Finally, you can use the Metricool list of posts to see which ones performed best at a glance.
❇️ Competition
In the final section, you have information about the competitors for your page or group. Add them to the list and compare their results to yours.
You can download this list as a CSV file to have it handy whenever you need it.
🚀 Extra, extra!
Prepare all your analytics for your client or brand with the Metricool reports. Get personalized metrics as a PDF or PPT to win your clients over.
That's how to manage multiple Facebook pages and all your social media networks from the same place. Everything under control!
If you want to learn more about Metricool and what it can do for you…