You have turned on the computer and entered to review the publications you have made in the LinkedIn accounts that you manage … and again an error in the post.
Managing multiple LinkedIn accounts can be a difficult task if you don't organize yourself, you may carry personal and company profiles at the same time, and …
You can forget a post that you wanted to do, which was related to your brand.
You can get confused when sharing a post on an account of a business that you manage.
One mistake can ruin the work of an entire strategy that you had planned.
How to manage multiple LinkedIn accounts without losing your head? Calm down, we have come to help you avoid greater problems when working with social media.
How to manage multiple LinkedIn accounts
Log in to LinkedIn, enter the different company accounts you manage, publish one by one …
You looked at the clock again and the whole morning has already passed without finishing your work.
You need good work organization, so we will give you some valuable tips in this article so that you can maximize the performance with your day to day.
Learn how to manage multiple LinkedIn accounts.
If you work with several LinkedIn company accounts, you have to sort everything you have on each profile.
Create different folders with images, videos, documents and assign each account to a folder to keep everything organized.
✅ You will save time and speed up your work.
Create a calendar with your publications
When creating your content strategy for each profile, you should keep a calendar with what you are going to publish each day.
Write the copy of each post, the images or videos that you are going to add or mark key marketing dates such as 'Blue Monday'. Everything organized so that you have it at the click of a button on your computer.
✅ You will improve your work, you will only have to copy the text and publish.
Use Metricool to manage your profiles
If you could have just one tool to manage all your profiles, why not take advantage of it?
Metricool is an application to manage social profiles and company pages on LinkedIn with a multitude of possibilities.
Grab a paper and pen to write down all of them.
➡️ Analyze the evolution of your community
In this professional social network, it is key to grow a community to share articles, reach a larger audience or connect with companies in the same sector as yours.
How is the community evolving on the management page?
With Metricool you can analyze your followers and the evolution you have had in the last month or the time frame you choose, the impressions, etc.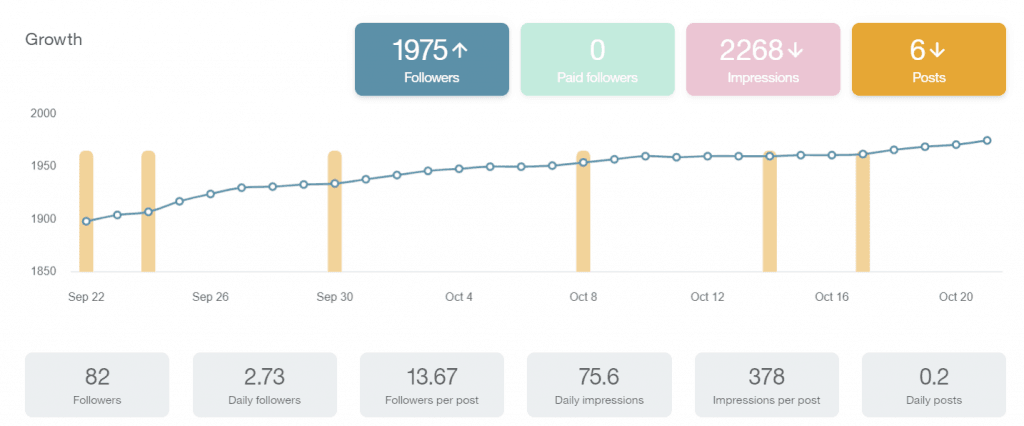 ➡️ Control the posts published
Is your content strategy working and your engagement is improving?
In this section you can analyze how your post is performing, the likes, comments, clicks as well as the list of publications you have made.
Also there is a list with all your posts published, which you can download to have it handy when you need it, you can sort the posts you have published according to date, likes or comments.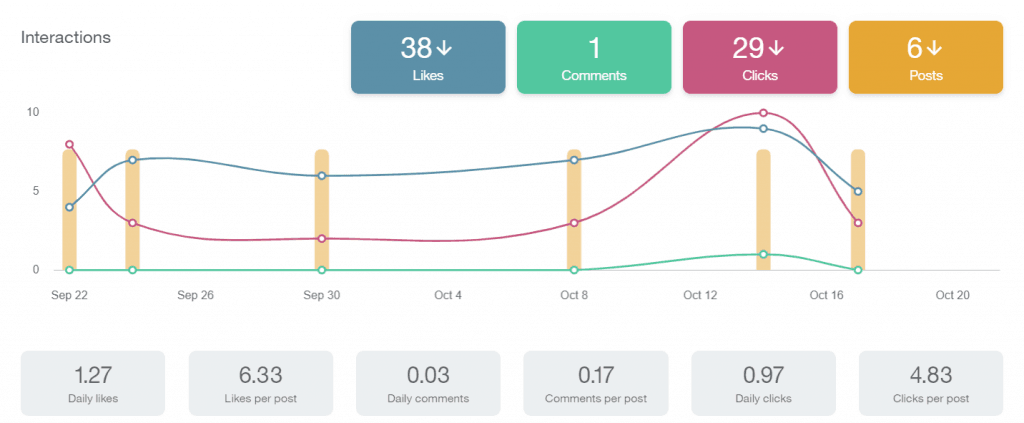 ➡️ Schedule and plan your posts
How many times have you realized that you were wasting your morning posting on each profile?
One of the incredible features of Metricool is that you can schedule content for each day of the week on all the LinkedIn profiles you have connected.
✅ You can plan the content manually in 'New publication' or add your publications in bulk from a file in CSV format.
If you do it manually you can see the planning in a schedule divided by weeks.
✅ You can also schedule autolists so that you always have a day with posts on the LinkedIn wall.
➡️ Generate reports
With Metricool you have the option to generate reports of the brand you want with all the performance you have had on LinkedIn: followers, likes, comments, etc.
You can download it in PDF or PPT, use a default template or create them yourself and add your client's logo; 100% personalized reports in just one click.
Now you know how to manage multiple LinkedIn accounts, make the most out of these tips and publish efficiently.
If you want more information to improve your LinkedIn strategy
We will read your questions in the comment section.