Social media analytics is the process of collecting and analyzing the information obtained from your social channels to carry out actions based on the results.
This way, those who are professionally engaged in marketing collect the necessary data to know the impact of their work and know how they are performing on social media and the digital world.
This analysis can be done on a specific campaign on social networks, a study of all the channels in which you work, and even on your website.
What is social media analytics for?
✅ The analysis allows you to justify the actions you are taking at all times, knowing the results and finding out the weaknesses.

✅ The data collection helps you understand the performance on each social network and decide where to put your efforts to obtain better results.
For community or social media managers, social media analytics is proof of their hard work. It cannot be missing in their day-to-day life.
However, how to handle such an amount of data effectively? Next, we will tell you the best tools for social media analytics.
Social media analytics tools
If you are a bit lost with all this social media analytics. Don't worry. We have prepared a list with several tools that will help you in your daily work.
In this way, you will not miss any important information.
Metricool – Evolution
The Evolution section of Metricool offers you an overview of the performance of your social networks in a certain period of time. This period can be selected from the calendar and select the date you want to analyze.
You have all the relevant information on the evolution of the social networks that you have connected to Metricool: Facebook, Instagram, Twitter, LinkedIn, Google My Business, YouTube, Twitch, Facebook Ads, Google Ads, and TikTok Ads.
In these metrics you can see:
Growth: The evolution of your followers in contrast to the post published in a specific period of time.
Demographics: gender, age, followers by country or city.
Profile/Account: impressions, profile visits, clicks on website, page views
Posts: Engagement, interactions, impressions, reach, the number of posts published.
Campaigns: Impressions, reach, clicks, Spent, CPC, CPM, CTR, and conversions.
Metricool – Website
How is your website or blog working? In Metricool's Web / Blog section, you can find plenty of information about your page.
Despite not being directly related to your performance on social networks, it does have something to do with it. Thanks to Metricool, you can know what is the source of your visitor traffic, thus discovering if your content on networks brings traffic to your page.
What information does this section include?
Website: page views, visits, visitors, number of posts, and comments.
Location: countries, visitors by country
Traffic: number of visits per page and traffic sources with their corresponding breakdown of visitors.
Metricool – Real Time
The information in real-time can also be valuable for your communication on social networks or your blog. If, for example, you have announced something new related to your business or have organized an event, you can measure the impact on traffic to your website or the social profiles.
For this, on Metricool you have the Real-Time option in which you can analyze:
Web/Blog: Online visitors at the moment and in the last 30 minutes, the last 24 hours, as well as which pages users visit on your site.
Hashtag Tracker: measure the number of tweets and posts on Instagram published with the hashtag that you have chosen and the impact that each post has achieved.
Metricool – Reports
What to do when you already have all the necessary data to know the performance of your work? Put it together in the same document.
That task can take hours and hours and you can leave some relevant data behind by accident. With Metricool's reporting tool, you can collect all the information about your website, social networks, and video channels in one click.
The same data that you have been able to analyze in the web or app version but in a report in PDF or PPT format, complete and organized to have all the relevant information handy or present it to your client, with the bonus of having the possibility to include a personalized logo.
Metricool – Data Studio
With Metricool, you can bring the data you obtain from your social networks to Data Studio. This Google tool transforms your data into reports. Reports that you can customize and that you can consult and review at any time.
Import data from all the social media accounts that you have connected with Metricool. Thus, you can obtain the complete information to analyze: you combine the data from the Data Studio connectors and the social media data Metricool offers you.
The ideal tool to have the complete report of your social media analytics.
Instagram Insights
If you have a business or content creator account on Instagram, you have access to the analytics of your profile in detail.
You can know how the content that you have shared in stories or in your feed, image or video post, has performed.
You have the option to see your stats on each post, the button is right between the post and the likes.
Post metrics: likes, comments, sent, number of saves, impressions, and interactions.
Stories Stats: viewers, actions generated by the story, impressions, followers, and browsing details of the story; if you have seen the story again, if you tap forward or skip the content.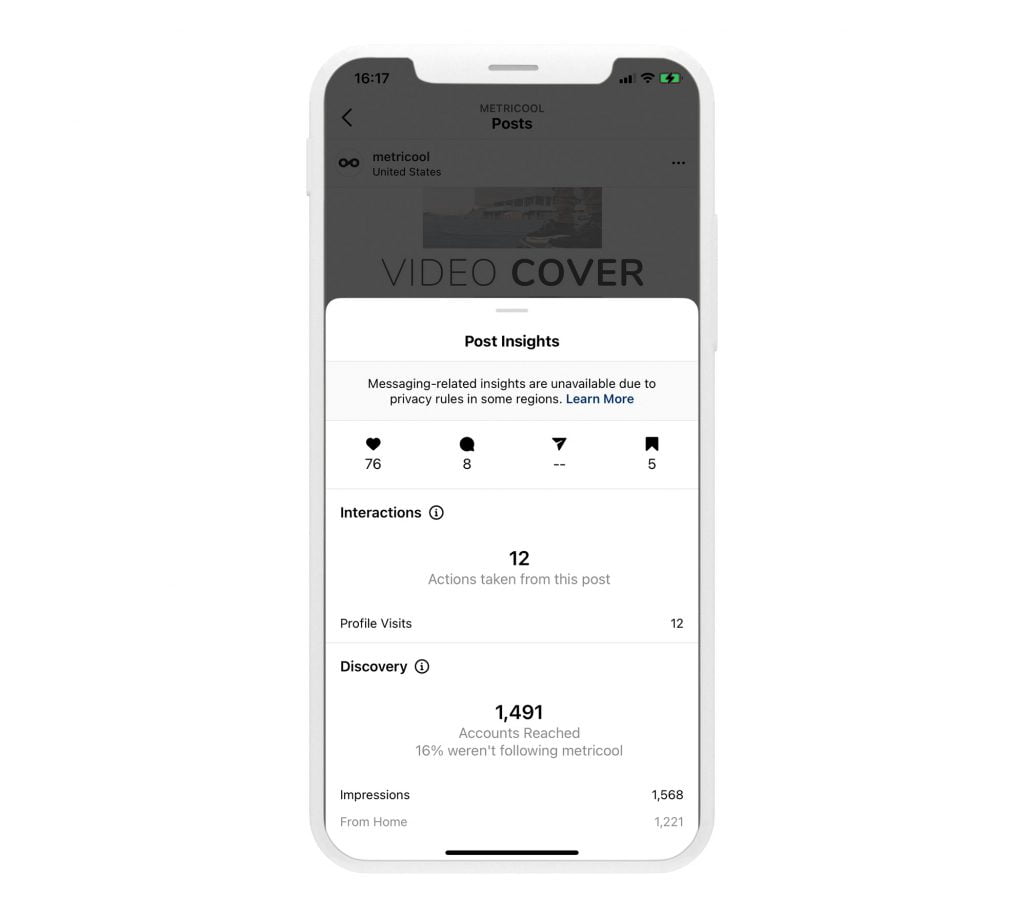 Google Analytics
This Google tool offers you information about the status of your website or blog that you have connected.
It is a free application to collect data on the traffic that reaches your website. If you want to go a step further, as a large company, you can opt for Analytics 360.
Traffic information to your page includes the number of visits, the people who are currently on your website, the traffic source, demographics, among others.
As with Metricool's website analytics, Google Analytics doesn't offer information directly related to your efforts on social media, but it helps you discover what type of traffic you attract to your page.
Facebook Insights
From the Facebook platform, you can analyze the performance of your Facebook page. You can find it on the left side column, Insights.
What stats does Facebook offer?
Page Overview: Actions on page, visits, page likes, post reach, interactions, followers.
Posts: all the posts are organized chronologically, type, targeting, reach, and engagement.
Facebook Ads: the data related to your campaigns, spent, impressions, cost per click, etc. Depending on the type of ad you have made, you have one type of information or another.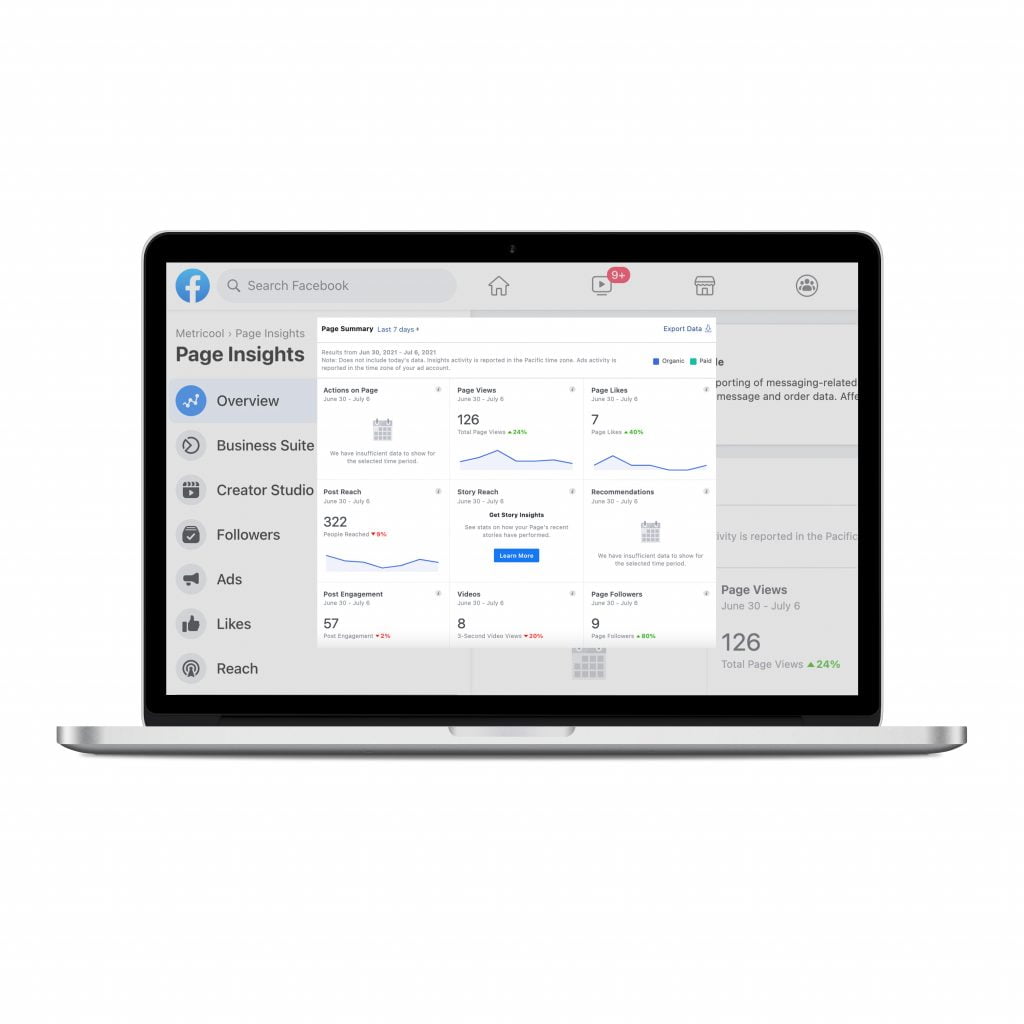 Twitter Analytics
Twitter offers you detailed information about the tweets you share on your profile, regardless of the type of account you have: whether you dedicate it to personal use or it's a business profile.
To enter the Twitter statistics, you just have to click on the button with a graph you find to the right of the tweet you want to analyze.
What kind of information will you find?
Interactions: impressions, total engagement, likes, retweets, and replies.
Actions: clicks on the profile, click on URL or links.
With these tools, you have everything ready for your social media analytics, use them, and collect relevant information about your work.