Metricool's stock images that you can find while scheduling your content will allow you to save time finding the right photos for your content.
We'll tell you how to use one more gadget in your social media Swiss army knife.
Stock images for social media with Metricool
The stock image search engine makes it easy to create content from Metricool: this way, you don't have to go to another website to search for multimedia content. You have it all in Metricool.
This feature is free, and you only need a Metricool account.
These stock images are powered by Pexels, one of the Internet's most popular royalty-free image providers, with a library of over 3 million files.
Now that you know that Pexels and Metricool have made a match, how does this image search tool work?
How to add a stock image to your post with Metricool
You have your Metricool account ✅
You have already connected all your social networks ✅
The time has come: it's time to plan your content and learn how to use the stock images feature.
Take note because it's so easy!
Open the Metricool scheduler by clicking on a time slot in the calendar or 'Create new post'.
Once a new window pops up, you will see, at the bottom left, an icon with a magnifying glass and an image symbol right next to the GIFs.
Click on it, and Metricool will open the Pexels stock images with the most outstanding photos of the moment: they can be vertical or horizontal.
You can type in a keyword if the featured images are not what you are looking for. This search can be in several languages, but the default language is the one you have set in your account.
In addition, you can filter by dominant color: add the color code or choose one from the selector.
Choose the photo you want, and that's it.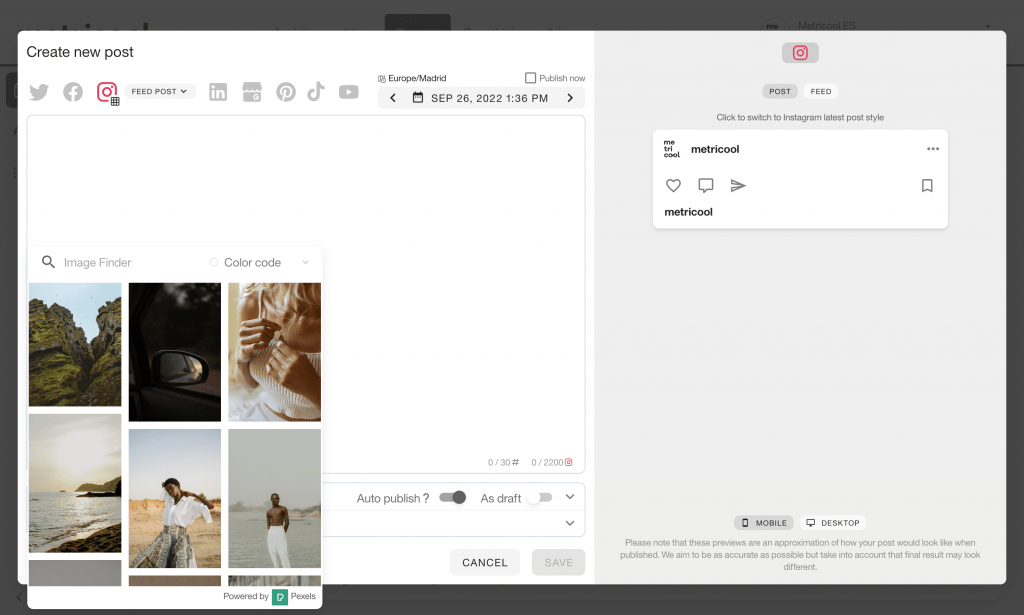 ▶️ When you choose it, the image will be embedded with the ALT text that the photo's author added: this alternative text can be removed or edited.
▶️ You can edit the image you have added with Metricool's photo editor. As if it were an image of your own creation.
When your image is selected, with the ALT text configured and edited to your liking, you only have the most important step left: program your content.
Choose the social network where you want to share your content, write a copy for your post, add hashtags, etc. Whatever you need to succeed with your scheduled post.
Remember that you can learn about all features in this Metricool mega tutorial.
Tell us, Metricooler, what do you think about this new feature to schedule your content from Metricool? We'll read your comments! 👇🏻