If you are wanting to create content on TikTok but you don't know how to add music, we'll tell you about it in this post.
Keep reading!
How to add music on TikTok
Until a few months ago, TikTok allowed the videos to be accompanied with music external to the application. That is, if you already had a sound recorded you could simply add it to the video and adjust the sound.
➡️ Now from TikTok's app you can only upload videos with the music that is stored in the app itself.
You will see how to do it step by step. It's very simple:
Enter the TikTok application, register or log in if you already have an account and click on the '+' symbol in the center of the screen to upload a new video.
Before you start recording by pressing the red button in the center, click on 'Sounds', which you will see at the top of the screen.
A new window will open with all the music that is available on TikTok. You can look for it in the search engine that you have at the top or let yourself be guided by the trends or genres that it proposes.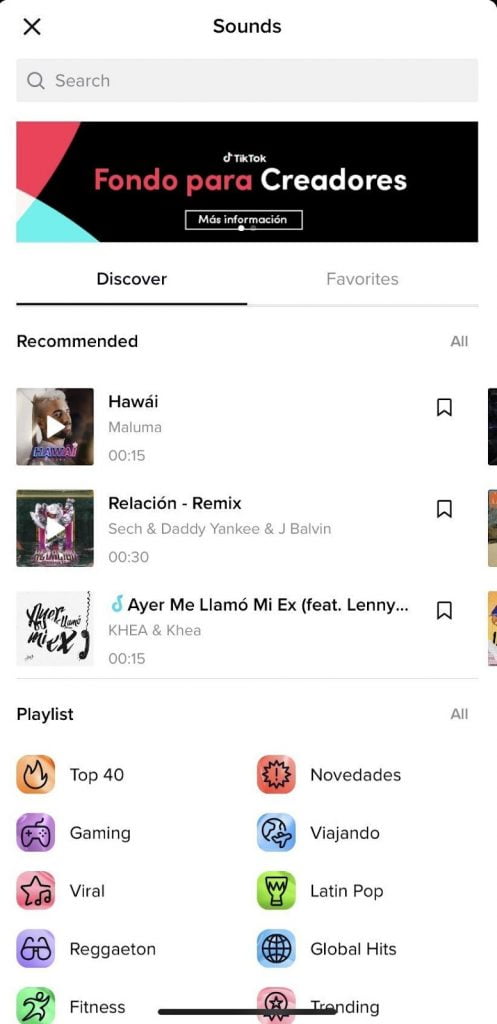 Now choose the song and adjust the timing of the song to your video as you wish. Next step? Start recording your TikTok.
You will find this button in the right column when you have chosen the song, it is called 'Trim'.
Now you know how to add music from the TikTok application when uploading a video.
But wait, if TikTok doesn't let you add music from outside, how can you do it?
How to add music to TikTok
Unfortunately, TikTok no longer allows you to add your own music or sounds from within the app.
So you will have to resort to external tools to put the music to your video.
Here are two of them easy to use to edit your videos and upload them to TikTok.
✅ Of course, before you need to record the video from the TikTok app to add filters, effects, etc. That is, as if you were going to upload it but without adding the music.
It is a simple online editor that works with any internet browser. With it you can add music to your videos in a few minutes. You add the video, the music and adjust the sound.
In this case, the free plan is right for you. If you want more professional options you can go to their paid options.
Editing your videos after recording them on TikTok has never been easier. Everything, without leaving your mobile phone. InShot is a video editing application with which you can add music to your creatives.
Upload your video, mute the original audio if you have it, accompany it with music and edit it to adjust the sound. Voilà, you already have it.
Now you know how to add music for your TikTok videos. As you can see, it is simple, the real skill is to show your creativity in an app that does not stop growing.
What are you waiting for?