If you frequently use YouTube, you will have noticed that one of your profile options is 'YouTube Studio.'
You might not have ventured to open it yet, but there it is, waiting for you to click.
So, if you haven't been curious enough yet to tap this option, we'll tell you here what YouTube Studio is about.
Start your adventure in creating YouTube content!
What is YouTube Studio
YouTube offers the tool YouTube Studio for content creators to manage their channels more effectively.
Before, this tool was called Creator Studio. Still, the goal was the same as today: make it easier for creators to manage their channel through a control dashboard. A 'must' for any content creator.
To access this tool, simply click on your icon, located at the top right, and tap the option 'YouTube Studio'.
Are you already inside? Let's see all the options you have for your channel.
How YouTube Studio works
Once you click on YouTube Studio, you will be taken to the channel dashboard by default. You can analyze the channel analytics, upload videos or live broadcasts, and see what's new in Studio.
Is this all there is? Not at all. YouTube Studio is much more than a control dashboard. You will see that on the left sidebar column, you can manage everything related to your channel.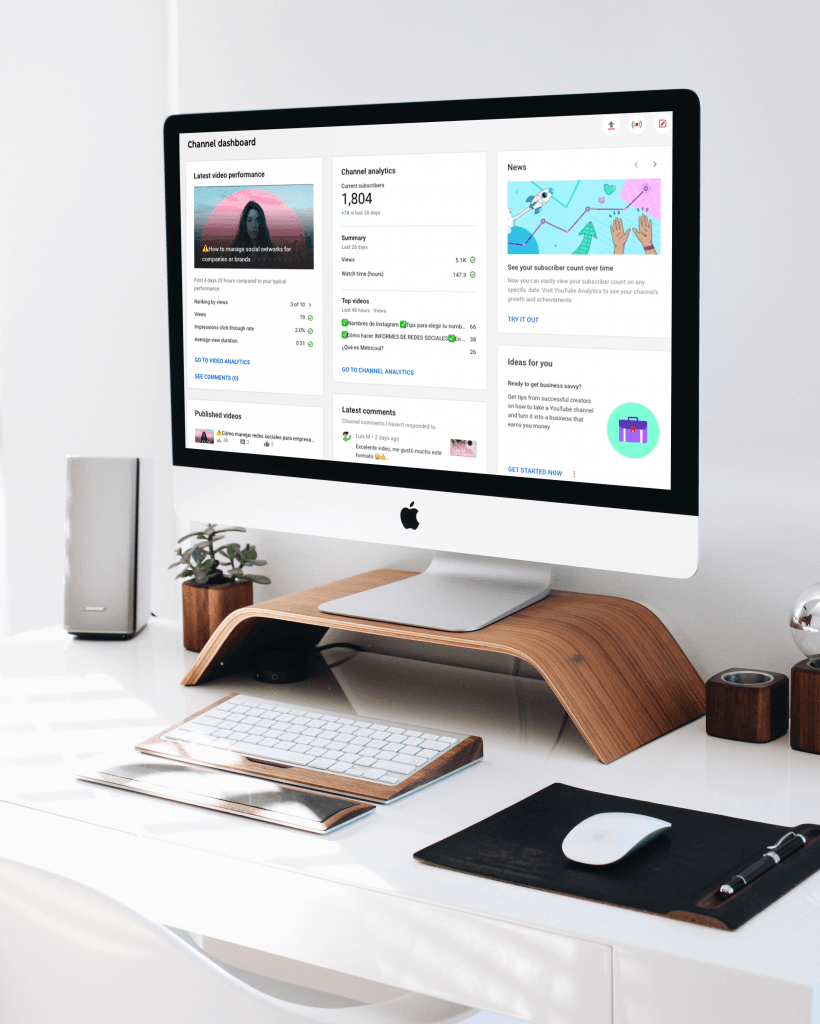 What will you find here?
⭐️ Content
In this section, you will find a quick and brief summary of all the videos you have uploaded, as well as the live broadcasts you have made.
You will have information about the visibility, restrictions, views, or interactions of the video.
⭐️ Playlists
Here you can manage the playlists you have created, create a new playlist from scratch and edit them.
You can add your own videos or from other channels to create playlists.
⭐️ Analytics
A comprehensive analysis of your channel based on the data provided by YouTube: overview, reach, engagement, and audience. Also, you can check data in real-time.
A great way to get to know your audience and see how they behave.
⭐️ Comments
Comments are essential as a way to interact with your viewers as they allow them to share their opinions on the videos you upload.
From this section, you can manage, read and reply to all the comments.
⭐️ Subtitles
Subtitles will help you reach a larger audience with the content of your videos. You can add subtitles manually. Also, you can manage them for videos that have been already published and in drafts.
⭐️ Copyright
You can claim the ownership of a video that belongs to your or your company from the platform.
You will have the requests you have made handy, and you can also have access to a button to request a new video removal.
⭐️ Monetization
Do you want to monetize your channel? Here you will manage everything related to the members of your channel and the merchandising settings.
Note that to access the YouTube Partners program and monetize your content, you must accumulate 4,000 public viewing hours in the last 12 months and have at least 1,000 subscribers.
⭐️ Customization
Customize your channel so that your community identifies the channel as yours. Share a trailer for people who haven't subscribed yet, choose a featured video for returning subscribers, or add a new section.
You can also add your channel's logo and banner, as well as basic information.
⭐️Audio Library
A complete list of royalty-free music and sound effects to use in your videos. You can also highlight the ones that interest you to find it easily in the Featured Music section.
YouTube Studio offers you the formula to have your entire YouTube channel under control.
So, what's the difference between YouTube Studio and YouTube?
YouTube Studio allows you to manage everything related to your channel easily.
On the other hand, when you enter YouTub, you see the channel as a visitor or viewer. That is to say, you check the videos you like, comment, like, or subscribe.
YOUTUBE STUDIO PERMISSIONS

Youtube Studio works the same way as Youtube when it comes to giving permissions.

That is, if you want to give administrator access to a person, you must do so both on the YouTube platform and YouTube Studio.
Now you know what YouTube Studio is and how it works, it's time to record your videos and manage them with this tool. And if you want to learn more: