The social network of the moment has arrived at Metricool and now you can analyze how your advertising campaigns on TikTok Ads has worked.
Pay attention to what I am about to tell you
Connect your TikTok For Business account with Metricool
In order to run campaigns on TikTok, it is necessary to have an account on TikTok For Business in which you can develop the ads and later view analytics for each campaign.
To connect this account to Metricool you have to go to the Connections section within Metricool and click on the TikTok Ads option.
⏩ You will be asked to enter your TikTok Business account and you will have to give access to Metricool so that it can collect the metrics of your advertising campaigns.
⏩ If you have your TikTok Ads account open in another tab, it will directly request access.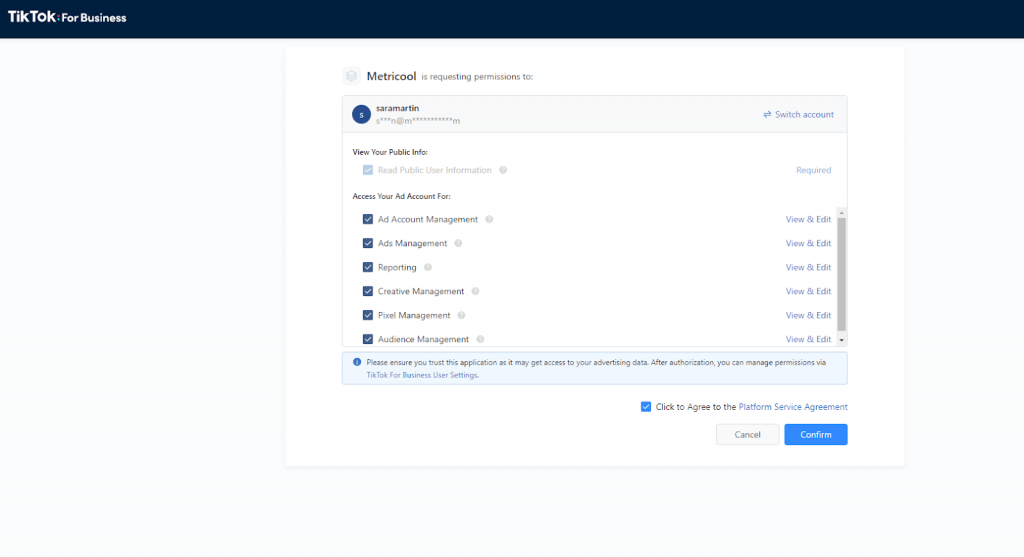 Measure the results: how to analyze TikTok Ads with Metricool
Once you have connected your TikTok Ads account to Metricool, click on the Evolution section and select TikTok.
Now choose which dates you want to analyze in the upper right.
There you will have all the information about your campaigns on the social network. These are the metrics you will have access to:
Metrics of your account and campaigns
You can see all the data for the analysis period in three graphs:
Reach: Analyze the impressions of the campaigns that you have carried out in the period of time selected.
Results: Where all the information about clicks and conversions is collected.
Performance: Here you can see all the metrics related to the cost of the campaigns (CPM, CPC, CTR).
Campaigns Table 
In this section you can have the same data as in the graphs but classified by campaign and with all the data organized in columns.
It gives you the possibility to see all your campaigns grouped in the table to compare them as in the following image:
If you click the graph icon to the left of each campaign, you will be able to analyze more in detail the performance of each campaign.
Download reports with the information of your campaigns
With Metricool's premium version you can download automated reports with all the information of your TikTok Ads account.
And this is one of the latest new features from Metricool, analyze your campaigns on TikTok Ads while analyzing all the content of your other social networks.