Do you have a physical business or store?
Do you provide a home delivery service in a specific area?
If your answer is yes, you will get very valuable information in this article.
Setting up a Google My Business listing is the best local promotion that you can do.
In general, people don't pay too much attention to junk mail or even traditional ads. Why should they if they can find anything they need on their mobile phones?
Steps to set up a Google My Business profile 
Step 1: Access Google My Business with a Gmail account
First, access Google My Business page here, if you don't have a Gmail account yet, you must create one as shown in the image below.
We recommend that the email associated with your profile includes the name of your company, for example "acornbakery", so it's easy to identify it, it's clear that is not a personal account and your customers can contact with you in a more official way.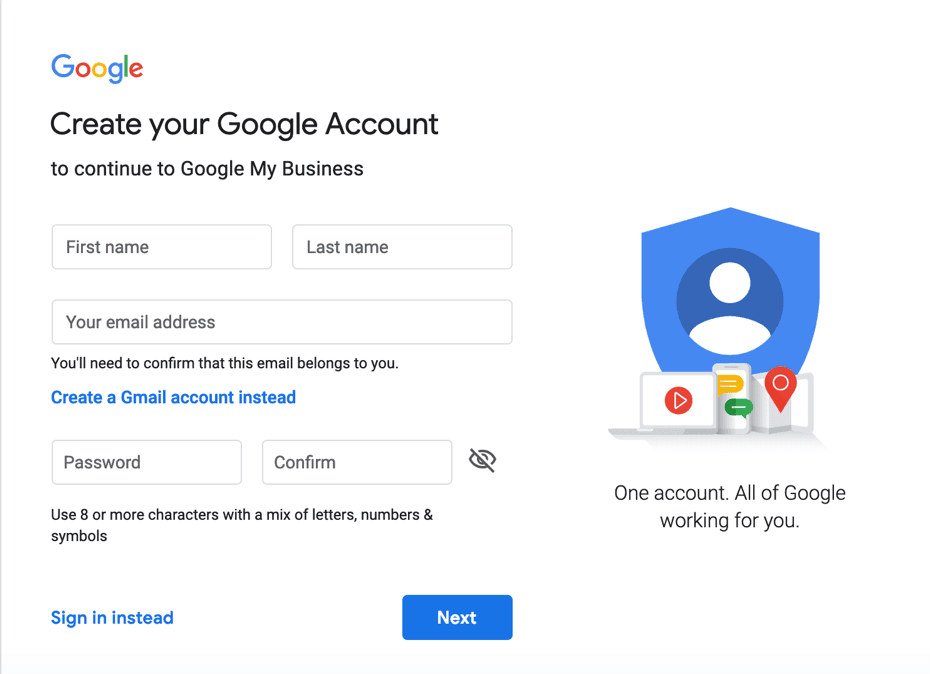 Once you have a Gmail account, you can continue setting up your Google My Business profile.
Step 2: Create your profile
On Google My Business page click Manage now to start registering your business. Follow and add all the relevant information on the different screens that will pop up:
Business name
Location
Service area
Type of business
Step 3: Verify your Google My Business account
This part is very straightforward. You can verify your listing using different methods depending on the type of business:
By mail: Google will send you a letter with a verification code to the address assigned to your account.
By phone (option available for certain business)
By email (option available for certain business)
Instantly (if you have already verified your business's website with Google Search Console)
Bulk verification (if your business has 10 or more locations)
Once you submit your verification code, your account will be ready to go.
LISTING VERIFICATION
You won't be able to edit any field on your Google My Business listing until you verify your business account.  Your listing won't appear in Google search results either.
Everything about Google My Business
Optimize your Google My Business listing 
Now, Google knows who you are and people interested in your business can easily find information about it, for example, about your location, phone number, the reviews left by customers, etc.
However, this is not over and you should continue shaping your Google My Business account and fill in all the fields to score higher on Google. Also, provide your visitor with complete and accurate information about your business.
Once you have verified your listing, you will have access to a complete panel on Google My Business where you can start working.
Let's see in detail what you will find on your profile.
Home 
In the home tab, you can see at a glance a snapshot of your performance, your last post published and the latest reviews received.
Be aware that you won't get any data right after creating your Google My Business profile.
Also, you can add photos directly and create ads and publications apart from having access to an overview of what's going on with your account.
Posts 
In this tab, you can create publications that will display on Google when users search for your business name. These posts can be used to promote an event, product, a new release or offer.
This is a great way to attract the attention of users that are looking for your brand and promote your products and events on Google's first page.
These posts will appear under your Google My Business listing as shown in the image below.
Info 
In this section you must add all the information relative to your business, such as your hours, which holidays your business is open or closed, business description, categories, labels, etc.
In this example of an unverified listing you can see all the fields you can fill in.
The main category (for which you want to be discovered) is displayed right under the business name. This is how your business will be found. Once your account is verified, you can add subcategories.
💡 EXAMPLE
Main category: Fruit stand
Secondary categories: grocery store, delicatessen store, produce store, etc.
Categories are important to appear in the results of these types of searches.
The rest of the fields refer to your business hours, phone number, type of business, etc.
Insights, reviews and messaging  
These three options are available when your account is activated and starts receiving visitors and reviews from your customers.
⚡️ Insights: Google My Business collects data about how many users have seen your listing and how they have found you: Searching directly for your name or address, looking for a specific category, product or service or, through a brand related to your business.
You can also get an inside look at the queries that people have used to find your business, if they've found you via Google Maps or Search, which actions customers have taken after finding your listing or where customers were when they did.
In addition, you can check when and how often customers called your business through your listing, how many photos you have uploaded and how many times they have been viewed. Lastly, you can obtain info about what your customers think about your business.
You can find more detailed information about all the insights that Google puts at your disposal here.
⚡️ Reviews: This section provides the reviews that customers left on your listing.  If you can, you should always reply to these comments.
⚡️ Messaging: You can activate this option by downloading Google My Business app. You will be able to receive direct messages and questions from your customers. This feature is available to select merchants in select countries.
Photos 
This section allows you to upload photos and videos of your business: exterior, interior, personal, 360 degrees, etc.
Website
If you don't have a website yet, you can create one with Google My Business.
When you click this option, you access an easy platform to create a basic website through a template and the information from your listing.
You can add photos, text and a definition of your business. Once you are satisfied with the look of your site, your website is ready to go!
Users
You might be interested in adding additional users to manage your GMG listing. From this option, you can add other owners, managers or site managers.
The rest of the options on the menu are about configuring and creating ads through Google Ads.
As you have just seen, Google My Business is the best digital window for your local business and, on top of that, it is free.
Now that you know how to set up a Google My Business profile, it's time for you to spend some time optimizing your listing.
If you have any question, let us know in the comment section.