Google My Business, since the closure of Google+, has become a physical location listing and also a social network. Comment management, post creation, replying to reviews, updating photos, etc.
Managing Google Business Profile is an extra task, as if it were another great social network.
Wouldn't it be great to have a single tool to manage social networks and also Google My Business?
➡️ Here you have the answer: managing Google My Business with Metricool is the solution.
Having your Google Business Profile listing ready is important, it allows your users to:
✅ Find your physical business through the location you have added.
✅ Contact with you through your website or phone number.
✅ Get positive reviews that give your store or business a reputation.
✅ Announce updates about your products, special schedule or photos of your business.
In this last option Metricool takes on great importance thanks to its functionalities that will help you plan your strategy in Google My Business.
49% of business that are on Google Business Profile receive more than 1,000 monthly visits.
Why not your business too?
Before discovering everything you can do with Metricool, I tell you what this tool is and why it is essential for your marketing strategy… 👇🏻
What's Metricool
Metricool is a tool to manage, plan and measure your content and advertising on social networks. If you are a social media or community manager, or an agency, having your strategy planned will help you in your work.
What else can you do with Metricool?
👉🏻 Program your content on main social networks. 
👉🏻 Analyze the performance of your content. 
👉🏻 Generate reports about your strategy.
A must for any content creator to make their work easier and improve their performance.
Now it's time, let's get down to business, how do we manage Google My Business with Metricool?
Manage Google My Business with Metricool
How can Metricool help me manage one or more Google Business Profile accounts?
First, you must connect your Google My Business listing with Metricool.
➡️ On the left sidebar menu, go to "Manage Connections" (within the Evolution section).
➡️ Click connect under Google My Business and follow the indications; Start session with the account you want to link and accept all the permissions.
Voilà! In under a minute your account will be connected to Metricool.
With Metricool's free version you can connect one Google Business Profile location. If you want to increase "the family" you will have to choose one of the premium options according to your needs.
Analyze the evolution of your listing
An overview of how your listing is working, key aspects to learn whether your audience is searching for you or not.
You can select amongst the predetermined dates range with the tool or choose the dates that you want to analyze in the calendar.
Queries
The total number of times that users have searched for you in that period of time, between direct, indirect or chain searches.
If you see that the number of searches has decreased, it is important that you keep your listing updated with blog entries, offers, etc.
Direct searches: the user searches for your name directly: Smith hardware store, for example.
Indirect searches: the user searches for the name of your business in a generic way. For example, hardware stores.
Chain: the number of times that the user who searches for you has done so through a keyword. For example, hardware stores in Philadelphia.
Views
Here you will find the number of views that your business has obtained on your Google My Business listing.
Views from Google Maps and Search. If you have your listing well positioned, you will see how this data increases.

Clicks
You can add several calls to action in your Google My Business listing. Calls to encourage a visit to the website, your phone or how to get to your business if it has a physical location.
Here you can measure if your call to action generates clicks and users use them.
Reviews
What do users say about your business? Do they like it or leave a positive review?
Here you will find the number of reviews that your business has received and the average score. Next, there is a table with the profile who left the review, the message, date and score.
Remember to reply to all the reviews. Whether they are positive, to say thank you or negative, to let users know that you will consider their feedback and make the necessary changes to meet their needs. You can reply to all the reviews without leaving the platform.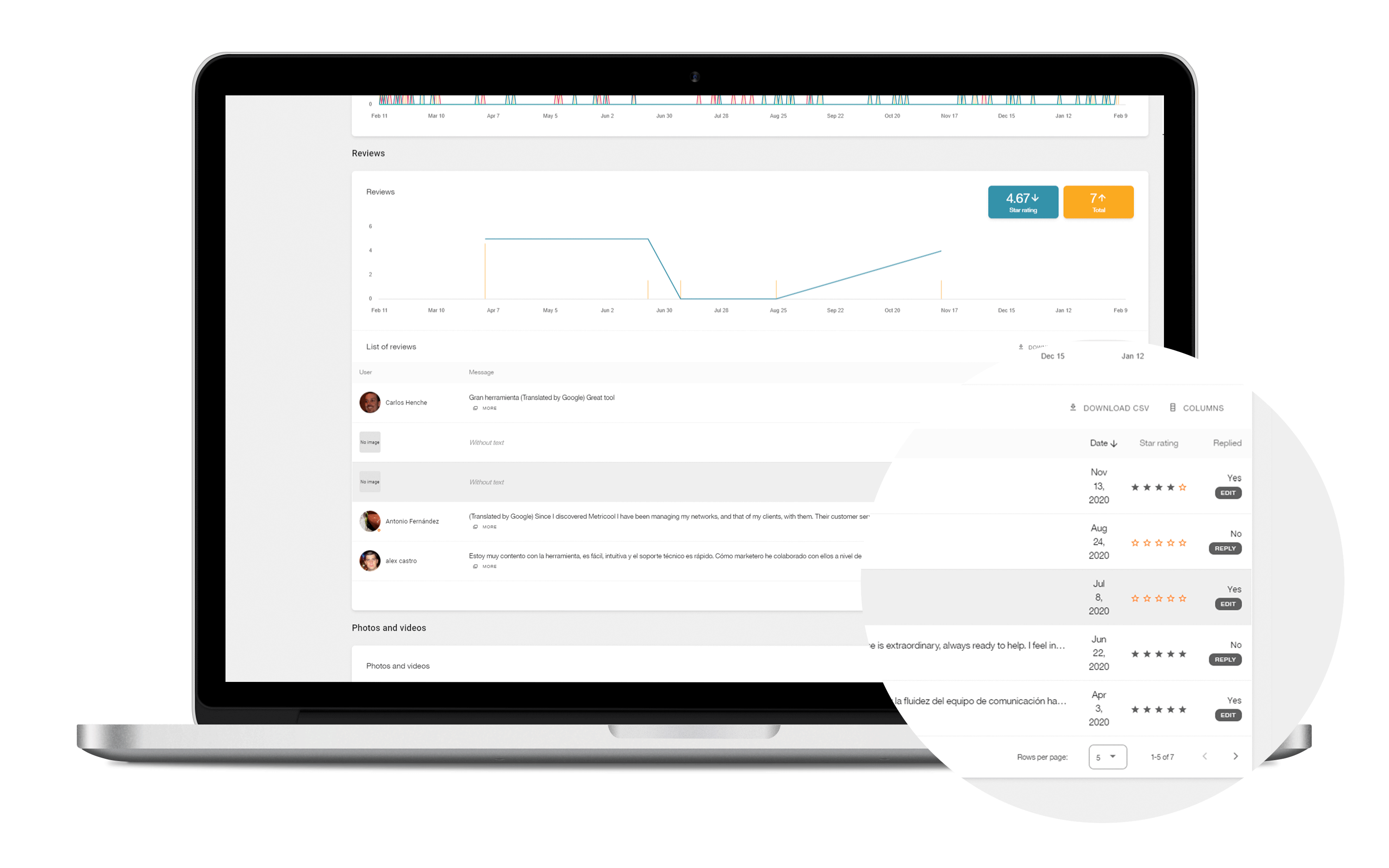 Photos and videos
One way to attract new customers to your physical store or business is through photos and videos. In Google My Business you can publish multimedia content that will help you gain a loyal community.
With Metricool you can analyze the visits you have had to these photos and the date you published them.
Reply to reviews
Under the Real time section, go to messages. There you can reply to all the reviews that you have not answered about your business.
This feature comes in very handy because it lets you check the reviews without having to go to Google My Business. Within Metricool, you can check for new reviews, reply to them and done. so easy.
Planner
Leaving your content scheduled to focus on other tasks is one of the features that you will appreciate the most from Metricool
👉🏻 Program your content for Google My Business
It's simple. Click 'Share new post' to create the text, select the date and time that you want to program your publication, add your multimedia file and select Google My Business. Then save.
That's it, your post is programmed. Now you have time to dedicate towards something else.
Remember that posts expire after 7 days. With Metricool you can create publications and clone them so they always stay active. Every 7 days you can repeat the publication so your Google My Business is always updated.
👉🏻 Review your calendar
If you think you have missed something, Metricool puts at your disposal a calendar to review your scheduled posts and check on which social network they will be published.
This allows you to keep track of all your publications with the click of a button. You can download this calendar in a CSV file.
👉🏻 Program in the long term
With Metricool you can add all the posts you want to plan ahead from a CSV file.
A quick method to program in bulk instead of doing it one by one.
👉🏻 Control the history of your planned post
In this section you can check the status of your posts planned, those that are pending to come out and those that have been already published.
👉🏻 Autolists
With Metricool you can create autolists and let the platform work for you. You can create posts that will be automatically published for the days and times you choose so you can commit your time to other tasks.
If you want, you can even choose to repeat the list once it is over.
You can add a post manually, from a CSV file or through an RSS feed.

Reports
One of the most beneficial features that you will get from Metricool: professional reports with your performance on Google My Business. You can customize the time period for your report.
You can generate reports in PDF or PPT and customize it with your own logo. Depending on the plan you have subscribed you will have to customize even more with templates that you can save.
These are the features that will allow you to manage Google Business Profile from Metricool. A very valuable option that will let you focus on several tasks, while the tool works for you.
Do you have any question? Leave us a comment.