If you like to keep your Google My Business profile active, you know that posts are essential: Offers, events, news…
However, these posts disappear after 7 days of being published, so you have to always be on top of your listing to never run out of content.
Well, look how simple it is to schedule all your posts with Metricool and make sure a publication lasts as long as you want.
How to schedule a post on Google My Business with Metricool
To schedule content on Google Business Profile, first, you need a Metricool account.
If you already have it, skip this step. If you are not yet part of Metricool, register for free through your Facebook account or with your email.
Once you are registered, in the connection dashboard, connect the Google My Business account that you want to manage with Metricool.
Let's get started!
1 Go to Planning
Click on Planning. Here you will see a calendar with all your posts scheduled.
2 Create a New Post
Click on 'Create New Post' or tap directly on the calendar on the time and day you want to schedule your Google Business Profile post.
3 Select Google My Business
If you only want to publish on Google Business Profile, unselect the rest of your social networks.
4 Select the content that you want to post
There are two types of content you can schedule with Metricool: Publication and photo type.
️⚡️ These are the different content possibilities when you schedule an update:
✅ Text: post is published.
✅ Text + Link: the text of the post with button that will redirect users to the landing page and the featured image associated with the link. (A link always has to be accompanied by a text for it to be published).
The text of the button cannot be edited, the 'More information' text will always appear.
✅ Text + Image: Post with an image.
✅ Text + Link + Image: Post with image and button (the button is not editable, only 'More info'). As you have chosen an image, this will be the featured image of the post, not the one associated with the link.
️⚡️ In photo:
Your content will be posted in the photo section and no text can be added.
Maximum one image or video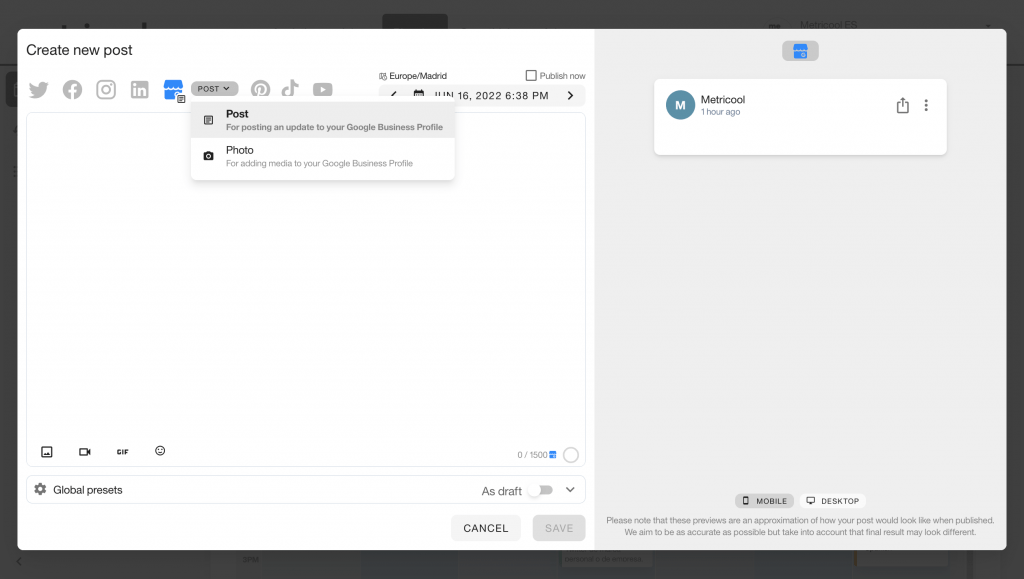 5 Click on 'Save'
Finally, choose the time and day of the publication and click 'save'.
You already have your Google My Business post scheduled to publish automatically on your listing.
6 Duplicate the updates you want to last more than 7 days
If you want to share an offer that lasts for a month on your listing, bear in mind that Google My Business will remove your post after 7 days. You can make sure your post last longer with Metricool.
Click on the post, click on 'duplicate' and program the post for 7 days later. Your post will be active for as long as you want.
You can also duplicate it and drag it on the calendar to the day and time you prefer.
Tips for managing your content on Google My Business with Metricool
Scheduling and planning your content with Metricool help you always keep your Google Business Profile account active.
You also have other features that will help you stand out from the rest.
✅ Use the autolists within the Planning tool.
If you usually share the same content at different times, Metricool's autolists will be your best ally.
With this function, you can automate your posts on Google My Business through various posts that you schedule periodically. In this way, your Google My Business listing will never run out of publications.
*You can publish from the autolist an image but always accompanied by a text.
✅ Reply to Reviews
Reviews are an essential part of Google My Business, where users leave their opinion about your business.
From the messages section, in Real-Time, you can respond to reviews from the same place.
✅ Analyze performance.
From Metricool, you can also analyze what happens in your Google My Business listing: searches, clicks, reviews, visits, etc.
You can also collate all the information in the Metricool reports in a PDF or PPT file with all the relevant information you or your clients need, without historical limits.
✅ Use Canva to schedule your content.
From the online design tool Canva you can integrate your multimedia content into Metricool without leaving your page.
When you have your design ready, click on 'Share' > 'More' > 'Metricool'. The tool will take you directly to the Metricool scheduler to finish scheduling your post.
Reports without historical limits

Metricool allows you to generate reports without historical limits. Whereas Google My Business only generates reports for the last 90 days.
You have run out of excuses to avoid scheduling posts for Google Business Profile, use Metricool, and you will see how your day-to-day is easier.