It may seem easy, but having to manage multiple Google Business profiles at once is tricky. As a social media manager, you know how important Google Business Profile — formerly Google My Business — is, an indispensable social network to boost your brand's or business' visibility on search engines.
So, sit comfortably and keep reading to learn how!
How to Manage Multiple Google Business Profiles
There are two ways you can go about managing your Google Business accounts:
From Google, where you'd have to continuously log in and out of each profile you run.
And from Metricool, where you can manage everything related to your profile and the other social networks you work with.
If you've chosen Metricool, you're in luck, because in this post, you'll learn how to manage multiple Google Business profiles at the same time.
The first thing you'll need to do is register for the tool. Click on this link to create your free account:
🚀 Sign up to Metricool for FREE
Managing Google Business Profile with Metricool
Got your account now? Simply connect Google Business Profile to Metricool from Settings > Connections > Google Business Profile and follow the platform instructions.
Once everything's matched up, it's time to get to work. So, what can you do with Google Business Profile and Metricool?
Schedule your content
As with Instagram, Twitter, and Facebook, Metricool also lets you schedule your Google Business Profile content.
By doing so:
You make sure you always have content in your Google Business Profile, so you don't have to worry about whether you've posted anything.
You can manage your work time better: spend an afternoon scheduling your content so that you can then focus on all your other tasks.
Metricool gives you two types of post:
▶️ Post: if you want to create a post to update your profile.
▶️ Photo: if you want to add multimedia content to your profile, be it an image or video.
❇️ Everything you need to know about scheduling content in Google Business Profile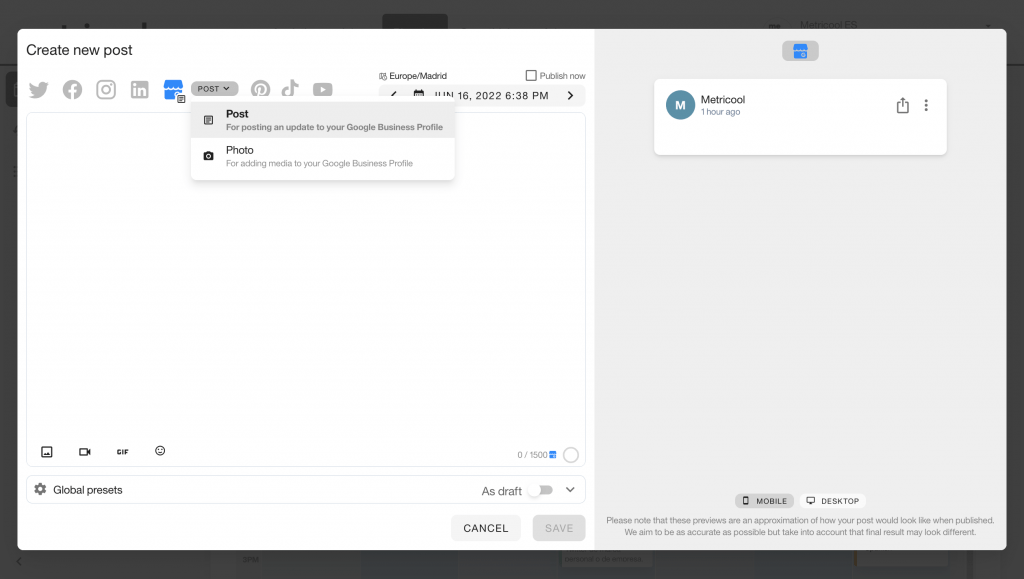 Analyze your account's performance
Everyone knows that metrics are the crux of any social network, but retrieving each piece of data one by one and checking each account to see your performance can get tedious. So, let me tell you that those days are behind you.
With Metricool, you can measure the performance of your profile instantaneously. The tool measures everything that happens with your account so that all you have to do is analyze the results to see whether the strategy you're following is the right one.
What data does Metricool offer?
Number of searches for your business or brand: these can be direct, indirect, or chain searches.
Views in both Google Maps and Google Search.
Number of clicks on the buttons you've added to your listing: website, phone number, or addresses.
The positive and negative feedback that users leave on your listing, including the star rating and the total number of reviews.
A list of reviews with the name of the user who left it, the message, the date, the rating, and whether it has been answered.
Data about the media you've shared in your Google My Business listing with the number of posts and views.
You also get a list of the photos and videos, with information on the views, date posted, and the type of content.
The posts you've added to your Google listing, with the views received and the number of posts.
The list of posts gives you the same information as the previous one: the views, date, and type of content.
In both the photos and videos and the posts section you can download a CSV file with all the information.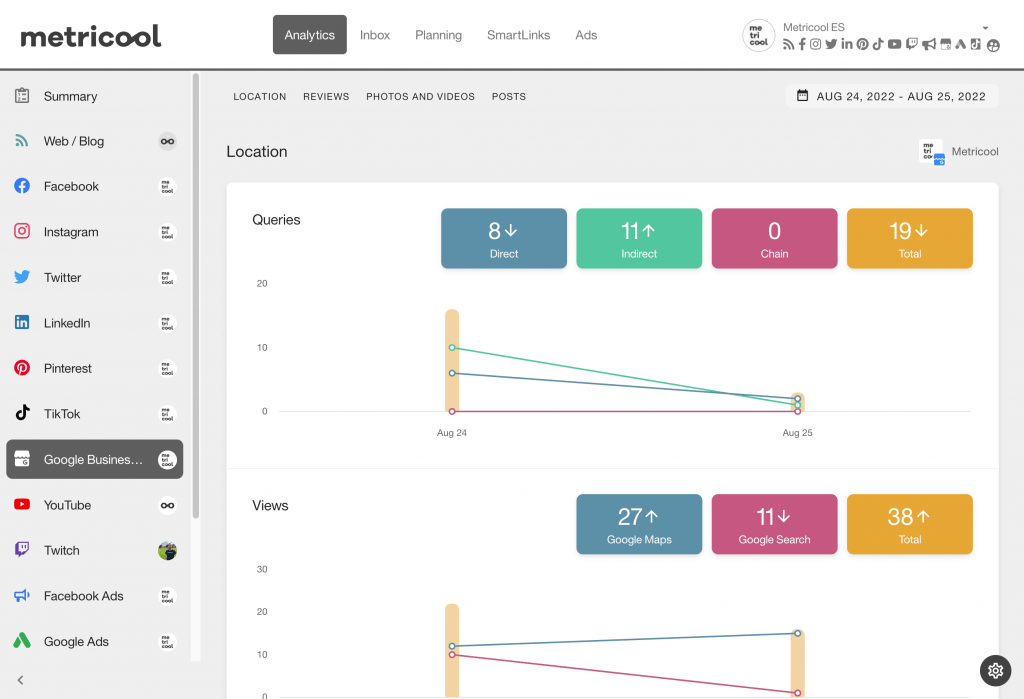 Manage your account's reviews
Reviews are a key part of your business listing in Google My Business. This is where users leave their opinion, which will help you improve your brand or business.
It's always a good idea to reply to any reviews you get, whether they're positive or negative.
You can do this in Metricool from the InBox section, where you can reply to and manage the reviews you receive.
Create metrics reports
Download performance reports from your Google Business profile in one click.
How many times have you sat down at the end of the month to start collecting all the data from your results? I'm sure you've wasted quite a few hours on it.

Metricool gives you your monthly reports in one click: customize them if you're Premium, add your personal brand's or client's logo, create it in several languages, and even have Metricool send it by email. That way you'll never forget to download it.
✅ Save time: in one click, you'll have all the monthly data from your Google Business Profile in a PDF or PPT.
✅ Collect all the data in one click so that you don't lose information by copying and pasting it to other documents.
📈 Learn how to download Google Business Profile reports
That's how easy it is to manage multiple Google Business profiles with Metricool: analyze, schedule your content, and manage your business' reviews.
Want to learn more about Metricool?