Instagram is the most used social network at the moment and has really grown in recent years.
Currently this social network provides many opportunities for any type of business and helps the growth and development of your audience targeting strategies.
Where to start to capture leads
Gaining subscribers is not an easy task, so it is important that before launching into this adventure, you ask yourself a few questions:
✅ Who are your potential clients or readers?
✅ What is your ultimate goal for attracting subscribers?
✅ What are you going to offer them for subscribing to your newsletter?
✅ Why do you want them to subscribe?
✅ What strategy are you going to follow?
✅ How are you going to do it?
With answers to these questions, not only will you have a clearer goal, but you will also have designed the perfect roadmap to avoid running out of resources along the way.
STEP 1: Empathize with your target audience
You want more interactions and to gain followers on Instagram?
Make your posts empathize with your followers and make your followers fall in love.
▶️ To establish any type of relationship, first you have to empathize with people.
The same is true for social networks…Where users are more than saturated with information and potentially tired of receiving a large amount of information with commercial content.
❌ When your followers perceive that you are trying to sell them something, they'll flee from your account.
What do you have to do to connect with your target audience?
Humanize your brand and give it personality if you want to approach an audience and gain their trust. The great advantage of Instagram is that you can create publications with that human touch that your user wants to see so much.Here are some ideas to empathize with your followers: post images of brand employees, colleagues, process photos of the creation of the product or development of a service, tell anecdotes that make you smile…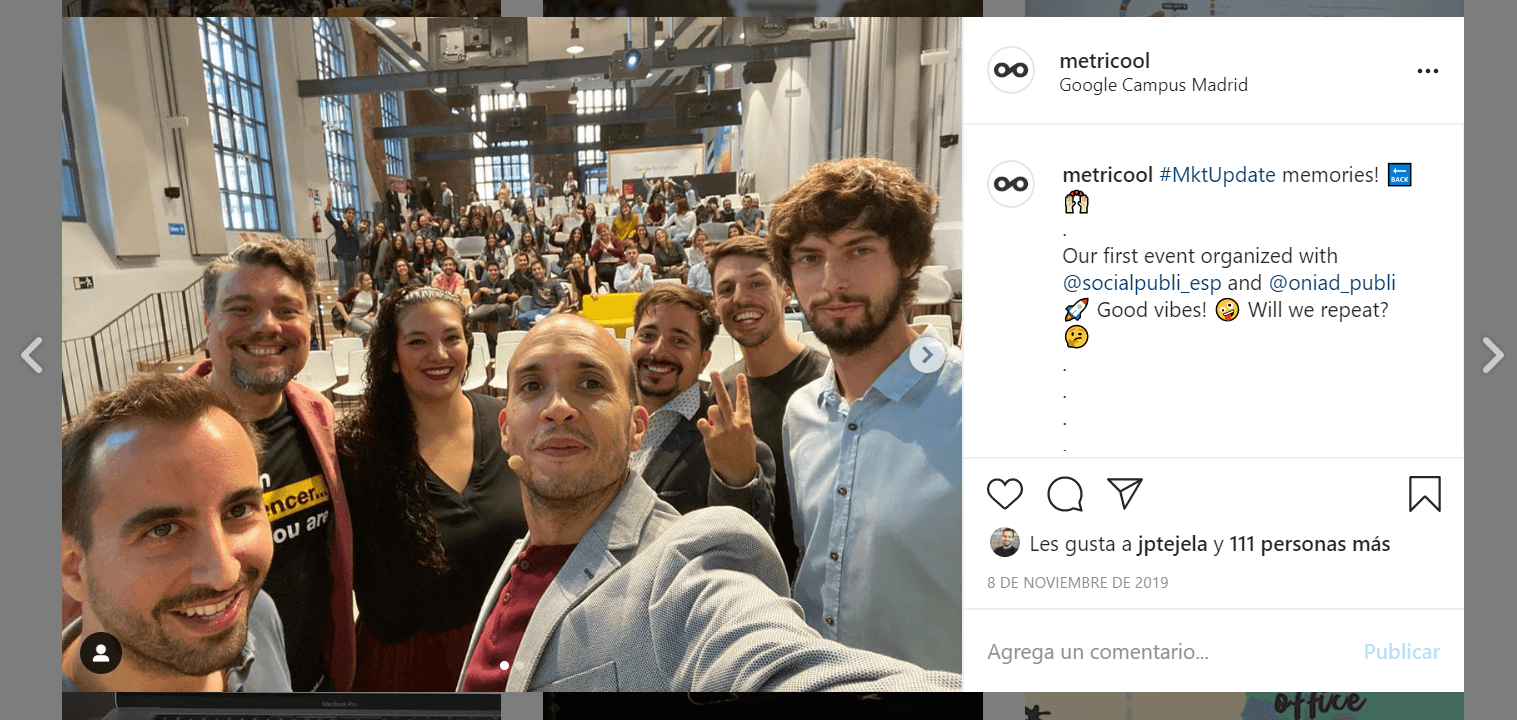 Offer a Lead Magnet or free content
Once you have achieved a good connection with your followers, the next step is to offer them a lead magnet, or similar, free content so that they subscribe from the beginning.
WHAT IS A LEAD MAGNET?
This is content that will add value for your potential customers. It is a great way to avoid asking them in a cold manner to subscribe to your newsletter. This way they will get something in return and in the form of reciprocity.
But before launching it, be sure that the lead magnet is related to your brand. If you need ideas of what that valuable content could be, here you have some ideas:
Product demo
An exclusive discount or promotion
A free trial of a product or service
An e-book
A PDF guide
Editable templates
A mini course
Instagram Leads Ads: Gain followers, attract subscribers and spread your lead magnet
There's no point in having good value content to offer your potential subscribers if it's not going to reach anyone, don't you think?
For this there is a very simple solution: Instagram Leads Ads. What is it about? Surely you have already heard about Facebook Leads Ads, sound familiar? Well, Instagram Lead Ads is the same version specific to this social network.
To clarify a bit, it's about ads to attract subscribers that are implemented on Instagram with a form that generates the ad itself. Sounds good right? Take note of this brief guide to create your own campaigns on Instagram and achieve gaining your desired subscribers.
Brief guide to launch your Instagram Leads Ads
First of all it is important to keep in mind that since Facebook and Instagram are part of the same family, to work the Instagram ads you will have to go to Facebook.
If you want your Leads Ads campaigns to work perfectly, you will have to the follows these guidelines for the images of your Instagram Ads:
600 x 315 px for landscape photos
600 x 600 px for square format.
600 x 750 px portrait.
Choose the objective of your ad
Have you linked your Instagram account with your Facebook page? If so you should go to Facebook Ad Manager and choose the objective of your ad.
What objective do you have to choose if you are going to create an Instagram Leads Ads? Very simple, the option of "Lead Generation".
Your target objective
The next step you have to follow is to define your target audience, that is, the people you want your ad to reach. Take this as an opportunity to fine-tune the segmentation of your audience to achieve better results!
Budget and where to show your ads
Here you have to indicate how much you want to spend on your ad and don't forget to select the options to show your campaign on Instagram.
Why remove the Facebook option? If you focus only on Instagram, your Instagram Ads will be more effective on this social network. The same is true when you make a Facebook Ad.
Format and text of your ad
The time has come to unleash your imagination and capture your long-awaited leads. First of all, choose the format that your future campaign will have. You can choose from 4 formats:
Carousel
A single image
Video
Slideshow
When you have a format, you'll need to add the text that will make your next subscribers fall in love. Remember to entice them into clicking on the call to action!
Design your form
This is the form by which users who are interested in your lead magnet will leave their personal data. Start creating it inside the option "ad form" and then click on "new form".
Now configure the welcome screen of your form and then go to the option to choose the questions that you are going to ask users. Here we recommend that you keep it simple, it should be sufficient to ask them for their name and email.
Indicate your privacy policy
It is important that you don't miss this form field. What do you have to indicate? You'll just need to include the link of the privacy policy or legal notice from your website..
Approval of your ad
To finalize your Instagram lead ads, all you have to do is fill in the thank you page, send your ad request and wait for Facebook to approve it.
What should you put on the thank you page? Here we advise you to indicate the link of your website.
Analyze your actions on Instagram
It's useless to develop numerous actions if you don't analyze how your content is working after some time and confirm that you are fulfilling the objectives you have set out.
It is essential that you analyze how your ads have performed on Instagram and how your potential audience has received it.
With Metricool you can analyze the performance of all your digital ads: Facebook Ads (which includes the ads on Instagram) and Google Ads.
As you will see, the process of creating this type of campaign is easier than it seems. If your first campaign is not effective, ideally you should create a new one. This way you will be able to test the ad that works best and it will be clear which path you should follow.
This method of creating ads by offering something in exchange is one of the most effective ways to gain subscribers to your website from Instagram and gain followers on your account.
Tell us, do you already know the lead magnet that you are going to promote to gain subscribers to your website and improve your Instagram Marketing Strategy?