Nubapp is the software that will guide you on your journey to successful sports center management.
If you own a sports center, CrossFit box or a club, Nubapp can be an essential daily tool in your arsenal. It offers two distinct products:
Resawod: to manage your CrossFit box.
Resasports: sports centers like padel clubs, gyms or sports complexes.
The idea behind integrating Nubapp and Metricool was for Nubapp to allow its clients to be able to manage their sports business' social networks, and therefore achieve its goal: "to develop the most comprehensive sports center management software".
Sergio Fernández, CEO of Nubapp, tells us what drove him to integrate Nubapp and Metricool.
The importance of social networks for any type of organization, together with our goal of developing a comprehensive sports center management software, made us see that this integration with Metricool would add huge value to our software and to our clients.
Managing a sports center, whatever the size, is a complex operation. The day-to-day running can be chaotic, and social networks often fade into the background. However, maintaining a presence on social networks is essential, as they are a great source of client conversion for the whole sports center.
This is why having Metricool within each client's own platform makes managing social networks seem like just another task, as they can easily program content to work on their networks every day. Not just that, they can also put a personalized link in their bio, which is a great incentive to convert sales or measure their actions on social networks and make decisions.
Most of our clients manage their social networks themselves, so Metricool adds huge value. That said, some other clients outsource the management of these services. Even in these cases Metricool adds great value as it allows them to program content, while the content owners can review and approve it.
A total of 153 clients out of more than 500 have activated the Metricool integration in their software.
Feedback has been great, they are really happy, especially with the analytics shown by the platform, because they are clear and allow them to improve results.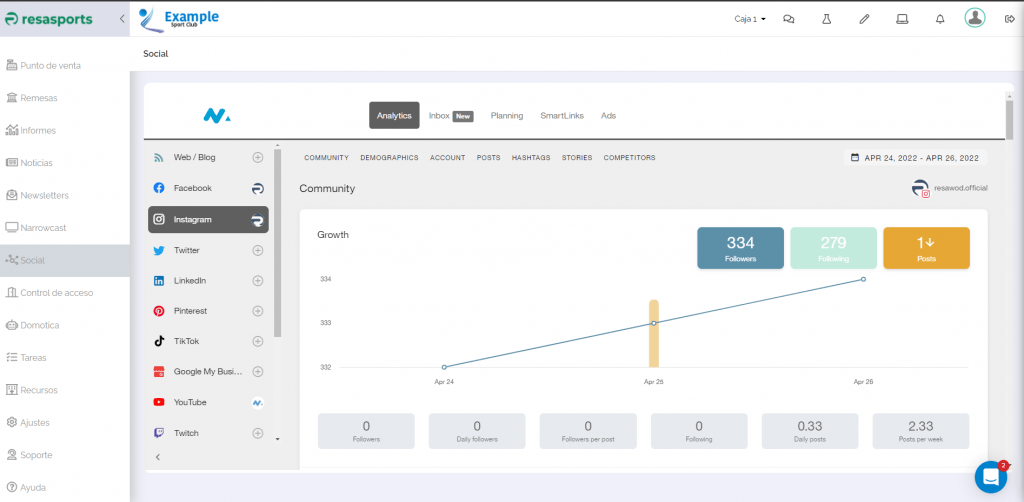 The combination of a management software on the cloud and a tool for managing and analyzing social networks is the perfect set-up for providing sports centers a much more efficient and practical management system.
The integration process of Metricool with our software was really simple.
Using an iframe, and with a personalized CSS that we sent to Metricool so that the style did not clash too much within the software, in less than a month we had an active service for those clients who wanted it.
Metricool is one of the best management and analysis tools for social networks that exists right now. You can manage practically all of the most important social networks on the market.
However, its best function are its metrics, they are so detailed and precise and let us clearly see the evolution of every social network profile.
Digitalization is a big step for any sports center right now. Clients want things right away and hate having to call to reserve a spot or make payments.
That's why digitalizing your sports center with online bookings and automatic payments significantly improves user experience, and consequently the daily management of the sports center.
Likewise, using Metricool makes your online presence, as important as it is today, much more manageable. It also gives us greater impact, enabling us to attract more clients to our sports center.
Boost your sports center by managing the whole club and its social networks from the same place.
Want to know about Metricool's white label?