Metricool, the platform to manage multiple Google Ads accounts. Got your ad campaigns all under control? Of course you do. But it takes tons of time because you handle a lot of Google Ads accounts. Well, as a good social media manager, I ensure you that Metricool is the "cure". 
Want to know how to manage more than one Google Ads account from one place? Stick around and read this post.
How to manage multiple Google Ads accounts with Metricool 
If you're already on fire working with several Google Ads accounts at the same time, then you're serious about Metricool…and so are we!
So, let's get started.
The first step is to set up a Metricool account.
💡 If you already have a Metricool account and you've connected Google Ads, you can skip this step.
Don't sound the alarm, it takes less than two minutes to sign up. Just go to this link:
Got it? Perfect, now you need to connect your Google Ads accounts to Metricool. It's easy: go to your brand in the top right > Connections > Google Ads > Connect!
Now we're ready to get back to what matters most. How can Metricool help you manage Google Ads?
Metricool, the platform to manage multiple Google Ads accounts
Probably the biggest advantage is: all in one.
On top of your Google Ads accounts, you can manage all the social media accounts you work with on Metricool.
Everything you have to do, all on one platform, without leaving? That's right!
This way, Metricool:
✅ Makes it easier for you to manage social media for yourself or your clients.
✅ Saves you time because you don't have to change accounts, switch apps, etc.
And now focusing on Google Ads, how can it help you?
Create ads
Starting off strong, right?
Create your Google Ads campaigns on Metricool as if you were on their platform.
Just follow these steps: Type of ad > Demographics > Audience > Keywords > Design > Budget > Summary.
So, while you sip your coffee, you can create your Google Ads campaign and schedule an Instagram post without switching between social networks.
Analyze your campaigns
Analyzing everything that happens with your great campaign after you launch it is just as important as creating it in the first place. And you can do it on Metricool.
What metrics do you get on Metricool?
📈 Account: reach (impressions), results (clicks and conversions) and performance (CPM, CPC, CTR).
📈 Campaigns: a list of your campaigns with all the information you need (impressions, clicks, conversion value, ROAS, etc.) at a glance.
📈 Keywords: keywords used and information on them – impressions, clicks, conversions, etc.
Create results reports
One of the most complicated tasks for social media managers at the beginning of each month is compiling all the information on the previous month: data here, data over there… and I'm lost in my spreadsheet.
Personalized Metricool reports give you all the metrics you need in just one click. Plus, you can add your company logo so those results you worked hard to achieve make an even better impression.
Or if you prefer, you can have the report emailed directly to your client. Surprise, we've done it again this month!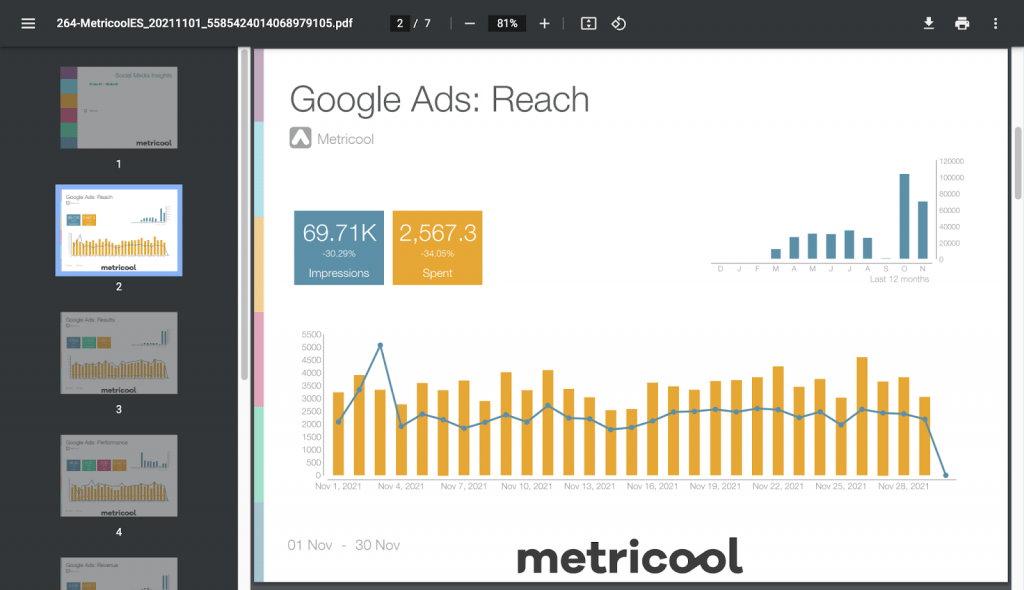 Now you know how to manage multiple Google Ads accounts at the same time, all you have to do is get to it on Metricool.
And if you're curious about what else Metricool can do for a social media manager, here's a link to our Mega Tutorial with all its functions.