If you have an Instagram account, you must already know that this social network only allows you to add a link, the one in the bio. This forces you to keep updating the link each time you want to drive your followers to a different page.
However, we bring you good news: Apart from being able to include links in all your Instagram images,with Metricool, now you can also add multiple links styled as buttons.
Add multiple links in your Instagram bio
This is how it will look when a user click the link of your Instagram bio.
→ Choose the number of buttons that you want to put and where they link to. There is no limit.
→ Create a direct access to multiple links and take them to the URL that is best for you.
→ Personalize the call-to-action to make it friendly.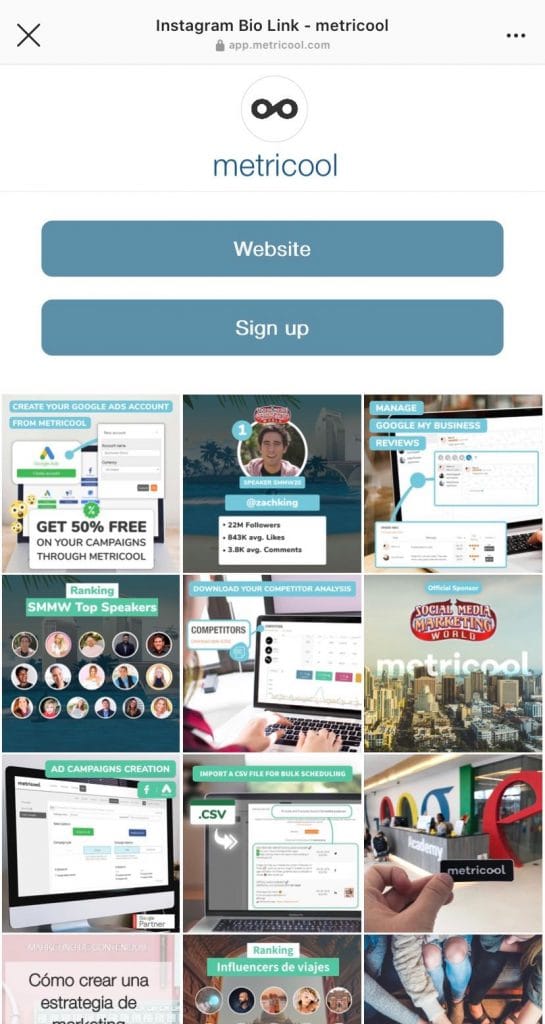 For Metricool's Instagram bio, we have chosen two links:
⚡️ The first button invite users to access our homepage directly.
⚡️ The second button encourages potential users to register with Metricool and start using our tool.
From now on you can add links to your Instagram images with our link in bio and add multiple links as buttons to drive users to the landing of your choice.
This allows you to include multiple links on your Instagram account
Do you want to know how? Pay attention because we are about to tell you…
How to add buttons on your Instagram link in bio
⏩ Access your Metricool account and go to the Planner section.
⏩ Once there, you must click Instagram Link, on the left-side menu.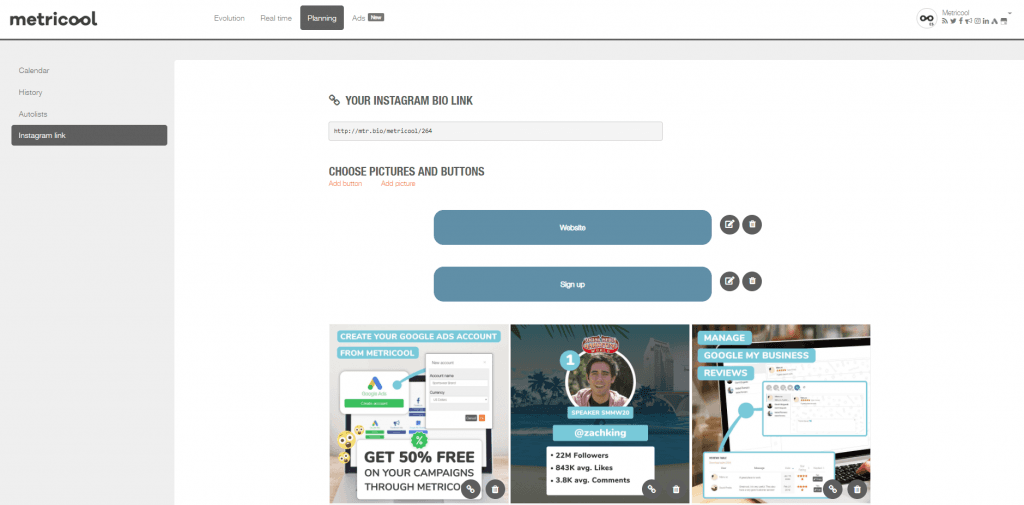 You will see the options of either add a button or an image with a link.
If you want to add a button, follow these steps:
A pop-up window will display where you have to fill out this information:
→ The text that will appear in the button
→ The link of the site where you want the user to land after clicking the button

Press OK and a new button will appear on your Instagram link of your bio.
⭐️Great news! You can add all the buttons you want, there is no limit⭐️
Besides, as you can see on the screenshots, next to the buttons, there are two small circles to edit or delete the button.
Advantages of adding buttons on your link in bio
✅ You pass from having the possibility to add one single link to adding multiple links on Instagram.
✅ Easy to drive users to the site that you want them to land
✅ You can create a personalized link where users can access multiple links
✅ You'll increase the traffic to your web from Instagram.
Here is a video where you can see how it works:
Link in Bio Option
With this Metricool feature, you can generate multiple links as buttons or add them to your Instagram pictures. When users click the link in bio on your Instagram profile, they will see your pictures and call-to-action buttons that drive to different pages
If for example you have a shop store, when users see an image of a shoe they like, they will click and will land on the webpage where they can buy those shoes. Very convenient!
So this is everything about how to add multiple links on your Instagram bio from Metricool.
Do you want to learn more about other Metricool's features?