Reaching out to Google My Business team is quite easy and they normally answer fairly quickly.
Besides, Google My Business has a help forum where you can find multiple issues and their solutions.
Click here to access GMB community forum
Let's get down to business…
How to contact Google My Business and the different ways to do it
By contact form
If you are the administrator, you should contact them with the email account associated with the issue, this way they can easily find your listing.
In this fill-out form to contact them, you will be asked for some data to verify your identity. At the end, there are some boxes where you can explain and describe your issue in detail.
Fill out this form to contact Google My Business
They normally answer fast and the response will arrive to the email account used to fill out the form. In most cases, in less than 24 hours you will receive a reply.
From your administrator profile
Whether you manage multiple locations or only one, you can access Google My Business support.
On the left-side menu you will see an interrogation icon along with the word Support.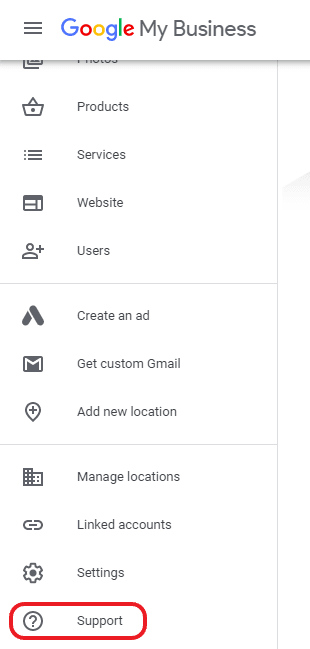 Click here and the help menu will be displayed. On this menu, the most frequent queries will show, for example: Verify your company, delete a location or edit a business listing on Google.
In the option: Do you need more help? Other frequent issues will display where you can find their solutions clearly explained.
If you want to contact them directly go to the option Post Comments. Here, you can attach any screenshot and describe your issue directly. The answer will be sent to the email account associated to your profile.
From Google Legal Help Page
If you encounter an issue of legal in nature (for example, someone's identity has been stolen, defamation or other issues that may violate the law), then you must contact them using another method. Google provides a Legal Help Page where it explains what you should do.
Why should we contact Google My Business?
In general, from your administrator profile on Google My Business you can make multiple changes such as your name, hours, location, holidays, etc. However, there are other issues that are a bit more complex, for example:
→ How do you show that your business is temporarily closed for holidays on Google My Business?
→ How do you claim a listing on Google?
→ How do your report fake reviews from a competitor?
→ How do you verify your listing?
In this cases, you should contact Google My Business support so they can give you quick solutions.

Any other question?
You can find everything you need to know about how Google My Business work.
Now you know how to contact Google My Business. From our experience, we consider that their support service is outstanding. They are very fast in their response and they normally give a solution to whatever issue you might have.