There are different ways to create Google My Business reports, from your own listing or using external tools to elaborate your own reports with the main Google My Business insights.
In this article, we will explain to you the different options to obtain a GMB report so you can decide which one is best for you.
But before! Do you want to know more about Google My Business?
Google My Business: The definitive tool for your local businesses
How to download insights for your listing through Google My Business
There are several options:
1. From Google My Business main panel
STEP 1: Access Google My Business panel and select the business you'd like to gather the stats for.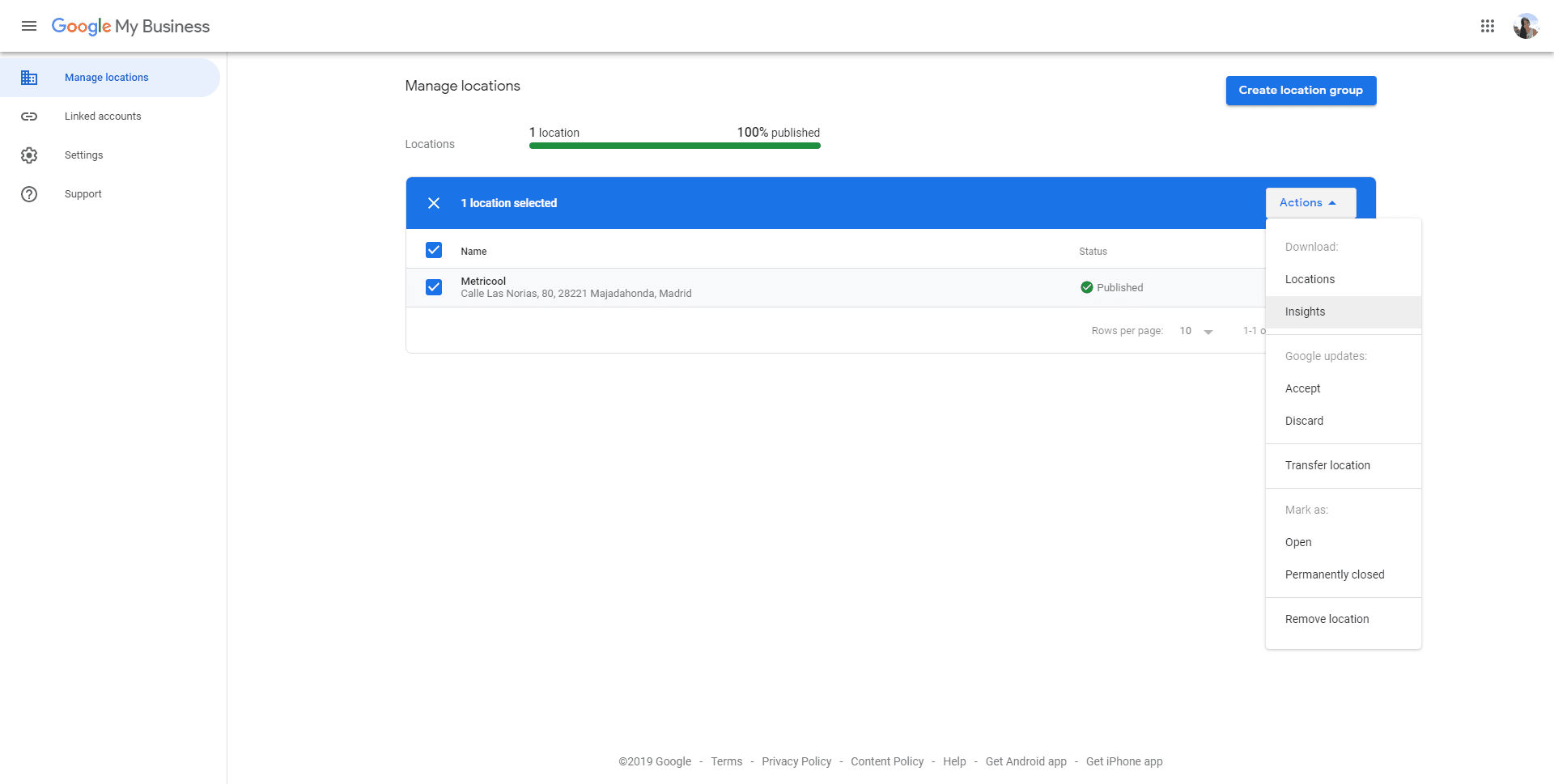 Click insights from the action menu on the top-right side and the following window will pop up.
Choose one of the three options that you want to show in your Google My Business report. You can't select multiple options so only click one.
STEP 2: Choose the timeframe you are interested in to view and download
STEP 3: You will obtain a CSV file with all the data of the period previously selected.
Disadvantages of this method
The Google My Business reports will only gather information about one of the following data: Discovery insights, photos or phone calls. You can't download all the insights together.
There are not visual elements.
There is a maximum time range of 90 days.
Method 1 score: 4 out of 10
More information about managing Google My Business with Metricool by clicking here.
2. Insights option from your Google My Business profile
 With this method you will view a snapshot of the main insights related to your listing rather than seeing them in a report.
You will be able to select the timeframe you want and access graphs with information about:
How do your clients discover your business?
Which keywords do they use to find your listing?
How many people took an action? Etc.
Check all the insights that Google My Business puts at your disposal in the screenshot below:
You have two options to generate a report from this dashboard:
Export the data as a CSV file like we showed you before.
Copy-paste screenshots.
With this option, the insights will come together with visual graphs to help understand the performance of your Google My Business listing.
Disadvantages of method 2
You can't generate a report automatically.
You can't edit it, you will have to create your own PPT with screenshots.
There is a maximum time range of 90 days.
Method 2 score: 5 out of 10.
3. Elaborate a Google My Business report with Metricool
 This method involves linking your GMB data to Metricool, you will be able to create a complete report with all the relevant insights in a visual way.
Once you have connected your Google My Business profile to this platform, you will be ready to download your customized report.
On the left side menu, select the option Generate Report and choose Google My Business. Then you can download it in PDF or PPT (so you can edit it or add comments)
Best of all: There is no limit of 90 days in your report. You can generate a six-monthly or annual report if you want.
The result would be this format in PPT or PDF:
Method 3
A complete report to analyze the performance of your Google My Business Listing, all the insights presented in an organized and visual way to better understand the results.
Without a timeframe limit.
With customization options and the possibility to program it to receive it in your email.
And you, which method will you use to generate your Google My Business reports?