Have you ever scheduled an Instagram photo and had to delete it once it was published because it didn't convince you how it looked in the feed?
Say goodbye once and for all to that problem with Metricool's Instagram feed preview function.
What is it?
Instagram Feed Preview is a Metricool feature that allows you to preview your Instagram feed with the scheduled posts.
This preview offers you a peek at how your feed will look with the posts you have not yet published but have already been scheduled.

If you want to know more about the Instagram feed preview on Metricool, choose your most comfortable chair because we are about to tell you everything about it.
How Instagram Feed Preview works
Any user with a Metricool account can use this Instagram feed preview function.
➡️ This view offers you a sample of how your posts will display in the feed. At the moment, it is not available for IGTV or Reels.

Let's go now to what really interests you, the preview after scheduling a post on Instagram.
How does Metricool's Instagram Feed Preview work?
1 Click Create New Post
Enter the Metricool account with which you want to schedule your content, go to Planning, and then click on 'Create New Post'.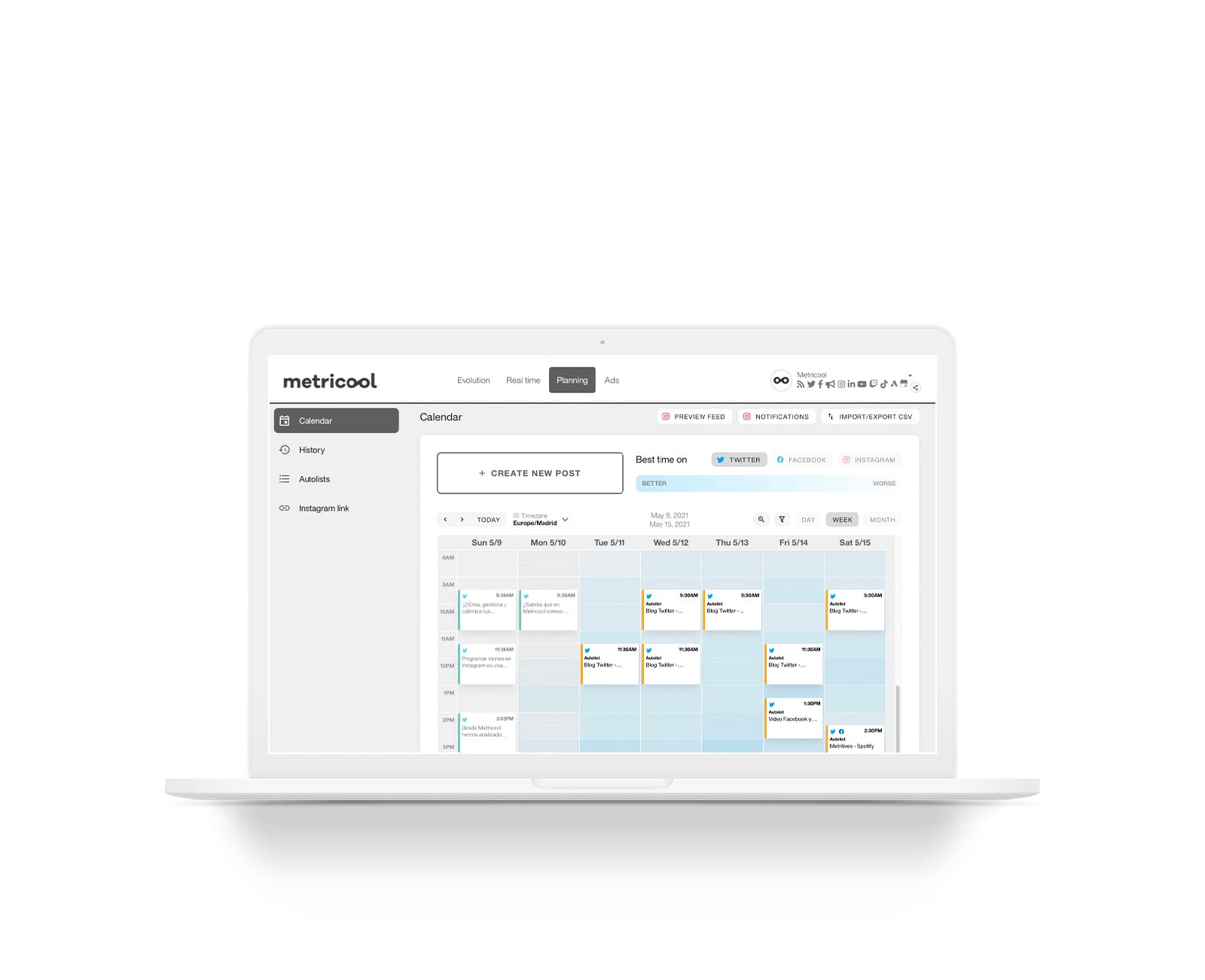 2 Select the social network
Even though the feed option is only available for Instagram, the content can be scheduled on other social networks that you have connected to Metricool.
3 Schedule your post
Add the text you are going to publish and other information that you want to include in your post: add the location, the link for the link in bio feature, or tag users.
4 Click on 'Feed'
Have you prepared the content that you want to publish on Instagram? How about you see how it looks?
To do so, on the right side, click on 'Feed', a button that you can find after tapping the Instagram icon and located next to 'Post'.
Metricool will show you the preview of your feed with the post you have scheduled.
Did you know…
Before scheduling your posts with Metricool, you can peek at your Instagram feed in the 'Preview Feed' button that you have available in the Planning section of your account.
In addition, from the planner itself, you can see all the publications that you have scheduled, so everything is under control.
As you see, using this feature is very simple. Now, what benefits do you get from using it?
Advantages of Instagram Feed Preview
If scheduling and planning content on Instagram is part of your day-to-day, you will appreciate having this Metricool feature available for your work.
So, which benefits does this function bring to your daily work?
It helps you organize your Instagram feed
The feed is the first thing that Instagram users see when they land on your profile. If you keep all your posts in harmony and cared-for, you will increase the chances of gaining new followers.
Plan the content in Metricool according to the organization of your feed and maintain that tone and harmony.
You can analyze the feed
With the Instagram preview, you can analyze the feed of any of the accounts connected to Metricool.
Check if the post you are planning to publish looks good with the rest of your publications, or you think it is better to postpone it.
It allows you to check your posts
This option is useful when uploading multiple images to form a grid. You may have an error in one of the images or make a mistake with the order.
In any case, seeing how your image looks in the feed gives you the option to correct it before it is published.
With this Metricool feature, you can preview your Instagram feed. Organizing the feed and checking that everything is in order before publishing will be a piece of cake.
Do you have any questions about the Instagram Feed Preview? We will read your comments.