Instagram is becoming more and more successful and companies decide to bet on this social network to increase their community, engagement, and visibility. Not only the statistics of Instagram matter, but the size of photos also counts.
In addition, Instagram is the social network of photographs, and for this reason, it is essential to know the size of the photos on Instagram. It is a must to know the exact measurements of photos, videos, stories, etc. 
Examine the content you wish to upload and establish which areas of the image or video you'd like to highlight and keep in frame. You can then use a photo or video editing app to crop and resize your photos before bringing them straight to your Instagram profile after these tweaks.
Instagram profile photo size
Your profile picture is your trademark and that image will make you recognizable amongst your followers. When it comes to your personal profile, it is also important to use that same photo with the rest of your social networks so you can be easily remembered and recognized.
✅ Optimum size : 110px x 110px.
✅ Maximum resolution: 180px x 180px.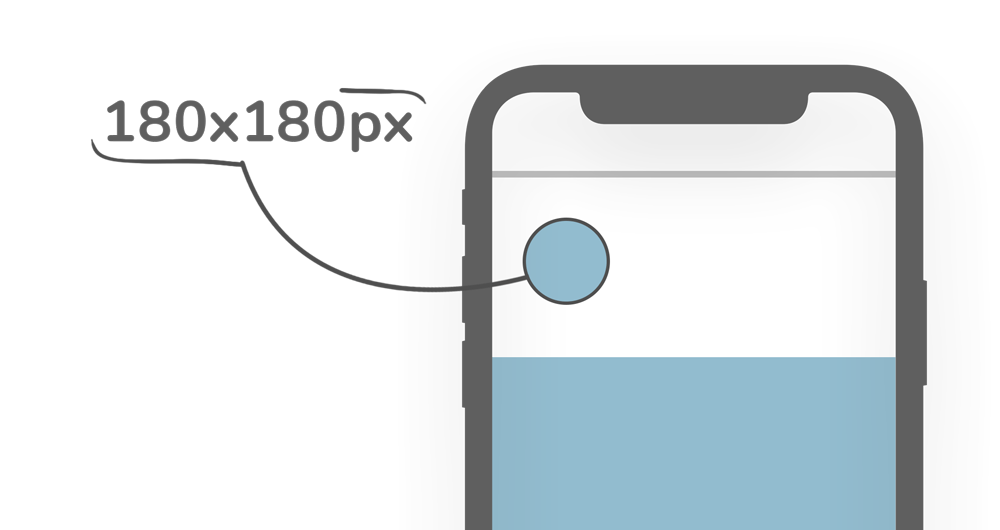 Instagram photo post sizes
Since 2015, you can upload both horizontal and vertical photos to Instagram, something that has made it much easier for us to add the photo we want.
SQUARE PHOTOS:
Although Instagram added horizontal and vertical photos the square images are still a success and a symbol of Instagram.
✅ 1:1 ratio aspect
✅ 1080px by 1080px but Instagram will compress the file and it will be displayed close to 600px by 600px.
HORIZONTAL PHOTOS: LANDSCAPE
✅ Instagram recommends an aspect ratio of 1.91:1 but you can go up tu 16:9.
✅ 1080px by 566px but it is also possible to use a smaller size such as 600px by 400px.
INSTAGRAM VERTICAL PHOTOS: PORTRAIT
✅ Aspect ratio of 4:5
✅ 1080px by 1350px, however, Instagram will show it as a 480px x 600px image.
Instagram video post sizes
On Instagram, you can upload a video to your feed or share it on Instagram stories. The correct size to use will be determined by where you post it:
SQUARE VIDEOS
✅ Aspect ratio of 1:1
✅ 1080px by 1080
✅ Duration between 2 and 60 seconds
HORIZONTAL VIDEOS: LANDSCAPE
✅ Aspect ratio between 1.91:1 and 16:9
✅ 1080px by 607px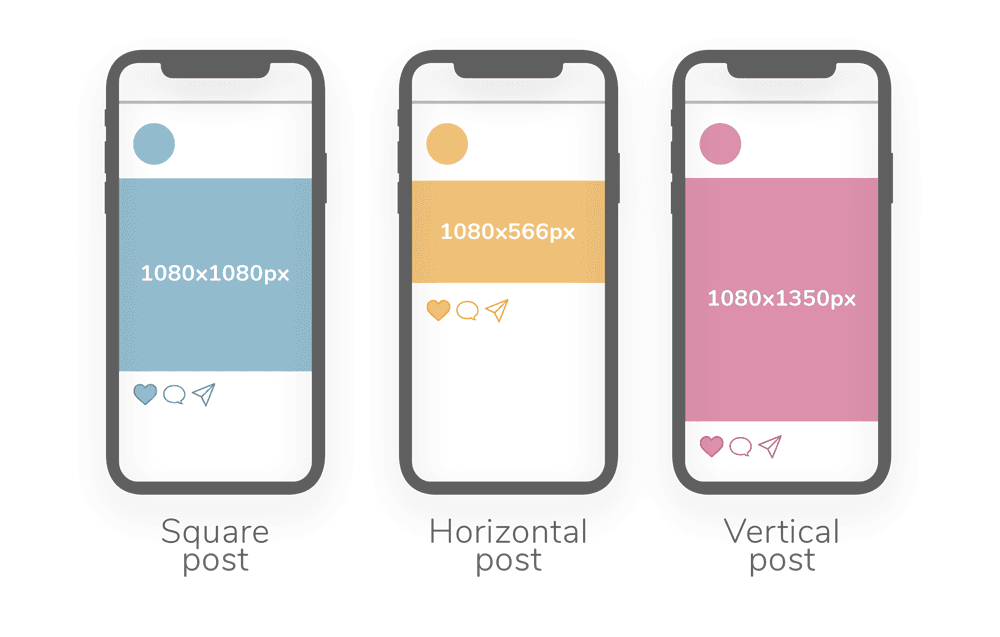 Instagram stories and reels dimensions
STORIES
✅ Aspect ratio of 9:16
✅ 1080px by 1920px
INSTAGRAM REELS
✅ Reels size: 1080 x 1920 px.
Instagram IGTV image sizes
IGTV videos can be both: vertical and horizontal.
VERTICAL IGTV
✅ Maximum aspect ratio 9:16 and minimum of 4:5.
✅ 1080px by 1920px
HORIZONTAL IGTV
✅ Maximum 16:9 and minimum 5:4.
✅ 1920px by 1080px
IGTV COVER PHOTO
✅ Aspect ratio 1:1.55
✅ 420 x 654 px.
Instagram Ads Sizes
When it comes to creating your ads on Instagram you must consider the size of your posts and different formats and be sure you stick to them!
✅ Square ad: [1:1 aspect ratio] 1080px x 1080px. Although it will appear as 640px x 640px.
✅ Landscape format: [1.91:1 aspect ratio] 1080px x 566px. It will display as 640px x400px.
✅ Portrait: [4:5 aspect ratio] 1936px x 1936px. It will display as 600px x750px.
➡️  Pay special attention to the text you use on your ads. Instagram only allows
you to include text no greater than 20% of the image size  ⬅️
✅ Photos work better than videos. Despite the brand's growing trend of sharing videos, stats speak for themselves.
Size on Instagram Matters
Yes, photo size matters on Instagram or any other social network. This is the key factor to:
Attract your followers' attention
Create a brand and build a community
Make striking ads to attract more clicks
A good quality image or photo, not pixelated and properly cropped, can be the key factor to attain more followers and keep the existing ones.
Instagram is the social network for photo sharing. As we emphasized in this post, it is critical to pay special attention to the sizes of the photos, videos, and Instagram stories that you share. The same applies to other social networks.
The size of the images you share is not only important on Instagram. All social networks have a defined size of images and videos.
Congratulations 🥳
Now you know the best image size for Instagram you should use. We give you the measurements and you add the creativity.
Now is the time to apply it to your social media strategy. With Metricool, you can increase your presence in all your social channels by scheduling and auto-publishing your content and analyzing the performance of your posts and the evolution of your community. Discover what Metricool can do for you for free.