If you want to analyze and understand the impact of your social media content, it is essential to look at all the stats.
Reach and impressions are some of the main metrics that will help you track your posts' performance.
However, what's the difference between the two? We are here today to solve this question once and for all.
Differences between reach and impressions
Reach
Reach refers to the total number of unique people who have seen your post.
Ideally, all your followers would see your content on the multiple social networks you manage. If you have a community of 20,000 followers, you have 20,000 views. However, this is never the case since social networks' algorithms determine who sees the post. Also, a user may not have been connected on the day when the post was published.
Impressions
The impressions consider the number of times that a post has been displayed. It does not differ by unique people. If the same person sees a post twice, it will count as two impressions.
Even if you have 1,000 followers on your profile, you can obtain 3,000 impressions because users may have seen the same content more than once.
Reach versus Impressions
The difference is simple, reach is the number of unique users who see your content
and impressions the number of times they see it.
So far, everything is clear. Now the challenge is to understand these metrics on each social network.
Reach versus impressions by social network
Facebook
On Facebook, the reach is divided into three different categories.
➡️ Organic Reach:
This metric represents the total number of people who have seen your post organically or, in other words, free, without having made any ads.
➡️ Paid Reach:
It is the number of users who have seen your paid content for an advertising campaign on Facebook.
➡️ Viral Reach
Unique people who have seen your content through friends or other users when they 'like' or 'share' your post.
Impressions are the number of times a post on your page has been displayed on the users' wall. We can also find:
➡️ Organic Impressions: Your content has been displayed for free.
➡️ Paid impressions: The number of times a promoted post with Facebook Ads has been shown to other users.
➡️ Viral Impressions: The number of times a post has been displayed because it has been shared by other users on their wall.
Twitter
Twitter does not provide information on the reach of your Tweets. Click on one of your posts to realize that the first metric is about impressions.
In this case, for Twitter, impressions refer to the number of people who have seen your posts. In other words, for each user who sees your tweet, you get a new impression.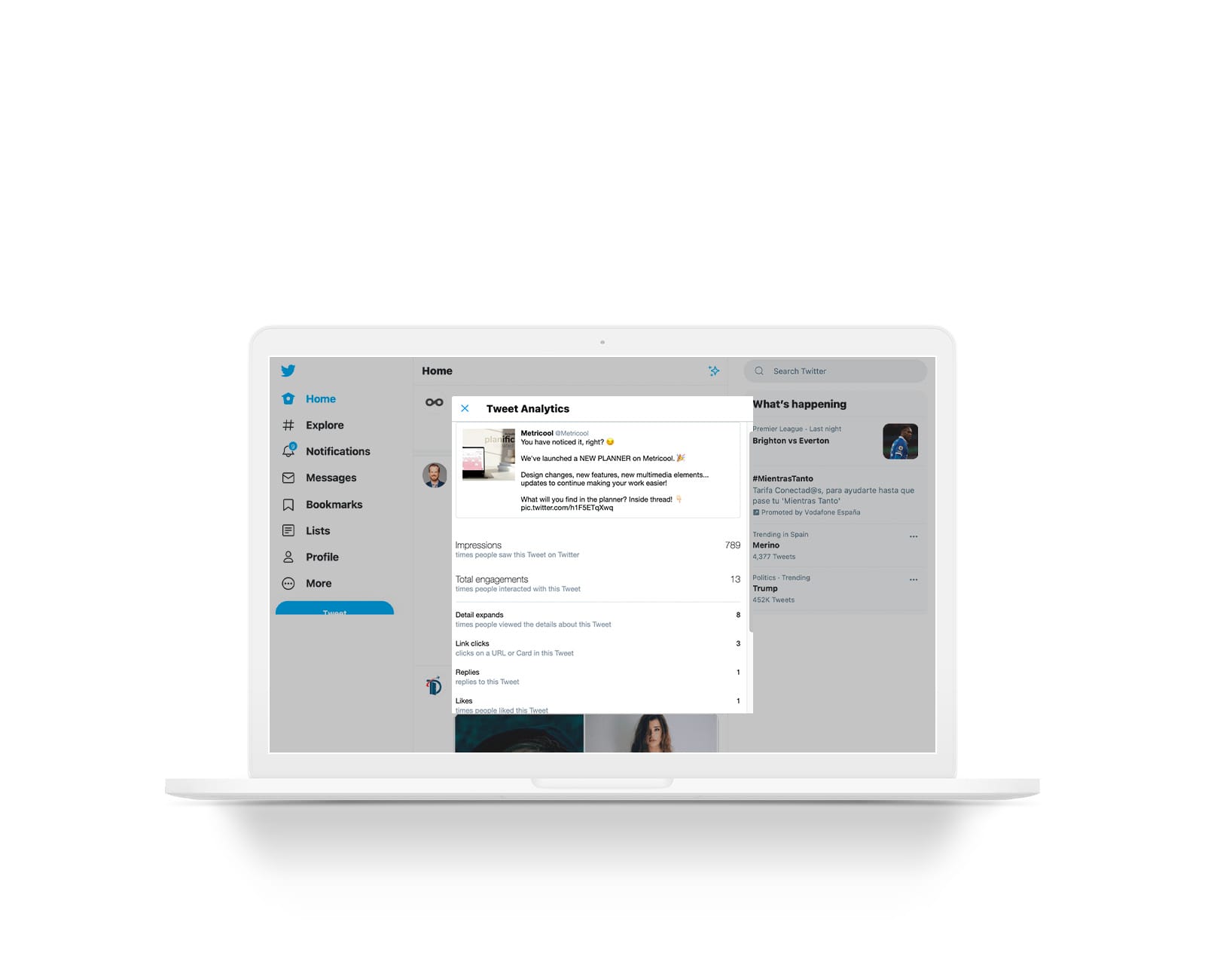 Instagram
On Instagram, as on the rest of social networks, the reach and impressions are different.
➡️ Reach
The number of unique Instagram profiles who have seen the posts you have made: feed posts, Reels, IGTVs, and Stories.
➡️ Impressions
it is the number of times an Instagram user sees your content: feed posts, Reels, IGTVs, and Stories
What metric does explain the performance of your posts better, Impressions or Reach?
Both metrics are key to analyzing your work performance. The important thing is to know what your goal is.
If you want quantity, impressions are the metrics you should look at because they will show you how many times users have seen your post.
By looking at the reach metrics, you will know how many different users have seen your publications, contributing to expand your image and brand awareness.
If you want to learn more about social media marketing, we recommend that you take a look at this post:
Which metric do you think is best to analyze the impact and performance of your social media content? Share your thoughts with us, and if you have any questions, we will read your comments.