If you work in social media, you'll know how important it is to plan your Twitter content. But did you know that using tools to schedule Tweets can make your life even easier?
▶️ They help you be more effective at work.
▶️ They allow you to have everything planned out in the long term.
▶️ They free up work time for you to spend on other tasks.
Which one do you usually use? In this post we've compiled a list of the three best tools for scheduling Tweets that you just have to try.
These tools are key to succeeding with your Twitter marketing strategy. 
Twitter
That's right, like Facebook, the go-to micro-blogging site also lets you schedule Tweets from its platform.
However, this is only possible from the desktop or browser version, not from the mobile app. Something that limits your options compared to other tools.
So, how to schedule Tweets with Twitter:
Open the desktop version of Twitter and tap 'Compose Tweet'.
Write the Tweet content and add media. 
To schedule it, tap the calendar icon just below the Compose box.
Choose the date and time you'd like it to go live and tap 'Confirm'.
Twitter will takes you back to the Tweet compose box: click 'Schedule' and you're all set.
✅ Schedule on the Twitter platform itself.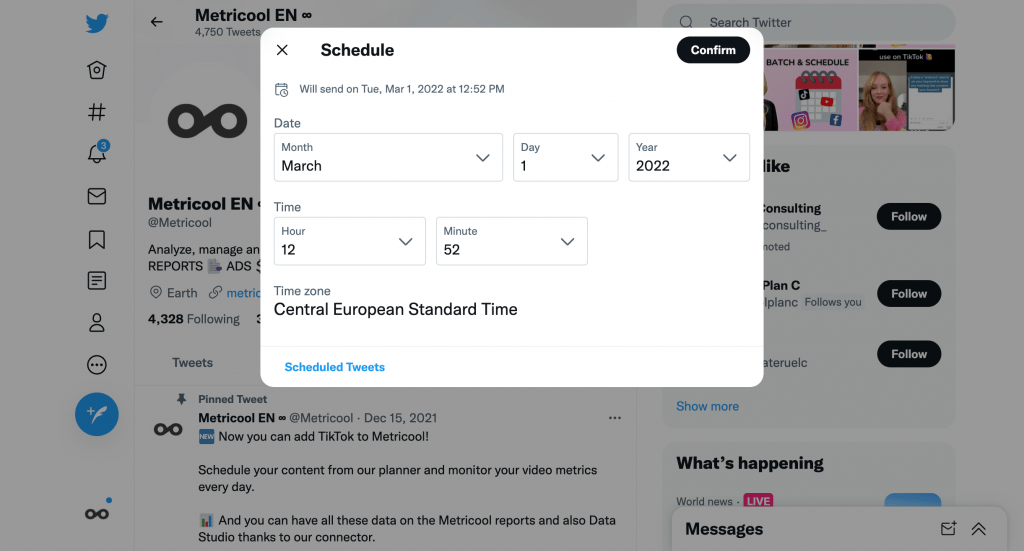 Tweetdeck
Tweetdeck is one of the most popular tools to schedule Tweets. You'll recognize it because of its design in 'Columns'.
From this app you can manage everything happening on the Twitter account you've added to Tweetdeck and you can organize these columns to your liking: see the timeline, see your profile to control the Tweets you post, private messages, and interactions.
You sort it by what you need, and you can change it whenever you want.
How to schedule Tweets on Tweetdeck:
Go to the Tweetdeck home page and click 'New Tweet'. It's the first button on the top left, and looks identical to the one on Twitter itself. 
Choose the account you'd like to tweet to among the accounts you're logged in to. 
Compose the Tweet with all the add-ons you need.
Once you're happy with it, click 'Schedule Tweet' and choose the date and time. 
Tap on 'Tweet' under the Compose box, which will show the date and time you chose earlier, and it's done!
✅ Schedule on a similar platform to Twitter and on several other social networks. 
✅ Organize your accounts into columns based on what you want to see first.
Metricool
Metricool is the Swiss army knife of Tweet-scheduling tools. It has all the features to plan your Tweets as if you were inside Twitter itself. You can even schedule threads of up to 80 Tweets. 
The dashboard and planner show you the best times to post your Tweets, when your audience is most active and you can get more interactions.
You also have the option to add hashtags, images, videos, and emojis. The icing on the cake is the option to tag other users, since other tools don't allow you to tag people on scheduled Tweets.
Plus, the autolists: a set of several Tweet posts, which you schedule periodically so that you always have content ready to go on your profile.
How to schedule Tweets with Metricool:
Open your Metricool Planner and click 'Create New Post' or tap on the time you want to post. Remember, the best times to post will show up in deep blue.
Compose your Tweet by adding text, images, videos, gifs, or hashtags. Use the feed preview to see how your Tweet will look on both mobile and desktop.
Ready to go? Click 'Save'. Check the calendar to make sure everything's correct. 
Done! Your Tweet is scheduled.
✅ Schedule based on your audience's most active times, increasing your chances of gaining more engagement.
✅ You can also schedule Twitter threads if the 280 characters fall short.
✅ In addition to planning, Metricool also gives you the option to analyze your Twitter account metrics and reply to private messages.
✅ You can manage the rest of your social media sites from the same platform — all your work without leaving Metricool.
If you'd like to give Metricool a try, here's the free registration link:
As you can see, there are several tools to schedule Tweets that will make your life as a social media expert easier. 
Which will you choose? Are there any we haven't mentioned that you've tried? Drop them in the comments.