Ever wondered how you can manage all your Twitter direct messages from your account or your clients' accounts?
Twitter DMs or direct messages are a way to communicate privately with other users to talk about topics they don't want to discuss publicly.
In corporate communication, they're usually used to solve queries or private matters or to request private personal info, such as an address, product shipping number, etc.
How to reply to Twitter direct messages
If you work in social media, you'll likely come across tens if not hundreds of Twitter DMs on the daily, and our advice is to answer as many as you can.
At the end of the day, it's the last means of communication with your user, since they'll get the notification more easily and because it's usually important.
To reply to and manage these Twitter DMs, you have two options:
▶️ Stick with Twitter and have to switch between accounts each time you receive a message.
▶️ Use a tool like Metricool to manage all your work on Twitter.
Coming up, we'll tell you how each option works.
Managing messages on Twitter
Direct messages are available on both the mobile and desktop Twitter versions.
But how do you reply to them?
Log in to Twitter with your account.
In the left-hand bar, you'll see an icon with an envelope '✉️'.
In your inbox, select the message you want to reply to. You can send media files, gifs, or add emojis.
Done!
✅ Don't forget to check the message requests folder, where you'll have private messages from users you don't follow. These messages will go straight to the requests folder.
How to reply to Twitter DMs on Metricool
You can manage all your Twitter direct messages through a social media tool like Metricool.
Here's how to do it:
Log in to Metricool. If you don't have an account yet, sign up FOR FREE at this link.
Connect your Twitter account in drop-down Menu > Connections > Twitter.
When they match up, tap on the Inbox section and tick the Twitter checkbox only.
Here you'll have your DMs sorted into 'Unresolved', 'Unread' and 'All'.
Choose the conversation you want to reply to. You have all the same features you'd have in the app: sending multimedia files, gifs and emojis.
Done!
​✅ Once you've finished the conversation and ​marked it as resolved, all your messages will be sorted.
✅ If you need to, you can mark a message as unread if you're not sure of the answer or want to leave it for later.
✅ With Metricool you can manage your Twitter and all your other social media accounts: all your social media work from one platform.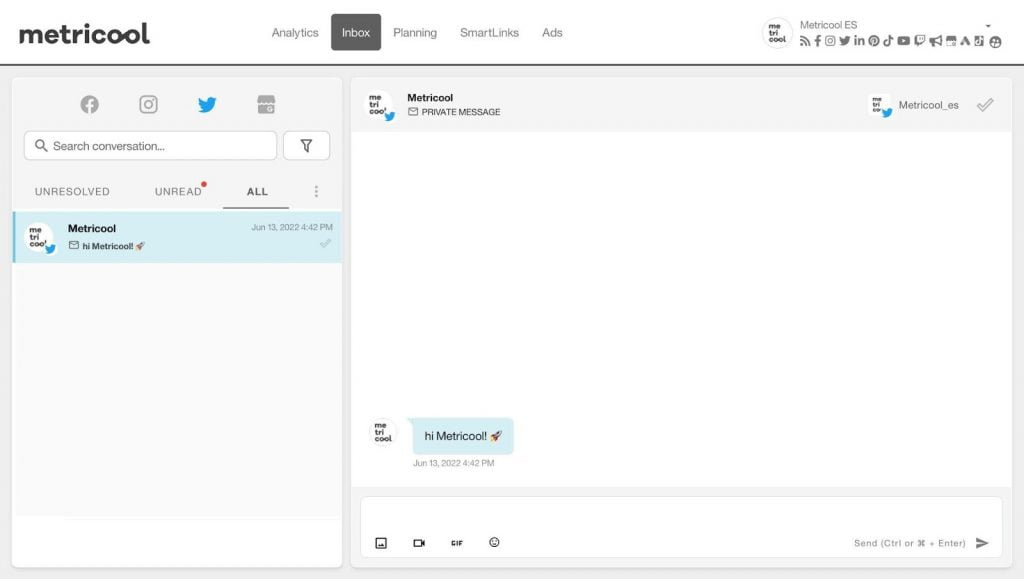 As you can see, managing your Twitter DMs and taking care of your community is a piece of cake if you have the right tools.
With Twitter, you have the native platform, while with Metricool you have everything you need to not only manage your Twitter messages, but take care of other aspects such as analytics or content planning. In addition to having all your social networks conveniently displayed on the one platform.
Start working on your Twitter content now with a winning strategy: here's the Metricool Twitter marketing guide.