When it comes to managing or administering a YouTube channel, any help is welcome.
It is common for content creators with large audiences or brands that create content on the platform to distribute tasks to be more productive in their daily work: replying to comments, adding subtitles, uploading videos, etc.
How can you achieve this? Add YouTube managers to your channel.
How to add Youtube managers to your channel
If you add a new person as a YouTube manager to your YouTube channel, you will be giving them access to your account so that they can carry out specific actions. The level of management will depend on the role you will grant them.
It might seem easier to share your login information with them. However, this would mean sharing your Gmail account, and you probably don't want to do so.

So, it seems a better option to grant admin permissions from your YouTube channel.
1 Go to Settings
Enter YouTube and click on your account icon. In the drop-down menu, tap 'Settings' and then go to the account dashboard.
2 Select Add or remove manager(s)
Once inside your account settings, click Add or Remove managers. This option won't appear if you have a personal channel instead of a brand channel.
YouTube will redirect you to your Google account. Here you will have to click on Manage Permissions.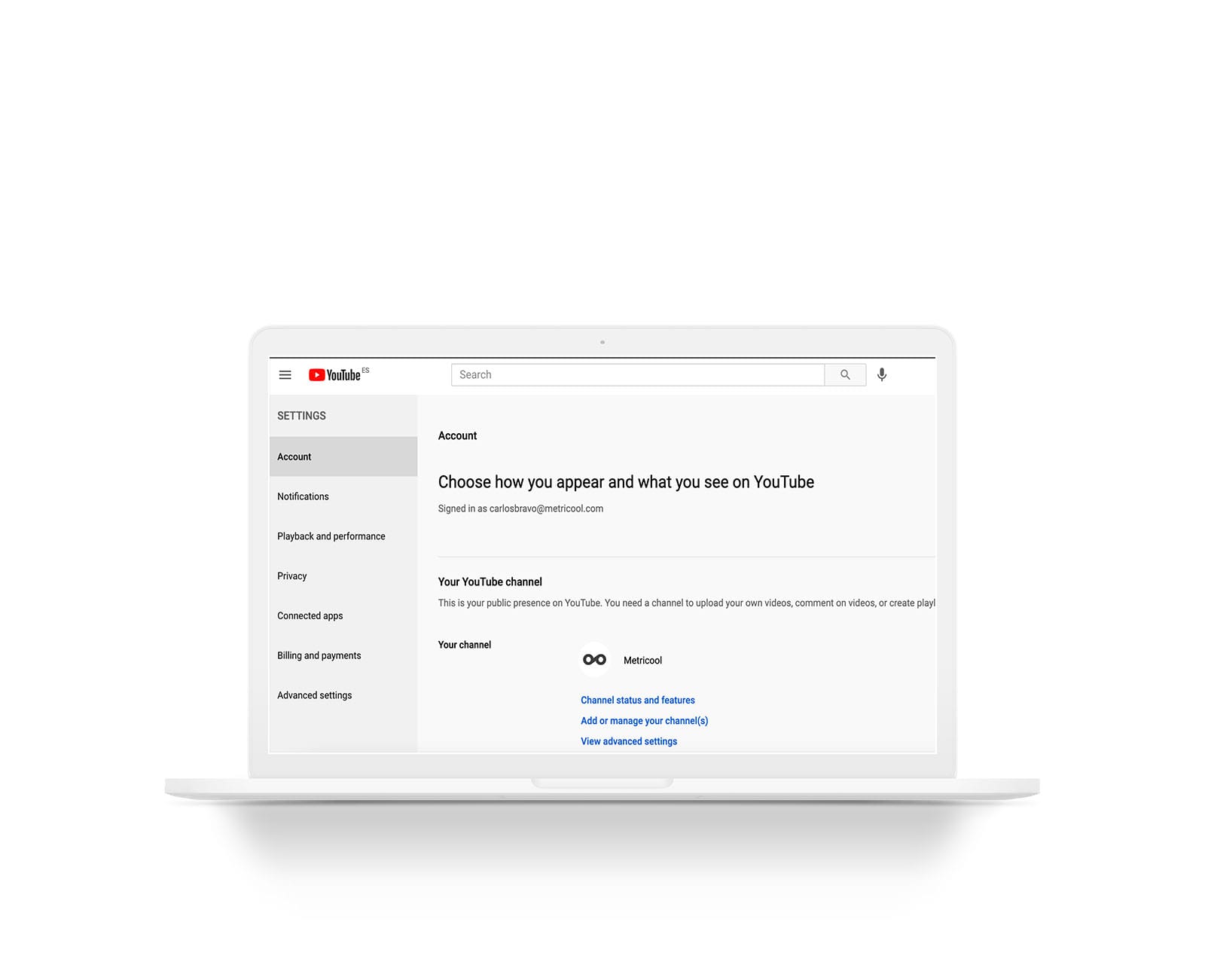 3 Mobile verification
To verify your identity, Google will prompt you on your mobile device. Google has more ways to confirm that it's you: through a two-step authentication with Gmail or simply asking you to insert your Google password.
Once authenticated, click on manage permissions again, and a window will pop up. Here you can check the members who are already YouTube managers of the channel and their specific roles.
4 Choose the role
Once here, you will have the option to add a new person to your YouTube channel in the button located on the top-right side corner.
Then, add the new member's email address and their role: Owner, Manager or Communications Manager.
What are the levels of permissions for managers?
Primary owner:
The primary owner is the person with unlimited access to the YouTube channel. They can access all the features: assign roles to other participants, add or delete videos, modify information, etc. This role cannot be removed as it belongs to the channel owner unless you transfer that primary owner status to another member.
Owner:
Youtube allows you to have multiple owners who can edit, upload videos, and even delete them. The primary owner's main difference is that an owner can remove their role without transferring ownership to anyone else.
Manager:
You have the same permissions as a channel owner: upload videos, reply to comments, or add playlists. You can also view analytics. What you cannot do is delete the account or add new members.
Ideal to grant permissions to a person who will work for you or your company's channel.
Communications manager:
This member can reply to comments on the videos and review notifications from Google.
It is perfect for giving access to people who help you control your YouTube channel without giving full permission. The communications manager cannot upload videos, content, or view channel stats.
Now you know the roles, how to add YouTube managers to your channel, and how to grant them permission. Once you do so, the person you have added will have to accept the invitation to start working with your channel.
How to remove permissions on YouTube?
The process of removing permissions is straightforward. If you stop working on YouTube or your relationship with a person on your team has ended, you will probably want to revoke access to your channel.
You just have to follow the previous steps and when you are on the members' section, click on the 'x' located on the right.
It's that easy. You have already removed the permissions.
Careful! Don't confuse Youtube Studio with the Youtube chan. If if you want to grant access to Youtube Studio (https://studio.youtube.com/), you will have to follow the same process but from the Youtube Studio app. You will differentiate it by the domain name studio.youtube.
Now you know how to add YouTube managers to your channel!
If you have any questions, we'll read your comments.