Do you usually monitor the performance of your Instagram posts with one of Instagram's analytics tools?
If you don't do it yet, you're missing out on an excellent opportunity to understand how your account and content evolve and whether your strategy is working or not. Today, we'll show you how to keep track of your main Instagram metrics with Metricool.
Analytics tools for Instagram: Metricool
Metricool is an alternative to the Instagram app to measure what happens in your Instagram account.
To start analyzing your account, first, you need to sign up with Metricool and connect your Instagram account:
Once you have your Metricool account go to Connections (drop-down menu at the top right) > Connect Instagram professional account. Follow the instructions, and it's done.
Now, what information will you get once your Instagram account is connected?
Instagram metrics with Metricool
You can find all your metrics under the Analytics menu at the top of your dashboard.
Select the period you want to analyze, and you will find the following sections:
Community
Your community is an essential part of the success of your Instagram account. Probably the first metric we all look at: The number of followers.
Measure the growth of your community on Instagram and the balance of followers.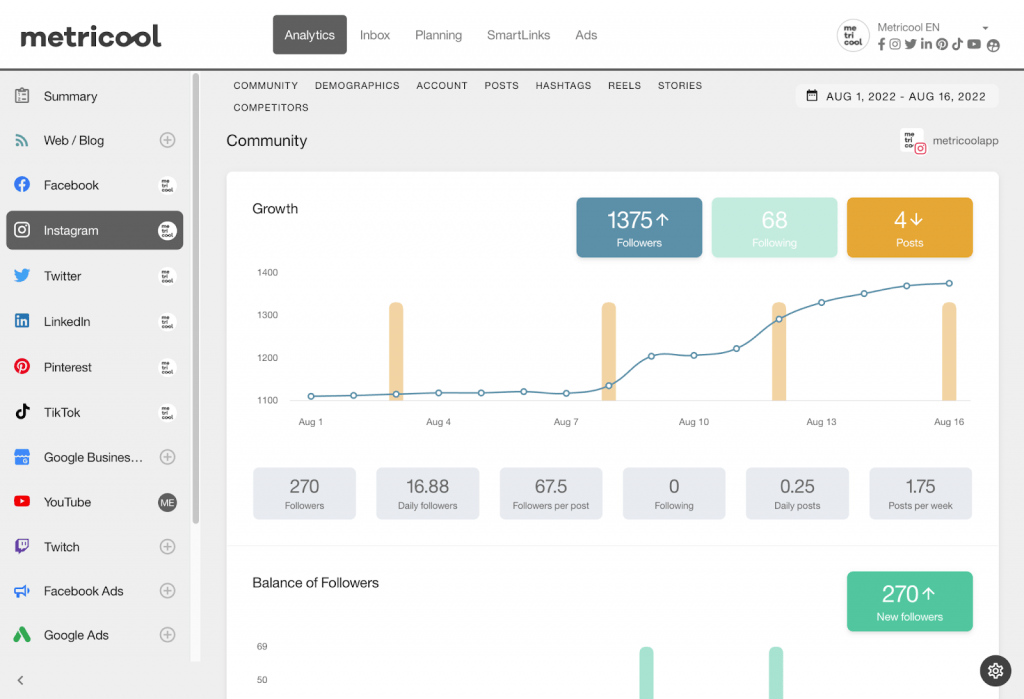 Demographics
Knowing the number of followers, where they come from, and their gender is important. This information can be crucial to directing your content strategy.
From Metricool:
Gender: female, male or unknown; age, in a graph from 13 years old to over 65.
Followers by country and city. The information is displayed in percentages and can be in a table or chart.
Account
An overview of your Instagram account.
Here you can get a complete overview of the status of your profile through impressions, average reach per day, profile views, web clicks, and the number of posts published.
Posts
This section is crucial to understanding the performance of your content in the Instagram feed. How have the posts performed in the time frame you have selected?
With Metricool, you have a complete analysis of the posts at a global and individual level.
Organic summary: engagement, interactions, average reach/post, and impressions.
Organic interactions: likes, comments, and saves.
Types of posts: the number of posts in the feed with single images, carousels, or videos.
List of posts: a complete table with all the relevant information by post. This table can be sorted by the metric you want: type, publication date, impressions, organic and paid reach, likes, saves, comments, interactions, engagement, etc.
You need to previously connect your Facebook Ads account where the posts were promoted to get the paid data. Otherwise, the paid information can not be displayed.
This table will become a great resource for understanding the performance of each post. If you click on view, Metricool will take you directly to the publication on Instagram. You can even copy the post description to use it for a different post.
Hashtags
Instagram hashtags are a very useful resource to position your content on this platform. We recommend using hashtags related to your content to improve the reach of your publications.
With Metricool, you have the option to see the metrics of the hashtags you have used in your posts: the metrics offer you information about the number of posts in which you have used it, as well as the impressions, likes, and comments you got.
You can then decide whether to continue using that hashtag or switch to others that work better for you.
Reels
Instagram short videos have their own analytics section in Metricool, separate from posts.
In the first part, you will find an organic summary of your Reels: engagement, interactions, average reach/reel, and video views.
In the interactions, you find the likes, comments, and the number of times your Reel has been saved.
Finally, the list of Reels is similar to the list of posts: detailed statistics for each reel that you can sort by the metric you are most interested in.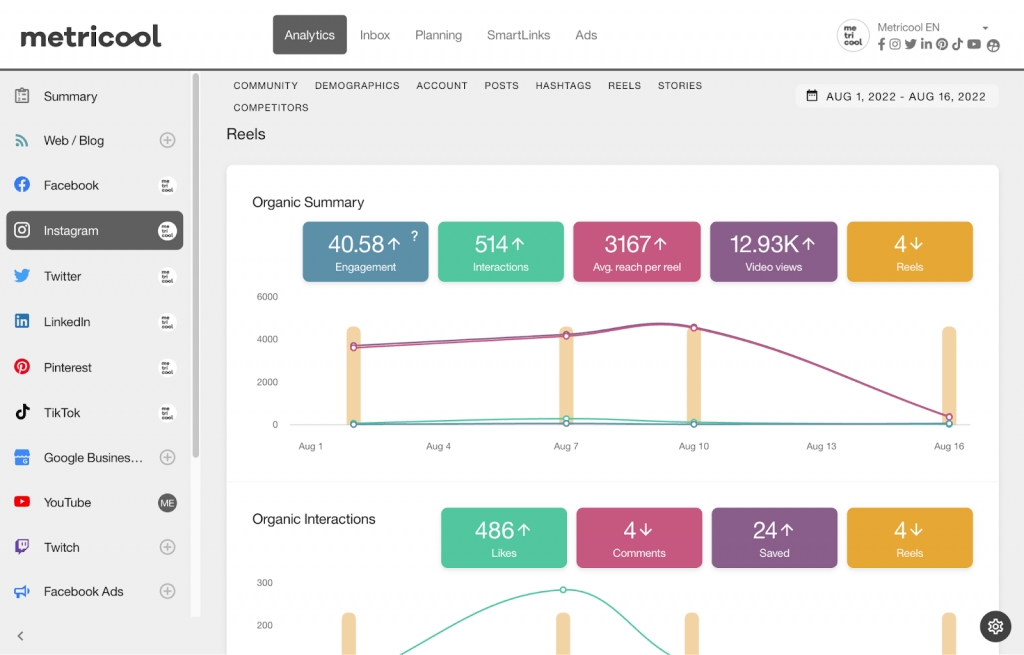 Stories
The stories last 24 hours, and it is vital to know how they perform.
Find out how your Instagram stories are doing through impressions, average reach/story, and the number of stories.
List of stories to have detailed metrics for each of the stories.
Competitors
Competition on Instagram is fierce, and it never hurts to know how your main competitors are doing.
With Instagram, you can analyze their accounts: followers, number of posts, reels, likes, comments, and engagement.
To add a competitor account to Metricool:
Go to the Competitors section.
Click on the '+' button.
Search for the user name.
Click on 'Add.'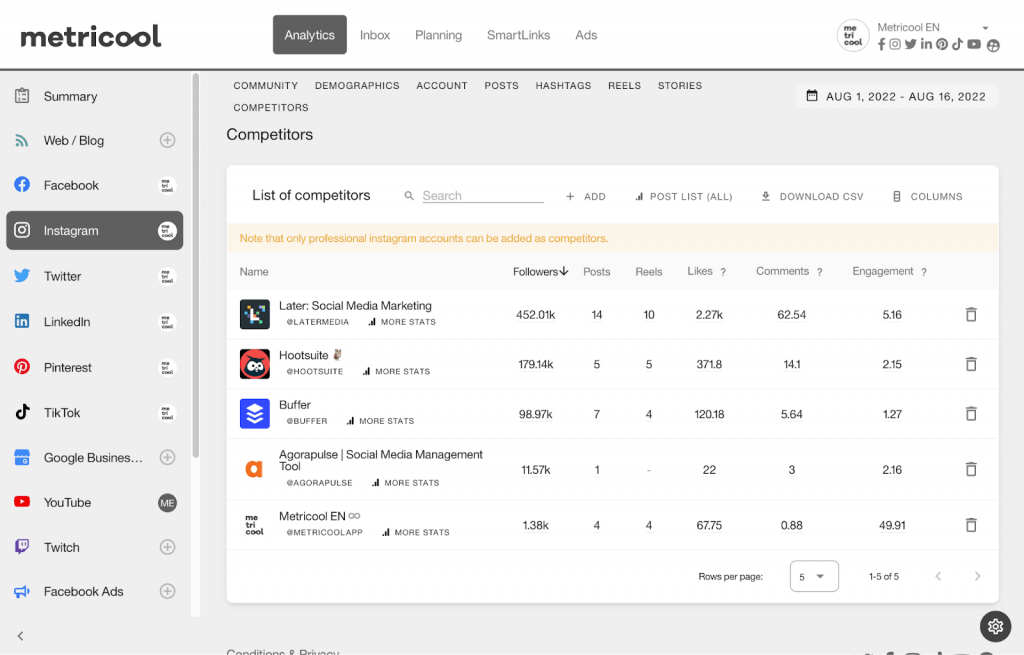 Why use Metricool as your primary Instagram analytics tool?
As you can see, with Metricool, you have an all-in-one tool to see all the metrics of your Instagram account.
If you are still considering whether to use Metricool or not to analyze Instagram, here are more advantages of having Metricool as the primary Instagram analytics tool:
With Metricool, in addition to analyzing the metrics of your Instagram account, you can schedule and auto-publish your posts: images, short videos, and Reels. Stories and long videos through push notifications.
You can also schedule content from other social networks. It comes in handy if you want to simultaneously share a post on Twitter or Facebook.
All the analytics of the other social networks you work with are available in your Metricool dashboard.
You can download all the metrics in professional reports, in PDF or PPT format, and send them to your client or the agencies you work with.
As you can see, Metricool is your Instagram analytics tool because:
✅ It allows you to save work time.
✅ You can analyze and schedule your content on all your social media platforms in the same place.
Want to know more about Metricool? 👇