What name are you planning to use for your Instagram account?
Choosing the right Instagram name can help you to get more followers and increase your popularity.
Now that social networks are booming and they have more users than ever, it's becoming very challenging to find a name that stands out and attracts users. Some of the difficulties you might face are:
The name you choose has already been taken
You might need to add strange symbols that are difficult to remember
There are plenty of names like yours that can lead to some confusion amongst other users
View a video summary of this blog 👇🏻
So, you should be aware that your Instagram name is a crucial factor on Instagram. It's the first thing along with your bio that comes across to users and a good name will help to captivate them.
So, pay attention to all these tips to avoid any mistake:
Before we get started…
First, you must consider the type of account you want to create and choose the Instagram name for your profile.
A personal brand account
A personal account
A business account
An account about life style or entertainment
Let's start a winner Instagram account!
It is never too early to start getting insights from your Instagram account and efficiently schedule your posts. Try Metricool for free and start growing your account.
Tips to create the right Instagram name
Before you start thinking of names for your Instagram profile, pay attention to the following 5 tips to make it easier:
✅ Original: It will attract the interest of your followers and help you to stand out from others. It's crucial to use an original and striking name so it can turn out to be the x factor of your Instagram account.
✅ Simple: A username should be easy to remember. How many names can you come across in one day? To avoid your name being unnoticed, you must choose one that is easy, catchy and differentiating.
✅ Characteristic: The username that you use on Instagram will represent what you are. So, choose one that is consistent with your postings and agrees with the sector you are in.
✅ The shorter, the better. Users will learn and remember your name without difficulty.
✅ Use the same name that you have in other social networks. Users will be able to find you in all your social networks with only one name.
WHAT YOU SHOULD ALWAYS AVOID
❌ Names that are too long
They are not easy to remember and can be a bit confusing for users. If your name is too long, you will have fewer opportunities to increase the number of followers.
❌ Dots and hyphens in the middle of the name
It's difficult to remember where exactly these symbols go within the name. Users are not thrilled about it and it's difficult for them to learn where they should go.
❌ Random characters
Your name should make sense to others. If you include random letters and symbols, it's very difficult for users to learn your name.
❌ Brand names if you are not actually one
Unless you want to look like you belong to a brand or you are part of a community.
Some ideas for your Instagram name
Next, you can find some examples that you can use for inspiration to find the perfect name for your profile but first, you must have decided the objective of your Instagram account.
✅ Use your own name
This is what will best represent you and it will be memorable for users too.
✅ Use well-known terms and words
The simpler, the easier to remember and pronounce. It's not a good idea to use made-up words that people don't recognize.
✅ Use well-known terms and words
The simpler, the easier to remember and pronounce. It's not a good idea to use made-up words that people don't recognize.
✅ Rhymed words
Making rhymes with your name or any other word might be funny and attract attention.
What should you do if your name is not available?
If your username is already taken, you must find another one that also works well. Next, we wrote some ideas to replace your name on Instagram below:
▶️ Add the language
If you have a company and use different profiles for different languages, you can add the language in use at the end of your name to differentiate each profile.
▶️ Geographical zone
Add the geographical zone where you are, it's a way to differentiate from other accounts.

▶️ Official
Add the word "official" at the end of the username for personal brands, artists or famous people.
You can also verify your Instagram account at the same time. It will provide more credibility and users will be sure that your profile is authentic.
▶️ Business or company
If you are a business, you can opt to add your activity to your name to differentiate from the rest.
If your Instagram name is already in use, add a keyword that explains your activity: Restaurant, spa, software, etc.
▶️ I am
If the name you were planning to use already exists, another solution would be to add in front of your name I am.

How to change your Instagram name
If after reading this information, you have decided to change and optimize your Instagram name, you must follow the next steps that will take you barely 2 minutes, so easy:
Enter the app and go to your profile
Tap "edit your profile"
In the menu you can change different data of your profile
Type your new username on the username box and if it's free, you just got your new name.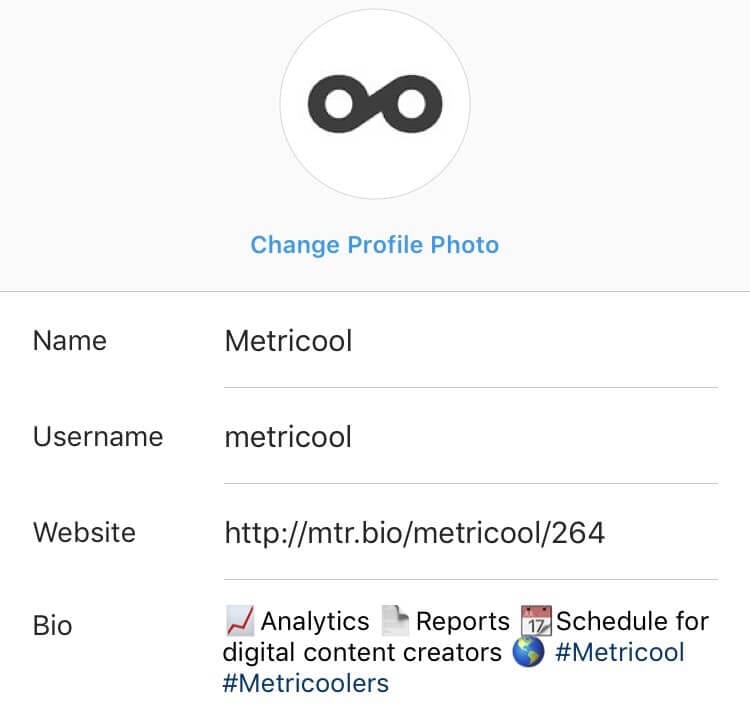 So it's time to create an irresistible name for your Instagram profile.
If you have any doubt or comment, drop us a text and we will try to solve all your questions.